Did you know that with only a few ingredients, you can take an ordinary Pear and turn it into a five star dessert, or B&B style breakfast?  It's totally true! These succulent, plump pears are pretty enough for an elegant table full of snooty guests, yet simple enough for a backyard BBQ with your best buds!  Trust me on this, you'll never have a baked piece of fruit THIS good..ever!  🙂
These incredibly perfect Pears are not only gorgeous, but outrageously delicious too!  The Pear softens as it steams inside of the sweet Cinnamon Roll.  And since the pear is lightly dusted in Vanilla Pudding Mix, YES PUDDING!  It even creates its own amazing sauce..O-M-G!
Make sure you're sitting down when your fork breaks through the warm and gooey Cinnamon Roll.  Keep your squeals of joy under control as you sink effortlessly through the tender pear, and all of its creamy vanilla sauces, flood your bite with goodness!  Think that sounds good??  Just wait until you top them with that thick Cinnamon Roll Frosting!! Your taste buds shoot to the highest level of dessert euphoria..and beyond!   😉
For a few dollars, a few minutes, and hardly any effort, you can impress and tantalize a crowd, or impress that one special someone!  😉  You. Must. Do. It!!  ..do it now!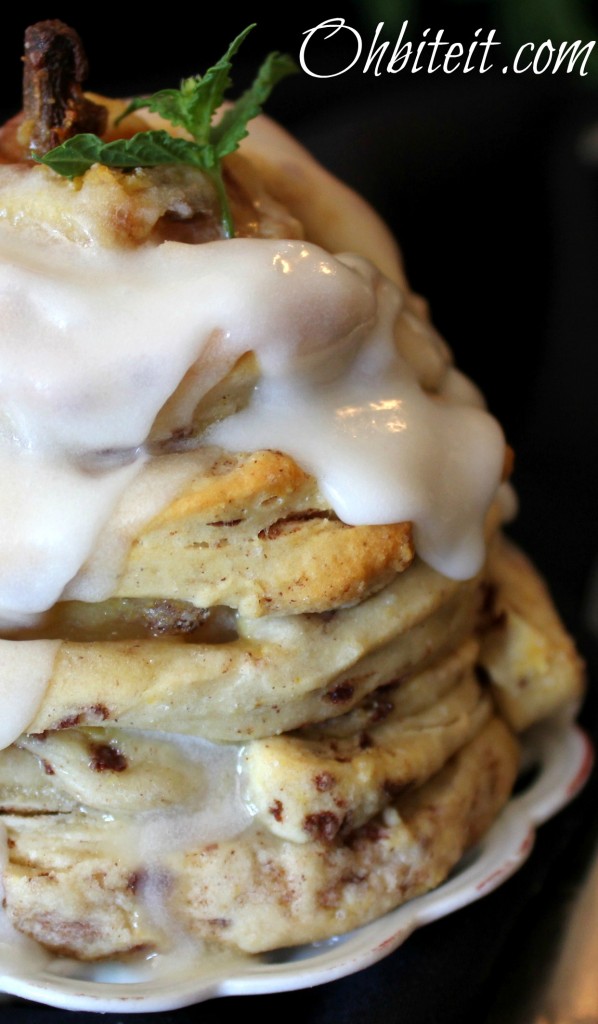 What you'll need for 4 Impressive Pears:
4 Pears
2 cans of Pillsbury Cinnamon Rolls & its included frosting.
1 cup of Instant Vanilla Pudding Powder or Corn Starch (the pudding adds a creamy vanilla sauce)
Some Mint leaves for garnish..optional!
Directions:
Simply peel each Pear, making sure to leave the pretty stem in tact.
Only if necessary, slice just a sliver off the bottom of the pear for stability.
Lightly dust the entire Pear with some Vanilla Pudding Mix or Corn Starch, set them aside..
Now..combine the Cinnamon roll dough into a ball & roll it out into approx 1/4″ thick rectangle!
Slice the dough into 1/8″ strips..
Wrap the strips around the Pear, piece by piece..starting at the bottom.  Squeeze as you go, and show that pear who's boss! Give the whole thing one big squeeze before you bake them! They will stick just fine!
Bake them uncovered on a baking sheet at 350, for about 15 minutes or until the rolls are golden & firm.  A knife should insert easily into the pear..
While they're warm..drizzle each Pear with the included Cinnamon Roll Frosting and serve.  One bite and you'll never be the same..lol!
Dig in while they're warm.
Freak out at their deliciousness!
And then try to go about your day as if nothing happened..good luck!
~Enjoy!  🙂