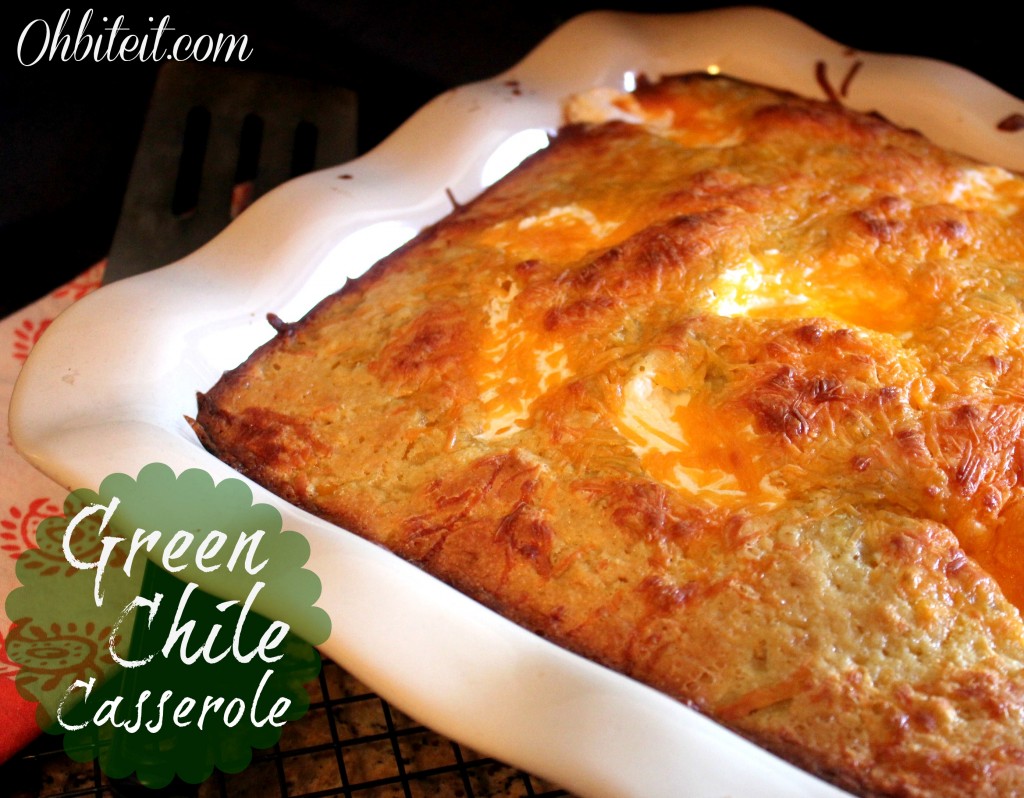 Yay!!  It's finally getting cooler here in Albuquerque, and I'm LOVING it!  The first thing I do when the cooler weather hits is I dust off my Crock-Pot.  After that, my thoughts immediately turn to the one dish wonder..The Casserole!  If it can be baked in one dish, topped with cheese and scooped up..I'm all over it!  There's nothing quite like the warm and comforting experience that only a good old Casserole can provide, and here in NM it's almost always filled with Green Chile..oh, and cheese!  Did I mention Cheese??!
Since I'm not very skilled in the art of Mexican cuisine this short-cut recipe is perfect for me!  Pretty much, pour it in, bake it..eat it!  My kind of comfort food! 🙂
You can literally throw this amazing meal together in minutes, freeze it or keep it in the fridge, then bake it off whenever you have a spare 10 seconds to toss it into the oven!  No one will ever guess how simple it is by tasting it.  And if you bring this to a pot-luck or office luncheon, take it from me..come prepared with the recipe printed out for everyone, trust me!  It's a winner!  🙂
Warm, cheesy & spicy with all of the authentic flavors of a classic Green Chile meal with none of the classic hard work..lol!  When you crack through that golden top crust, the Cornbread is so tender, moist and creamy with the touches of Sour Cream running through it.  The perfect balance to the spicy Chile.  Even though I used Mild Chile..I am originally from Connecticut after all..haha!
Not to mention, one pan of this Casserole will feed at least 8-10 people..very, very WELL!
The perfect way to warm up from the inside out during the Fall and Winter!  Give this one dish wonder a try the next time you want all the greatness of a comforting, delicious and super simple Green Chile meal..you'll love it!  😉
What you'll need:
1 Box of Cornbread Mix
1 can of whole kernel Corn (DO NOT DRAIN)
Approx. 16 (or as many as you want) Any spice level, Whole Roasted, Peeled & Seeded Green Chiles.  (If you have to, canned Chiles are fine)
3 Eggs
3/4 Cup Milk
2 Cups Shredded Cheddar Cheese
1 Cup Shredded Pepper Jack Cheese
1/2 Cup green Chile Sauce..optional
2 Cups Sour Cream
Directions:
In a large bowl mix together the Cornbread Mix, Eggs, can of Corn (NOT DRAINED) and the Milk..blend well..set aside!
Layer some Green Chiles on the bottom of the baking dish and sprinkle it with some Cheddar and Pepper Jack..repeat 1-2 more times, reserve some cheese for the top of the batter!
Simply pour all of the Cornbread batter over the top of the layered Chiles and drizzle it with some Green Chile Sauce, dollop some evenly placed spoonfuls of Sour Cream onto the top of the batter and sprinkle the entire top with the remaining cheeses!
Bake it uncovered at 350 degrees for about 40-ish minutes..or until it's golden and firm all the way through…
Grab a plate and a fork and do what comes naturally…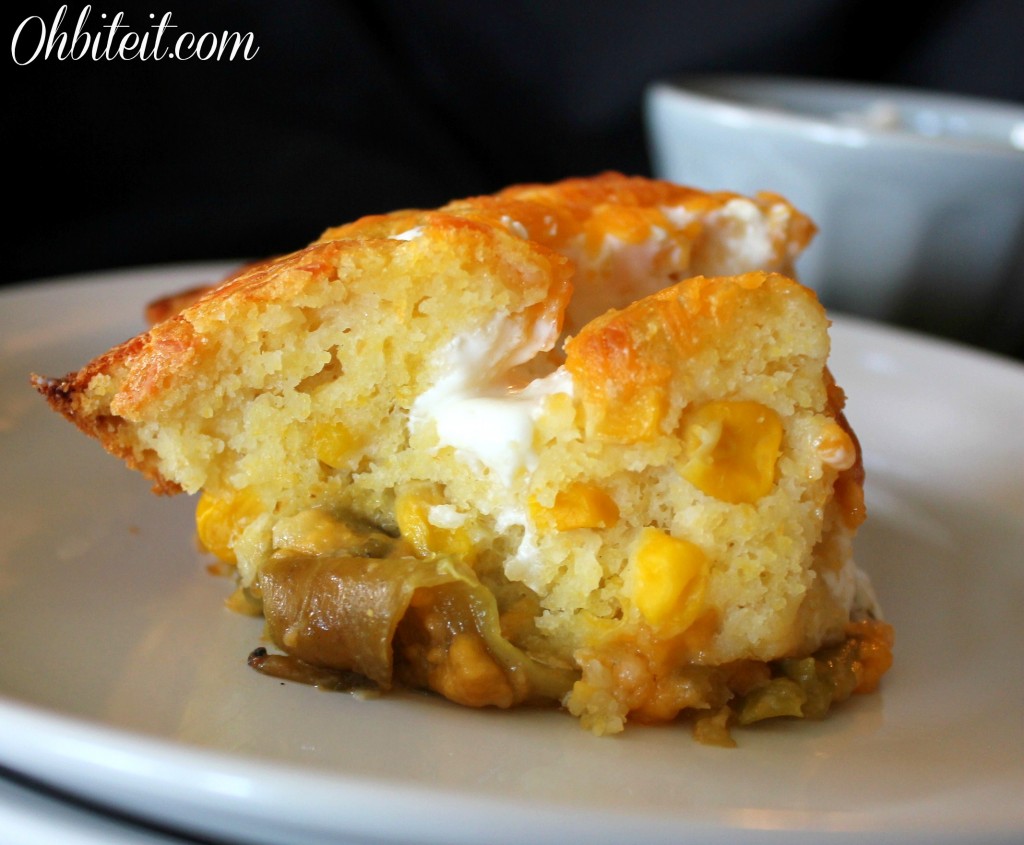 Take a nice big, cheesy, spicy & comforting bite!  ~Enjoy!  🙂