Isn't Fall the BEST time of the year???  C'mon..even if you love Summer, blistering heat and errr..sweat, you must admit there's something so comforting about Autumn and all of the delicious, cozy and chilly things that go along with it!
Such as…cool breezes, cute boots, and sticky Caramel & Apples!
How lucky are we that the best time of the year for food happens to be the best time of the year for Holiday entertaining?!  And with all that entertaining it's nice to have some super simple, yet super impressive desserts that we can whip up, while we're busy making the house look like no one lives in it..lol!
You will have everyone in dessert heaven when you bring these five star Popovers to the table!  The fluffy and tender Crescents hug all of the caramelly, warm & sticky Apples, totally snuggling them with deliciousness!
Ohhh yeahh!  🙂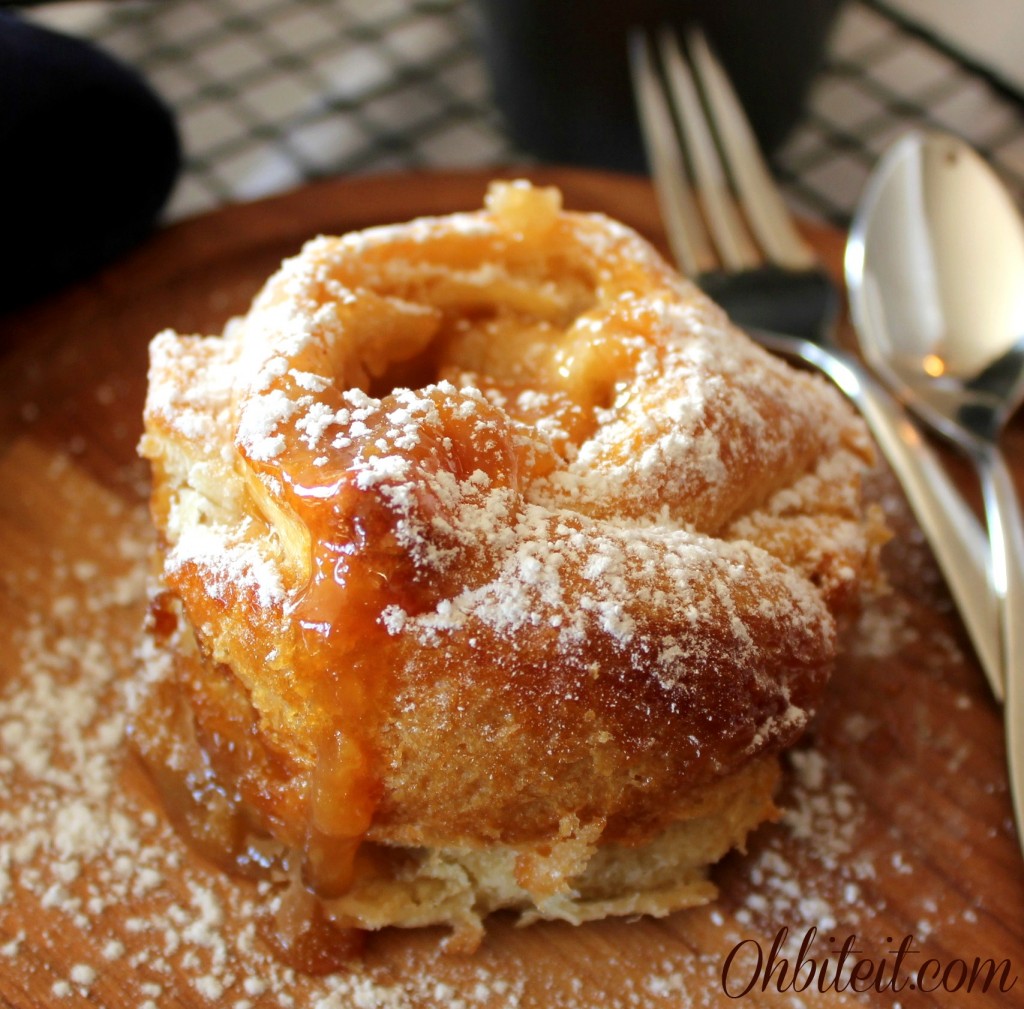 WARNING:  You may have a temporary moment of guilt because these are SOO easy to whip up, but don't worry..no one ever has to know that you didn't work all day in the kitchen!
Shhh..it'll be our little secret!  🙂
If necessary, you could always do the old "flour on the face" trick..lol!  😉
However, if your guilt should happen to last more than 3 minutes, find a quiet corner and take a big, sweet bite of one of these Popovers…
..instant happiness!!
What you'll need for 4 ooey-gooey Popovers (feel free to double accordingly for more of them):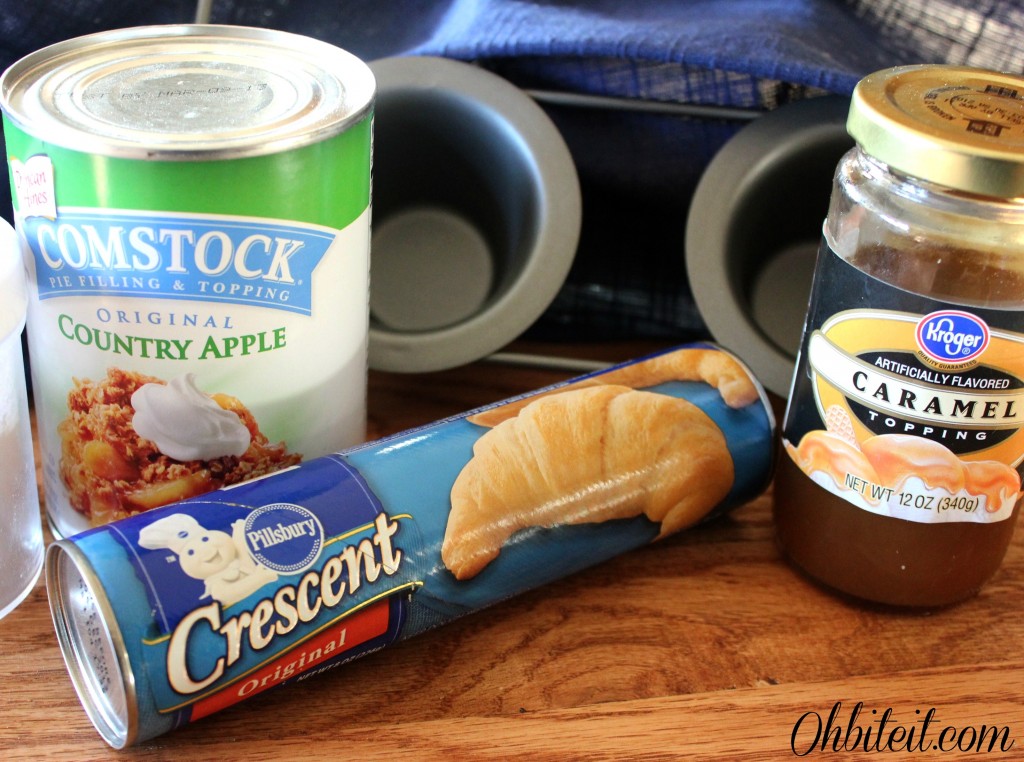 1 container of Pillsbury Crescent Rolls
Approx. 1 Cup of Apple pie Filling
Approx. 1 Cup of Caramel Sauce
Powdered Sugar for dusting
A Popover Pan  *A Cupcake Pan will work as well, however they might not get quite as tall..still yummy though! 🙂
Directions:
Open up the Crescents, and separate them into 4 pieces.  That means keeping two Crescents together by pinching the seams closed.  This will make 4 individual Crescents..kind of square shaped!
Smear the dough with a layer of the Caramel Sauce, and a nice scoop of the Apple Pie Filling (a couple of tablespoons).
I started by using one Crescent, but quickly sealed them back together! It takes two Crescents sealed together, to get that nice, tall Popover experience…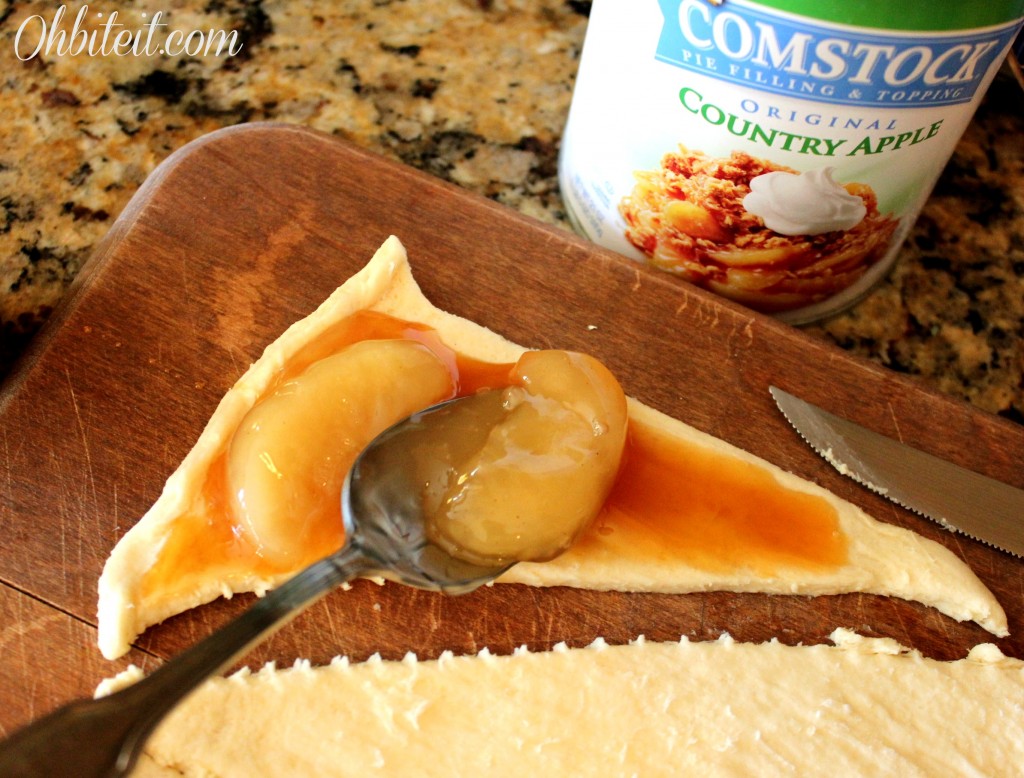 Roll each Popover up, kind of sealing the bottom and placing them open side up, down inside of the Popover Pan.  Just plop them in there..as they bake they all take on their own pretty shapes.
Bake them at 350 for about 12-15 minutes, until they've "popped over' and turned golden…
Let them cool…just slightly!
Run a knife around the edges to release them and drizzle them with some extra Caramel Sauce!  Why??  Because you can!  🙂
And if you want even more Caramel, GO FOR IT…
Take a nice close look at those beauties, they won't last long!
Then, serve those sticky babies up…
Slide your fork through that sticky and tender Caramel Apple Popover…
Prepare for extreme deliciousness In. Your. Mouth!  ~Enjoy!  🙂