Soo, are you old enough to remember Bomb Shelters and Bomb Drills?  For the record, I'm not..lol!  But, here's your warning to find one..and fast!  This is NOT a drill!  Run and take cover, unless of course, you're ready to be bombed with ooey-gooey Cheese and crazy good flavor that will leave hot, melty & delicious shrapnel all over your belly!  These Biscuit Bombs are my way of taking a typical bread course to Nuclear levels never reached before!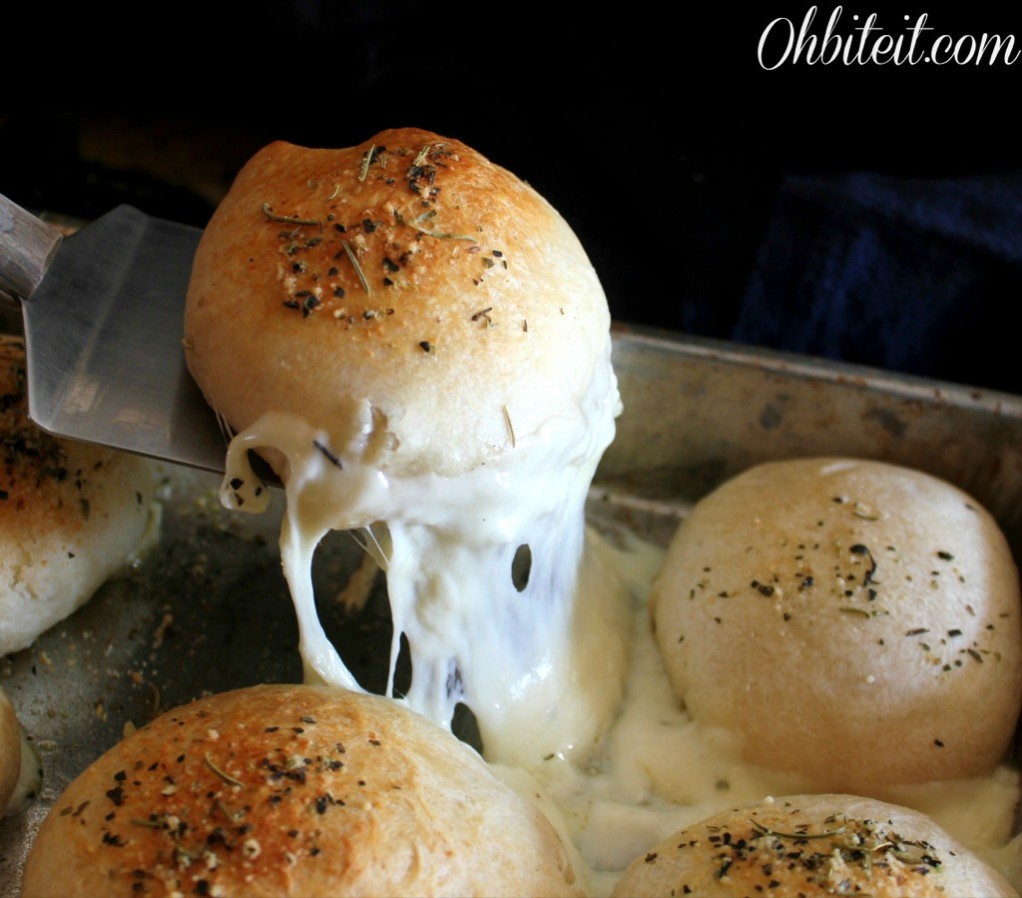 Not only do these fluffy, tender cheese filled Biscuits jazz up any meal..they can almost BE the meal!  With a long-range Cheese stretch that's capable of reaching you from miles away, escape is not possible!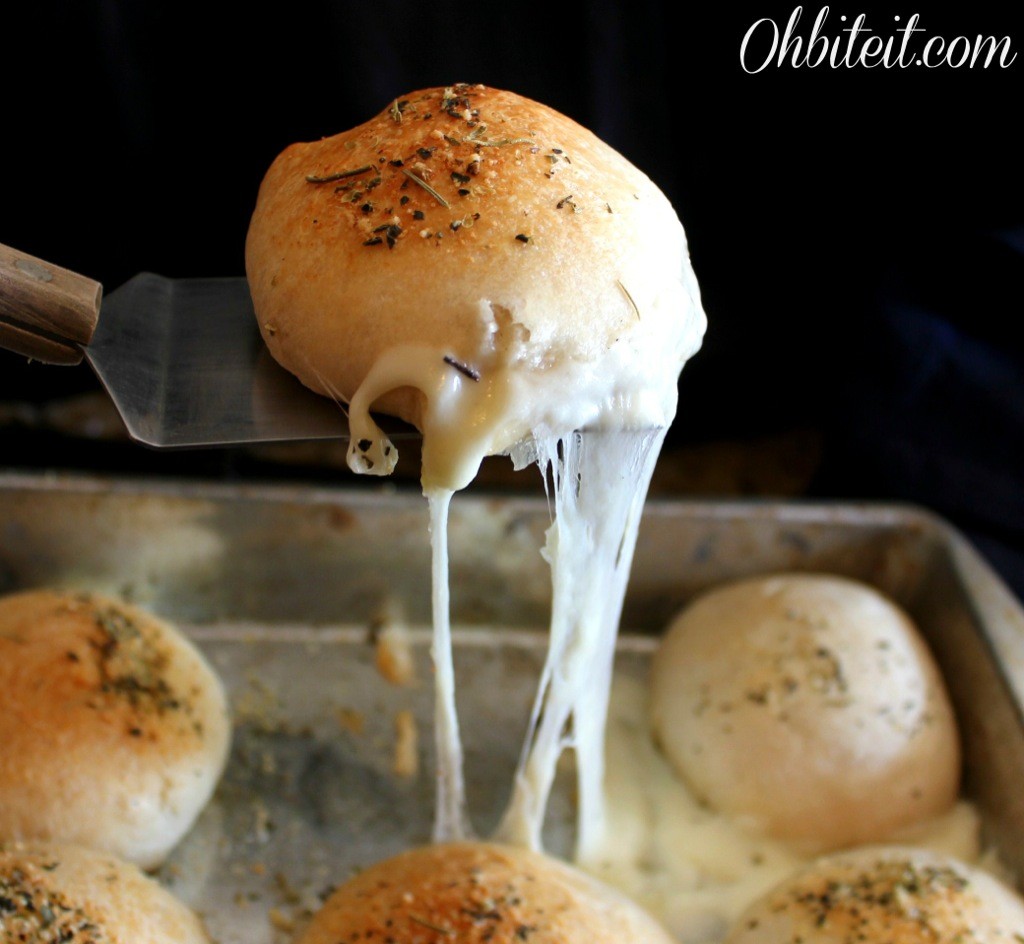 Hide your will-power and guard it with your stretchy pants..lol!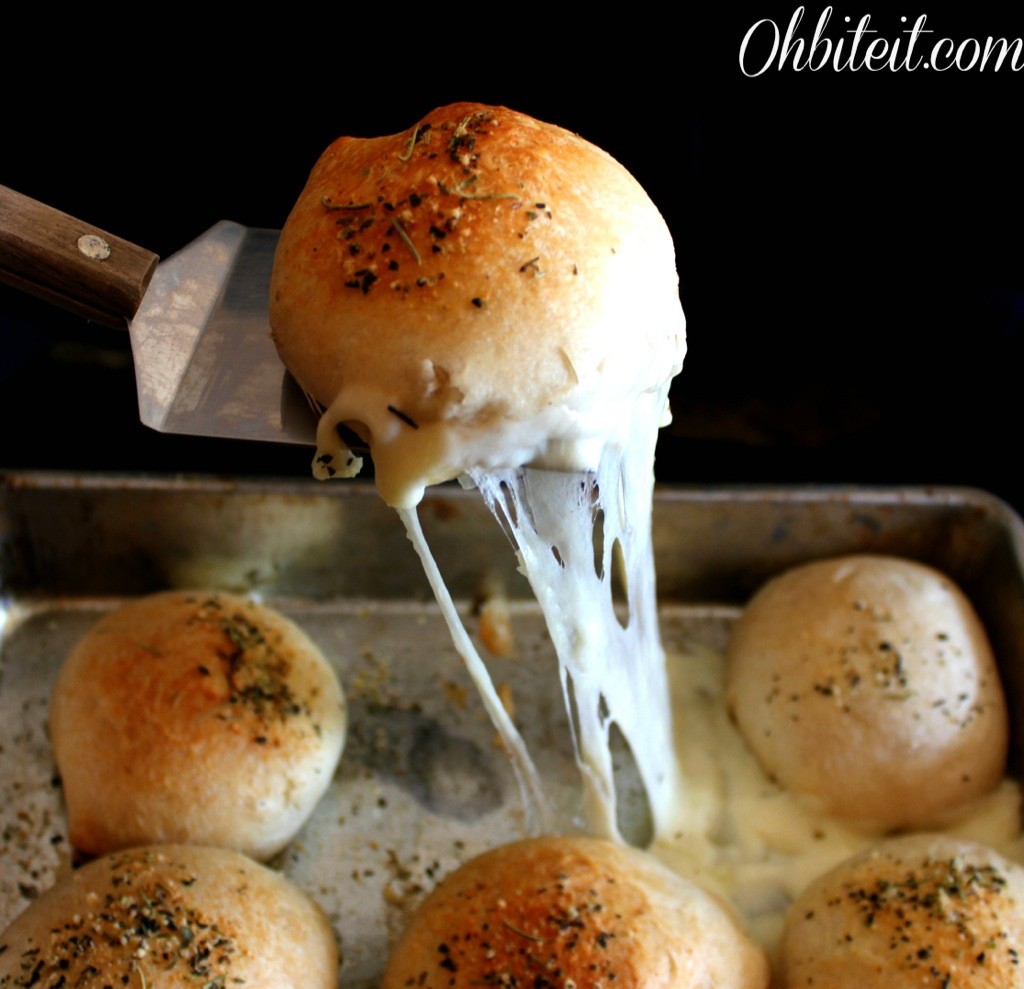 You won't find many people around your table running for cover from these Bombs, that's for sure!  In fact they'll probably be throwing themselves right into the line of fire!
Your sweet friends and family will be ready & willing to sacrifice their waistlines for the sake of their taste buds…awe, such Heroe's they are!
These Biscuits will quickly become your kitchen's weapon of mass diet-destruction capable of killing the self control of anyone in their path!  No one can resist the warm, fluffy seasoned Biscuits, oozing and goozing with hot, melty Mozzarella..very dangerous!  🙂
Melty cheesy filled biscuit deliciousness..INCOMING! 🙂
What you'll need to bomb at least 8 people:
1 Container of Pillsbury Grands Flaky Layers Biscuits
3/4 of a pound of Mozzarella..Or your fave cheese!
1/4 cup Olive Oil
1/4 cup Grated Parmesan Cheese
1 tsp. Oregano/Italian Seasoning
Dash of salt
Directions a.k.a your direct orders if you're willing to accept them:
Pop open those Biscuits and slightly flatten each one out, preparing them for their cheesy ammo!
Cube up the Mozzarella into approx. 2″ chunks.
Load those bombs with 2-3 cheese chunks and seal them up very well!  Place them seam-side down onto a baking pan…
Brush them with some Olive Oil…
And a sprinkling of the Parm & Seasoning…
Bake them at 350 degrees for approx. 15-20 minutes, or until they're golden and firm.  Expect some of that cheesy ammo to try and make an escape due to the extreme heat of the oven..lol!  Just let them cool a little bit and the cheese will behave again!
Then…ambush your friends & family with the most delectable hot & cheesy Bombs EVER!  ~Enjoy!  🙂