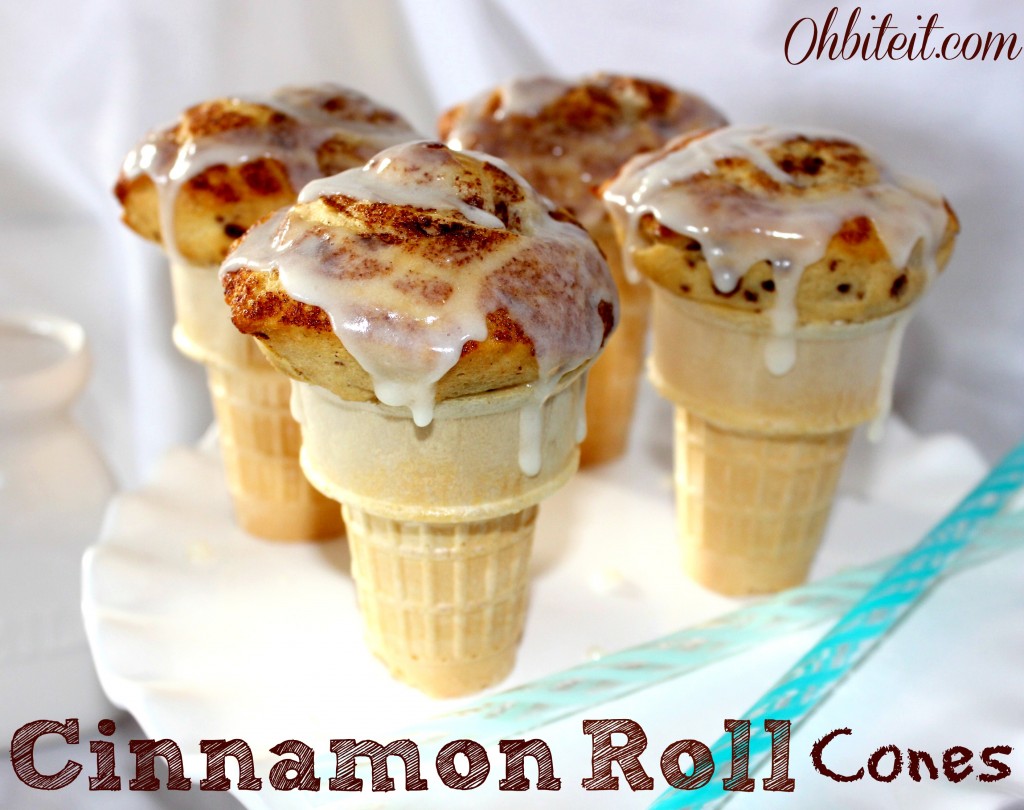 Guess what??  You don't need a plate, a fork, or even a place to sit down in order to enjoy your gooey warm Cinnamon Rolls anymore!  It's Tah-Ruue!  Now you can go about your business and/or become the life of any party with these super fun and easy Cinnamon Roll filled Cones.  What a delicious conversation starter!  🙂
Although, I'm not quite sure if I heard about this idea in real life or if it was the hungry voices inside my own head.  Eh..whatever, it doesn't matter because now they're here, they're real, and they're spectacular..LOL!  I just love it when 2 great things can come together to make an even GREATER thing!
Just imagine the extreme possibilities of fun that these Cinnamon Roll Cones will offer to any birthday party, casual get-together, or simply some sweet, fork-free snackin' around the TV!
How great is a warm, sticky, ooey-gooey Cinnamon Roll nestled inside a crispy, toasted cone?!  No fork or plate necessary, and not a messy hand in sight!
~Yes, please!  🙂
What you'll need:
1 Roll of Pillsbury Cinnamon Rolls
Flat Bottom Ice Cream Cones..one per each Roll!
Some Spice Cake Mix (optional)
1 cup Caramel Sauce (not shown)
A muffin/cupcake baking tin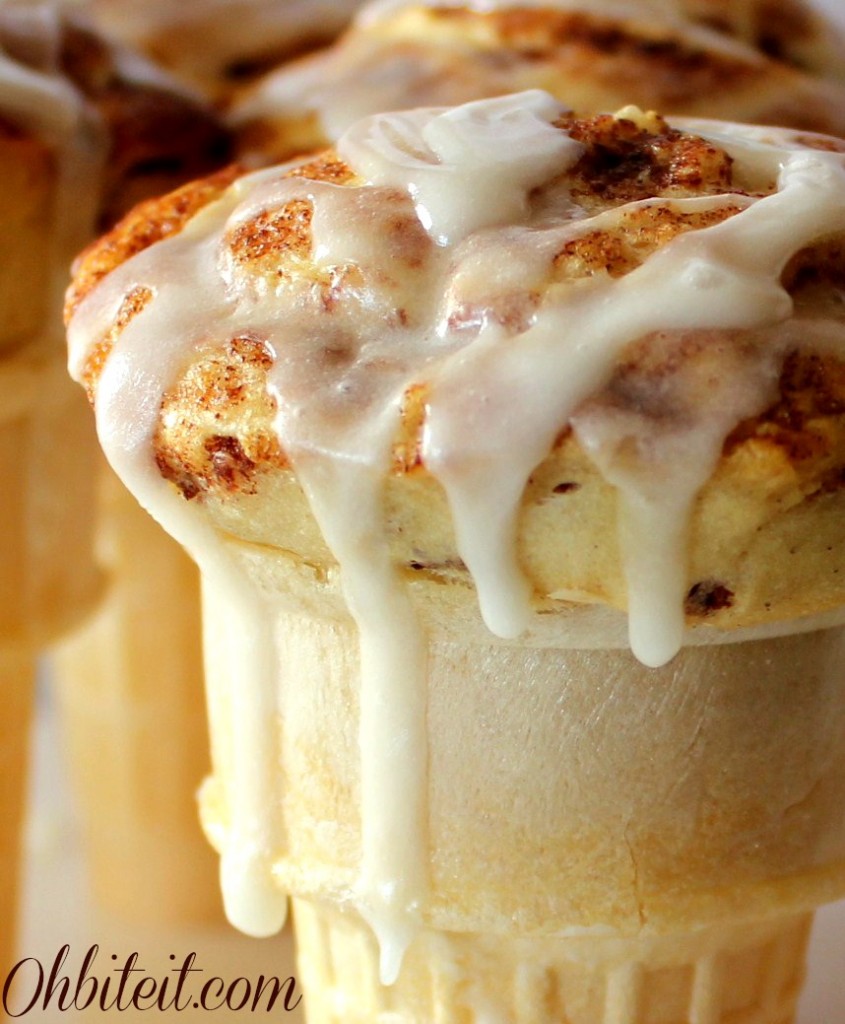 Directions:
Open the Cinnamon Rolls.
Get the Cones ready to be topped!
Drizzle a swirl of Caramel Sauce around the inside of the wall of the cone.
OPTIONAL STEP>>> If you don't want to have a hollow Cone, simply pour some Spice Cake batter (or fill them with anything you can think of) inside of them, just about 1/4 of the way. 
Gently place one Roll nice-n-snug into the top of the each Cone.
Make sure to carefully tuck in the edges of the Roll inside the Cone rim…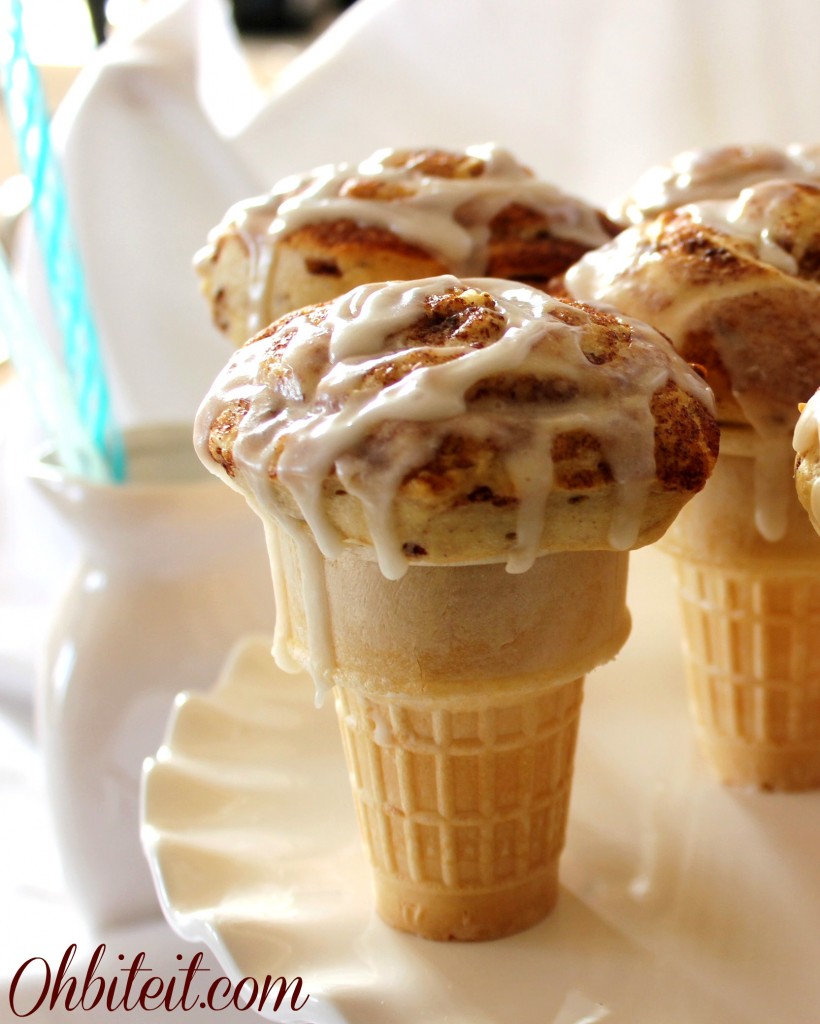 Place them inside the cupcake tin, carefully get them into the oven without them tipping over..lol!  Bake them at 350 for about 12-ish minutes, or until they're golden, puffed and firm.
 Drizzle them with the included Cinnamon Roll Frosting…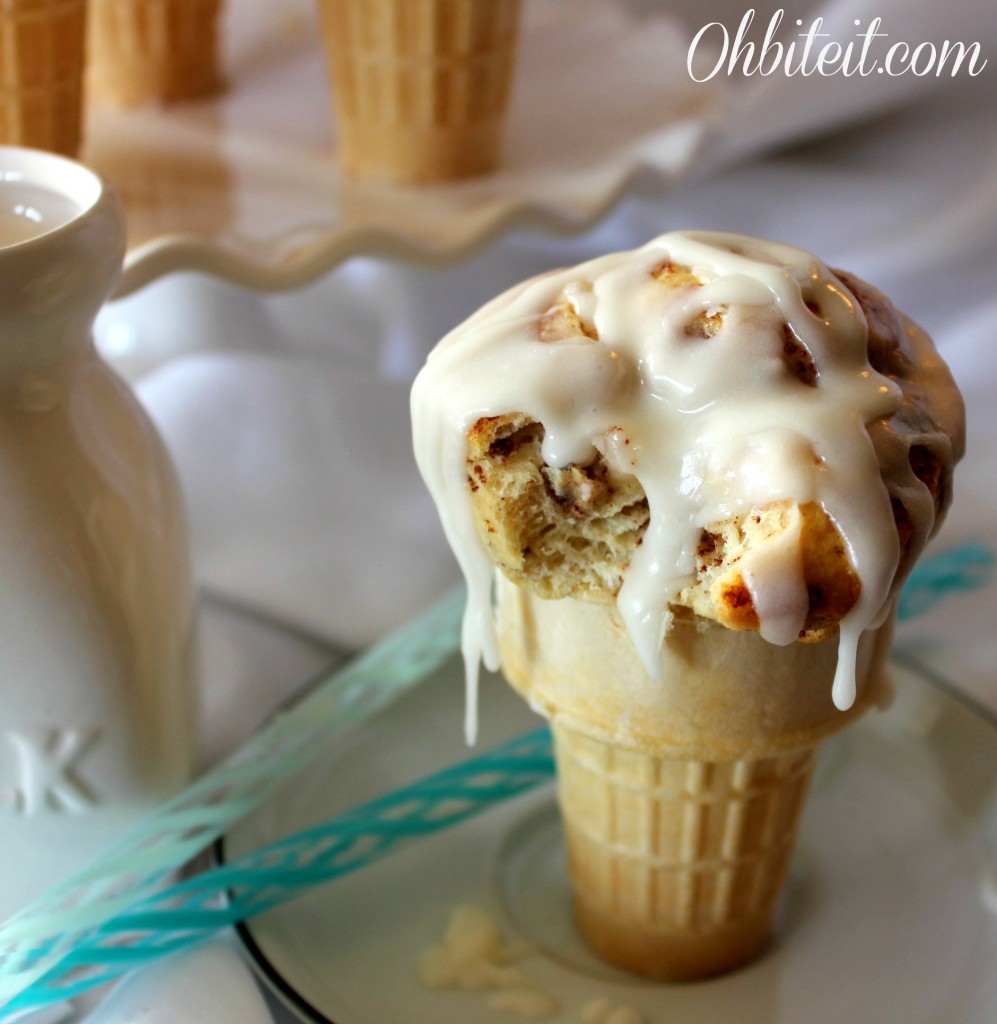 Gather some hungry people and share..you can do it!
Take a big, warm, ooey-gooey Cinnamon Roll Cone bite!  ~Enjoy!  🙂