Oh happy day!  I couldn't be more excited to share with you, not only one of the most delicious Apple recipes I've ever tasted..but also a chance for you to WIN the most delicious Apple Butter I've ever tasted!  Along with an adorable one-of-a-kind, wooden "Spurtle" to scoop it all out with!  What's a Spurtle you ask?  It's an adorable hardwood utensil from Scotland, that dates back to the 15th Century..used to stir Porridge & Soups!  Not to mention it's the best jar scraper out-er this Century has EVER seen, you totally need one!  🙂
With this luscious & fun gift pack you'll be able to create all of your favorite Fall eats & treats!  One HUGE jar of Musselman's Apple Butter is enough to provide you with endless amounts of delicious delectables, and still leave you plenty leftover to make these incredible Dutch Apple Butter Bars too!
These delectable Bars are rich, sweet & cakey, filled with swirled Apple Butter & cake layers, topped with mounds of Dutch Crumble Topping, and held together by a spicy Ginger Snap Crust foundation of yumminess!  Ohh yeahh!
What more could you ask for? ..Well, how about your very own jar of Musselman's Apple Butter AND your very own custom Spurtle to use and enjoy for years to come?!  Sounds good huh? ..heck yes it does! Follow the instructions at the end of this post for your chance at these bars..and SO much more!  🙂
What you'll need:
1 1/2 Cups Spice OR Pumpkin Cake Mix (I used Pumpkin Cake Mix that I had hanging around)
2 Eggs
4 tbsp. Melted Butter
1 Cup Musselman's Apple Butter
A 8x8x2″ Pan..sprayed!
THE GINGER SNAP CRUST:
1 1/2 Cups crushed/powdered Ginger Snap Crumbs
3 tbsp. Melted Butter
THE DUTCH CRUMBLE TOPPING:
3/4 Cups Flour
1/3 Cup Brown Sugar
1 tbsp. Cinnamon
1/3 Cup cold butter (cubed)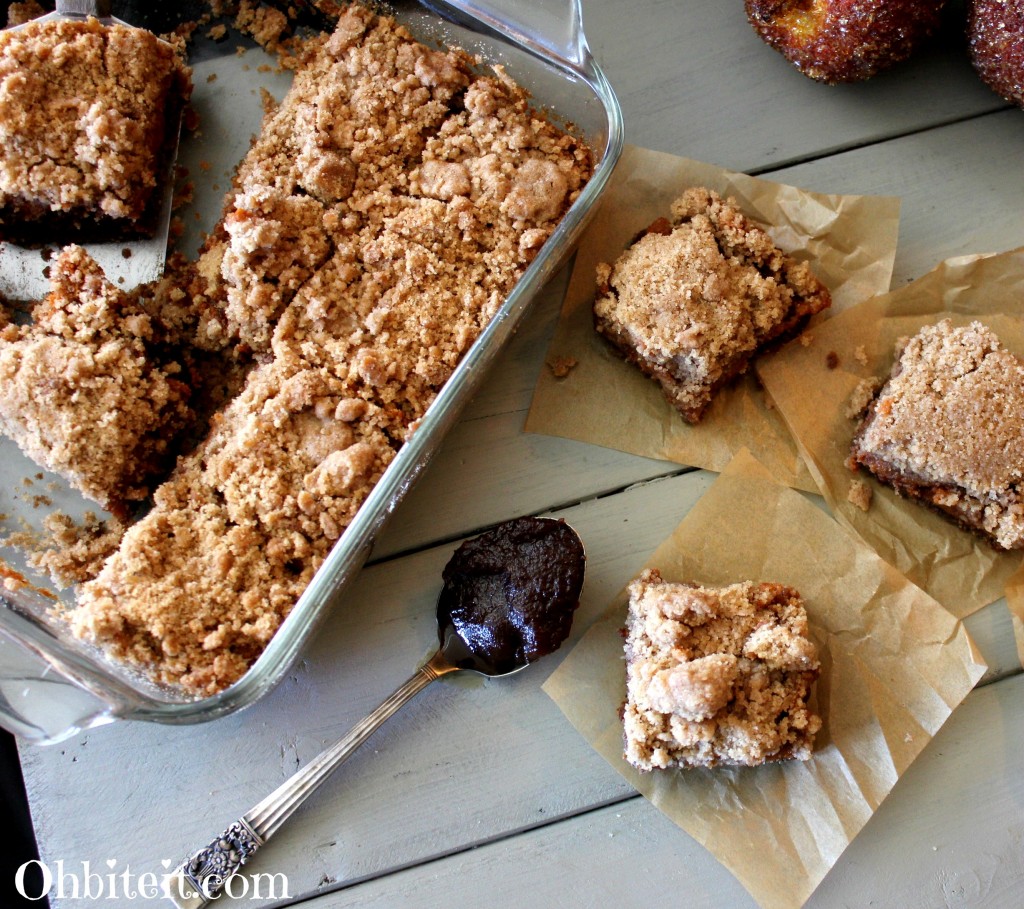 Directions:
In a medium bowl mix together the Cake Mix, Water, Eggs, and 4 tbsp. Melted Butter..combine well, set aside!
In another medium bowl combine the Ginger Snap Crumbs with the 3 tbsp. Melted Butter and using your fingers, make an even bottom crust in the pan.  Bake the crust at 350 degrees for 5 minutes!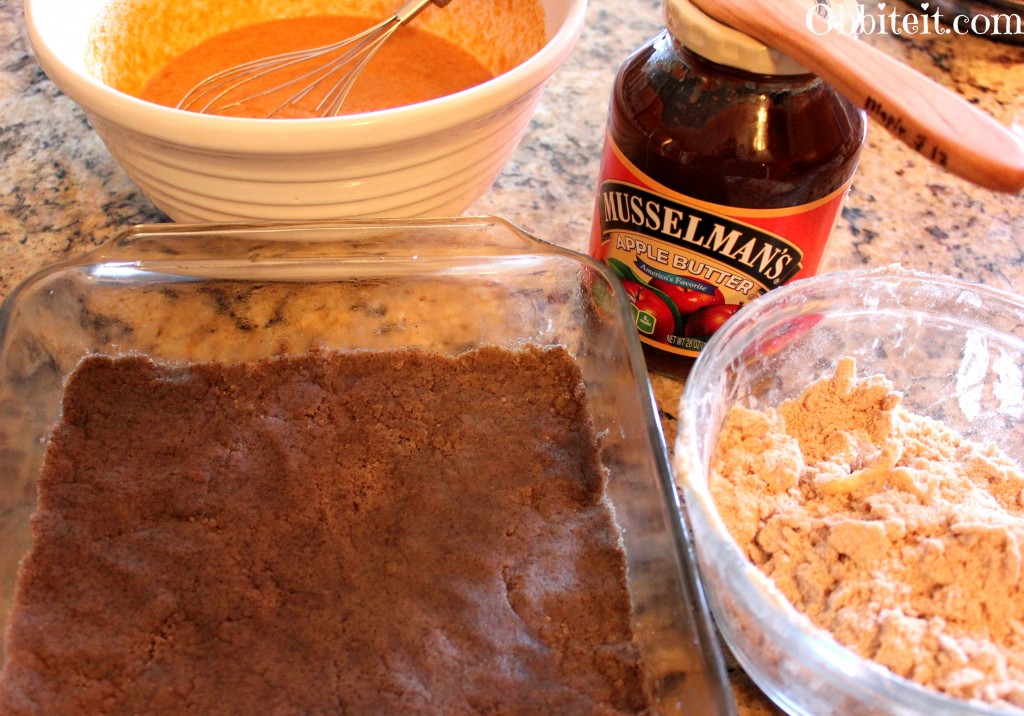 After the crust has baked for 5 minutes, pour the Cake Batter into the HOT pan, on top of the HOT crust…
Spurtle up that rich, thick Musselman's Apple Butter…
  …and evenly swirl it into the batter, being very careful not to scrape the bottom crust with your fork…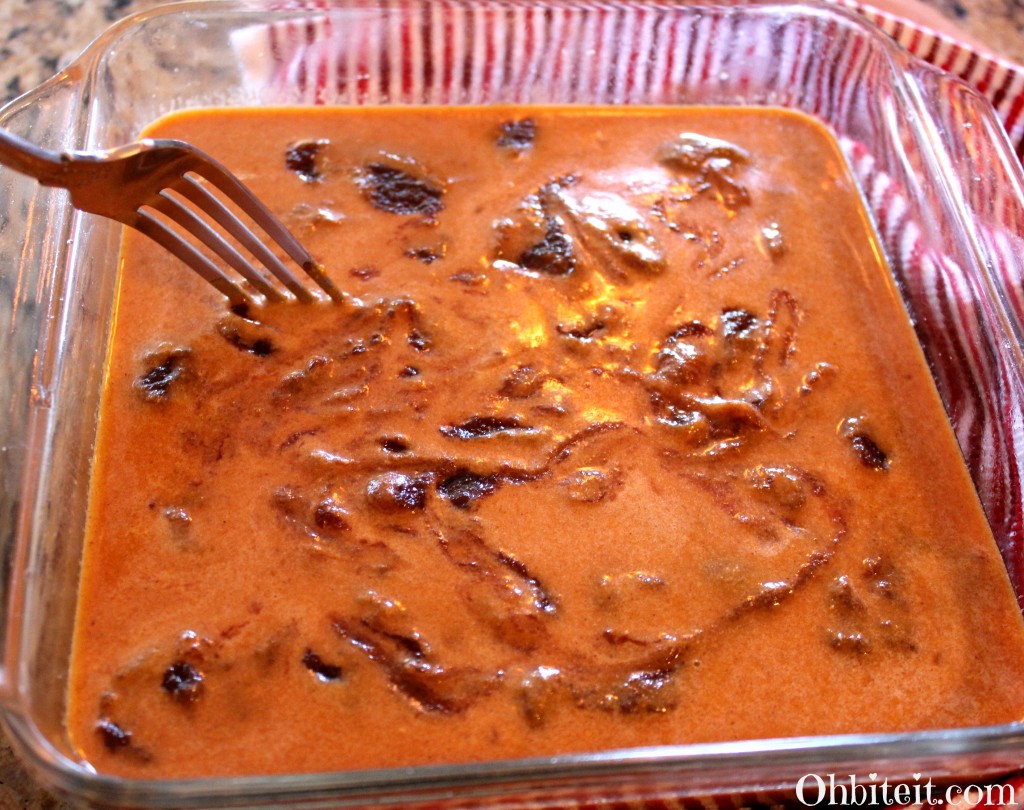 Put it back into the oven for 25 more minutes.
While it's baking prepare the Dutch Crumble Topping, by combining the Flour, Brown Sugar, Cinnamon & Butter.  Cut the butter into the flour/sugar until you have a sand-like consistency …
At 25 minutes, add the Dutch Crumb Topping onto the par-baked batter…
Finish baking it for approx. another 25 minutes, or until the topping is golden, let it cool VERY WELL before slicing it up…
You will LOVE the gorgeous layers of Fall colors and flavors…
Serve it up…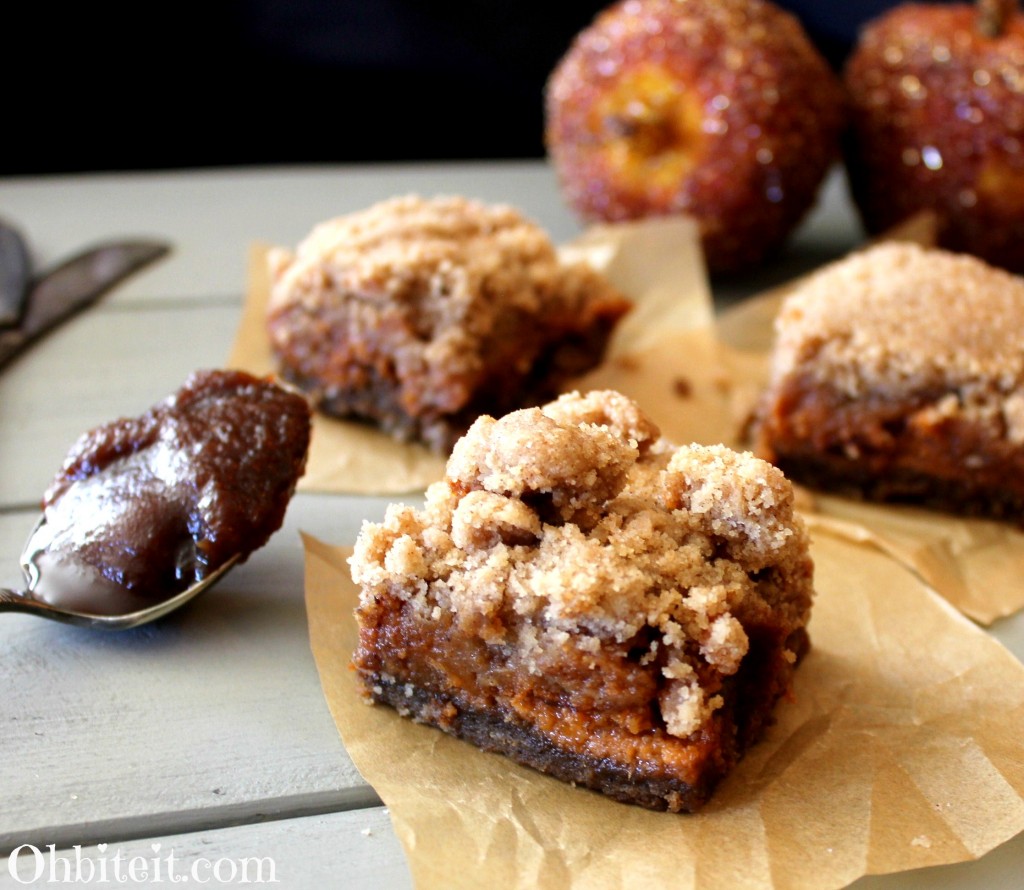 Grab a plate all for you!  ~Enjoy!  🙂
Musselman's Apple Butter is non-dairy and can be found in the jam/jelly aisle of your store, and you can find even more recipes on Musselman's.com!
BUT..here's your chance to get this Apple Butter, your very own unique & adorable Spurtle and lots of creative Musselman's recipe ideas!  All at YOUR DOOR and into your mouth without ever leaving home! 🙂
Just do THIS!  🙂
1.  Like Musselman's on facebook right here–> "Musselman's" AND TELL THEM OH, BITE IT sent you!
2.  Like Oh, Bite It on facebook right here–> "Oh, Bite it"
3.  Share this post on any social network..
4.  Comment below so we know you did all of thee above!  🙂
**This contest runs through Midnight Friday Oct 26, 2012!  The Winner will be notified on Saturday the 27th via email, facebook message and/or shout-out!  Good Luck!  🙂