Hmm..don't sit too long at my house because I just might stuff you in a Jalapeno..lol!  Yeah, it's getting that ridiculous!  However, you have to admit, anything shoved inside a Jalapeno, or Green Chile is awesome..right?..RIGHT!  🙂
Soo, I'm gearing up for yet another round of trash TV watching, and that means S.N.A.C.K.S!  Taco Stuffed Jalapenos totally make me forget that I have no Kardashian shame!  🙂
These delicious bites are everything you know and love about Tacos, lovingly stuffed & baked into spicy Jalapenos.  They're then topped with crunchy crushed Tortilla Chips, and Cheese!  Oh..and some Sour Cream close by..just in case!  I always plop a bottle of hot sauce on the table for those who like to show off it Hhhot!  🙂
Make a batch PRONTO!
What you'll need for 30 Stuffed Peppers a.k.a. enough for maybe 2 grown men..lol (Make Lots):
15 Jalapeno Peppers  (FYI..Roasted & Peeled Green Chiles will work GREAT for these as well..just stuff, bake and serve!)
1 lb Ground Beef (I used Lean)
1 Packet of Taco Seasoning
2 Cups Shredded Cheddar Cheese
2 Cups crushed Tortilla Chips (not shown)
1 Cup Shredded Lettuce
Sour Cream for dipping
A bottle of Hot Sauce..somewhere on your table!
Margaritas/Beer??!  🙂
Directions:
Go to the potty, scratch your eyes, hug your children, pet the dog!
NOW..you may slice the Jalapenos lengthwise and scrape out all of the seeds and veins..set them aside…
In a Zipper Bag, crush up those chips…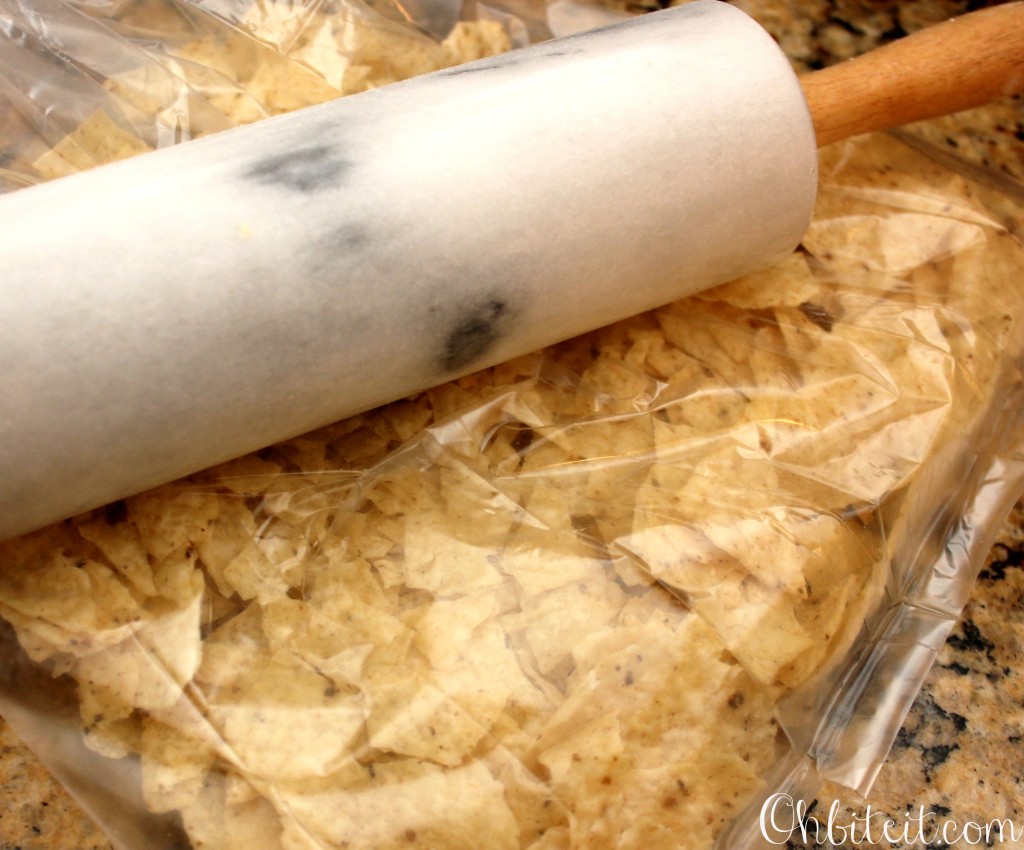 In a medium pan cook up the beef with the Taco Seasoning packet, let it cool slightly…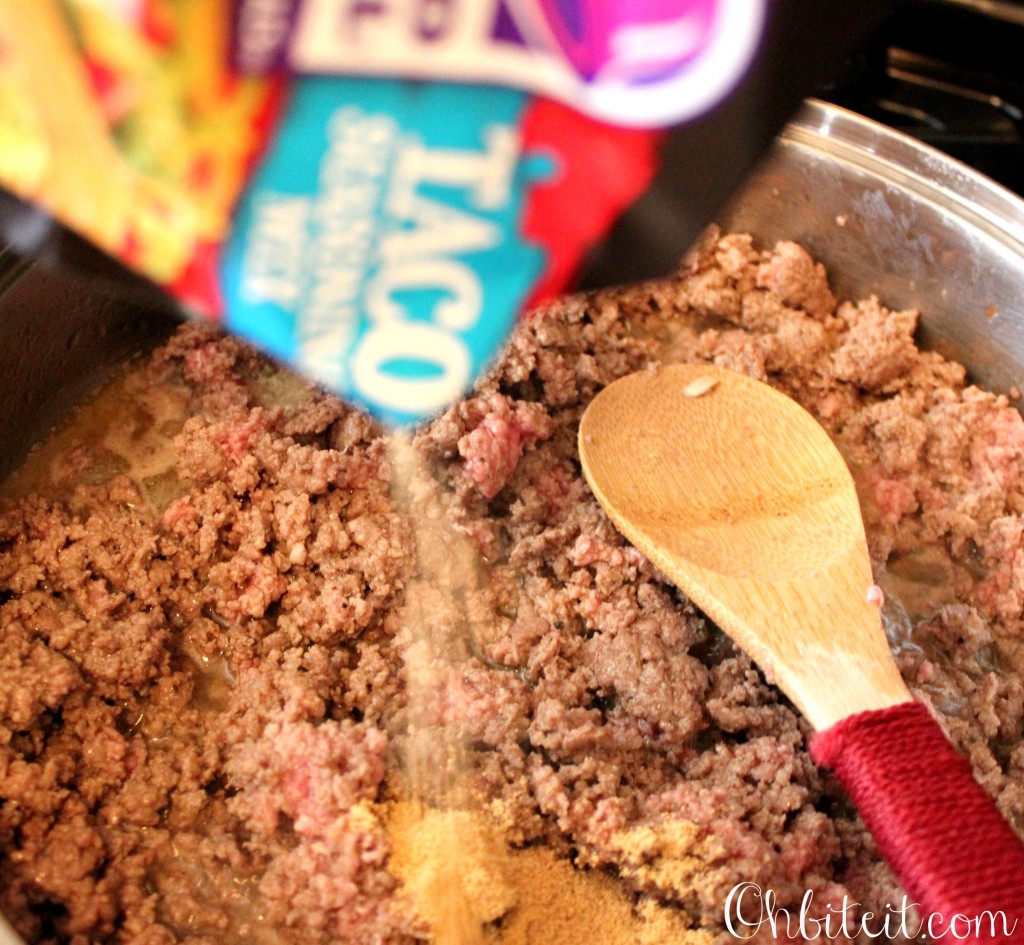 Add it to a medium bowl and stir in 1-1/2 cups of the Shredded Cheddar..
Stuff each jalapeno half with about a tbsp. of the Beef/Cheese mixture…
Sprinkle them with some crushed Chips..and sprinkle them up goood…
Now sprinkle them with the remaining 1/2 cup of cheese, yeah that's right…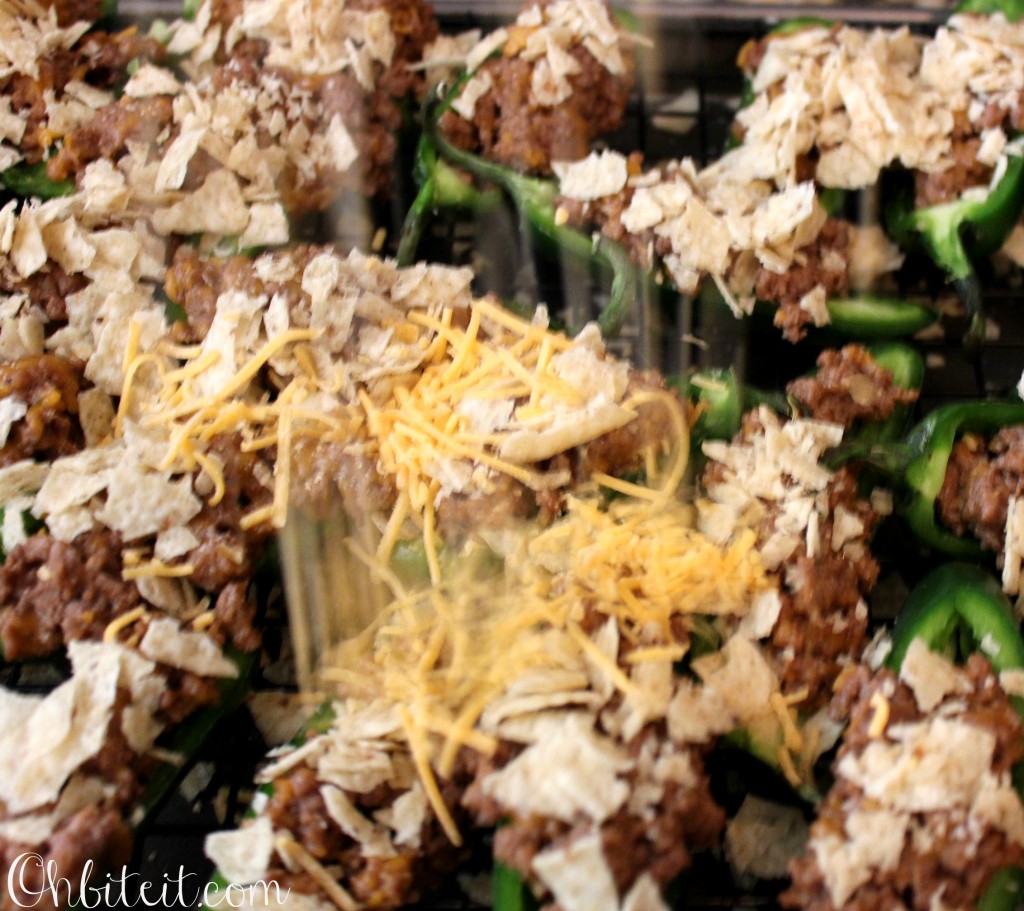 Get those babies into the oven and bake them at 350 for about 25 minutes…GO WASH YOUR HANDS!  🙂
They're ready when the Peppers are soft, slightly charred & the Cheese is melty!  Let them cool..if you can!
Ahhh..they look SO yummy…
Spice them up with Hot Sauce, if you dare…
…Now Dig IN!  ~Enjoy!  🙂  ..and go wash those hands!