If I had to, I could easily survive on Cobbler alone!  Much like the Potato, it's the 'perfect food'..haha!  It would be my stranded on a desert island food choice FOR SURE!  Cobbler, when it's done right, is everything to everybody..all in one bite!  🙂
My island must have a magnificent Autumn season, that lasts all year long!  With big trees that are always full of beautifully changing colors and brisk, cool nights.  No one wants to sit on some blistering hot island, while trying to enjoy a sizzling skillet of warm and comforting Cobbler..lol!
This sweet and slightly spicy Cobbler is everything we adore about Fall in one sizzling hot skillet!  Filled with sweet, un-peeled rustic Apples, that have cooked down inside of the most intensely flavored, reduced Apple Cider Glaze, that totally takes this Cobbler over the flavor edge!  Then the whole thing is dolloped with delicious, shortbread-like, Pumpkin Spiced Biscuits!
Top it all off with some cold Vanilla Ice Cream and it's like a big comforting hug from the inside out!
P.S.  These Apples have a secret..they have a dash of pepper on them!  I know it sounds weird, but it adds an unexplainable, yet delicious background flavor to this Cobbler, and it's divine!  This Pepper-in-the-Apples idea is courtesy of America's Grandma..Paula Deen..thanks Miss Paula!  😉
What you'll need:
A 9″ Cast Iron Skillet (Or larger, just increase the ingredients accordingly)
2 Sliced Apples
2 tbsp. Butter (not shown)
1 Cup of Apple Pie Filling
2 Cups of Apple Cider
1 pinch of Black Pepper (optional)
2 Cups Bisquick
1/2 Cup Sugar..not shown (add more if you like a sweeter biscuit)
1 Cup Milk
1 tbsp. Pumpkin Pie Spice (For the Biscuit Batter)
1tsp. Pumpkin Pie Spice (To sprinkle on the Biscuit Tops)
Directions:
Slice up your Apples (peel them first if you prefer) and sprinkle them with a dash of Pepper (optional..but seriously delicious!)
In your skillet melt the butter and add in the peppered Apple slices, Apple Pie Filling, and the Apple Cider…
Let them sizzle away until the Cider is reduced and the Apples are tender.. 
While the Apples are cooking, make the Biscuits by adding the Bisquick, Sugar, Pumpkin Pie Spice & the Milk to a medium bowl, mixing well to combine…
Remove the Skillet off of the heat and dollop some Biscuit batter on top of the Apples!  Into the oven it goes..350 degrees for about 15-20 minutes, or until the Biscuits are golden and firm…
It gets SO pretty, especially with Ice Cream on it…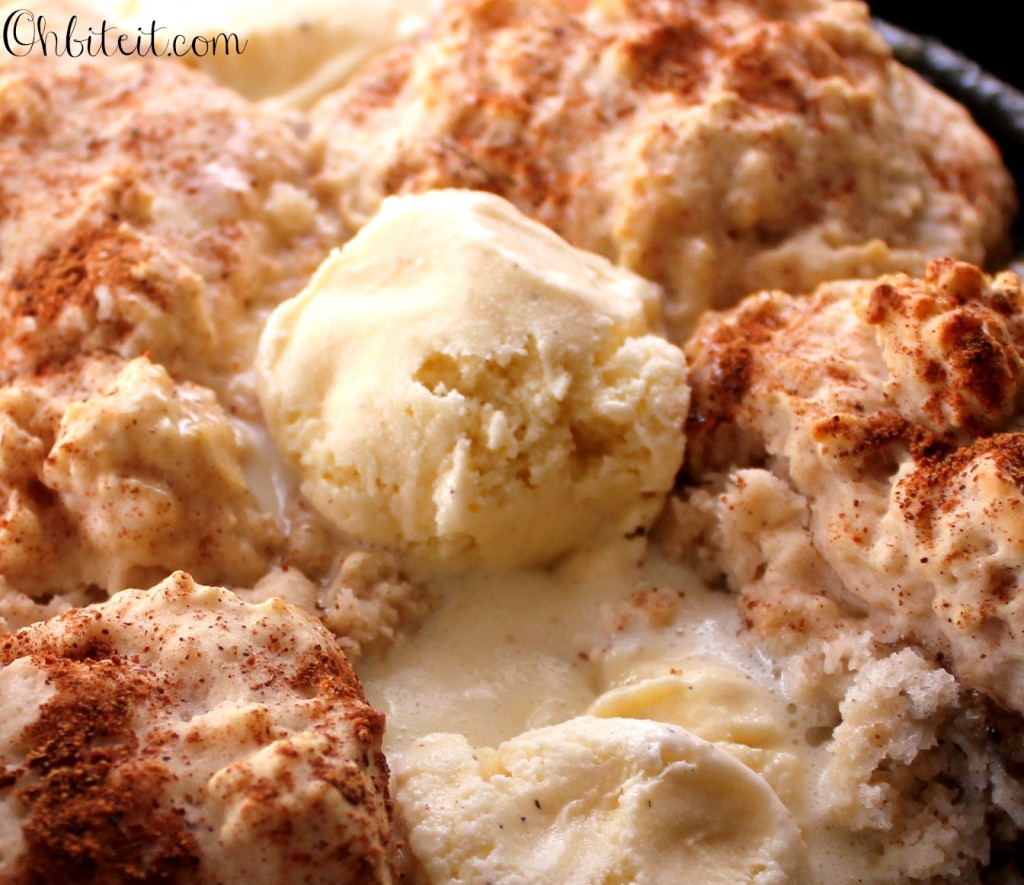 Serve it up steamy & hot..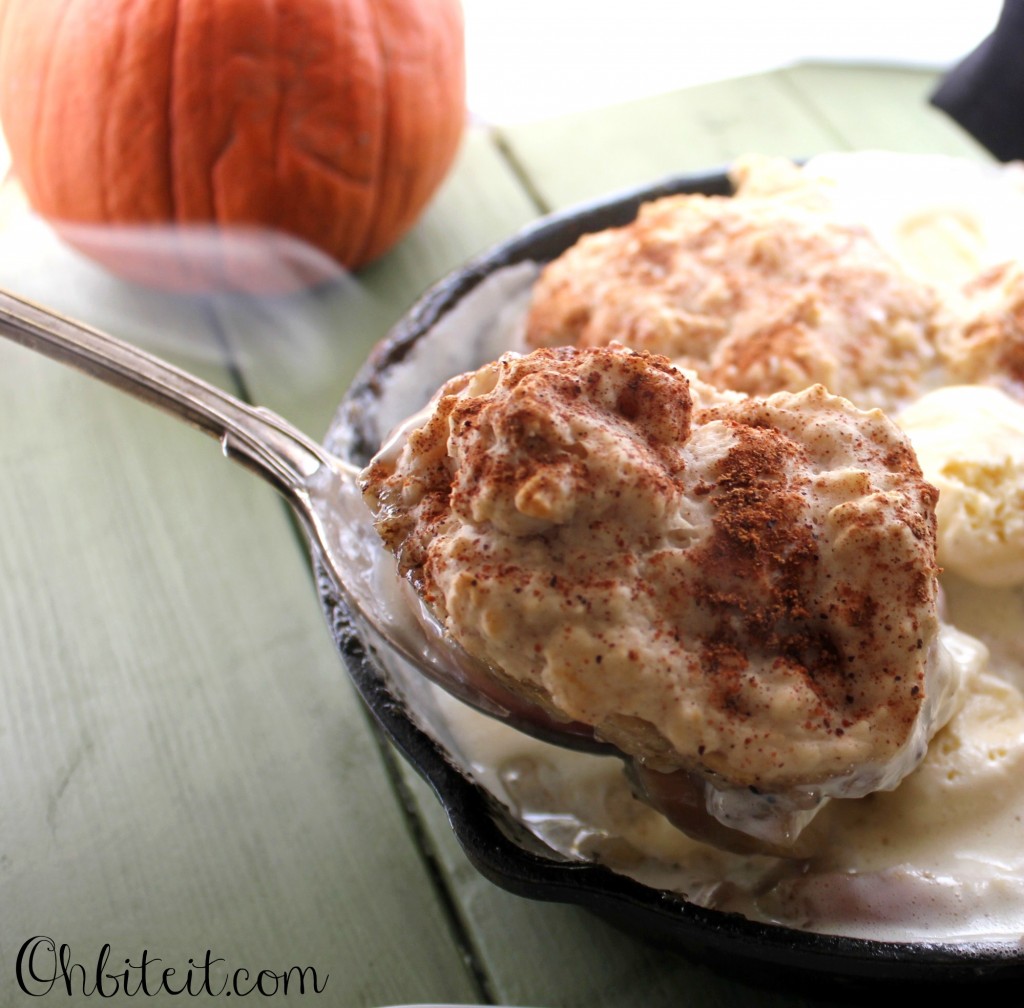 Make yourself a nice plate…
Orrr, you could always err..share!
But whatever you do…it must include a nice drippy scoop of Ice Cream..
…and now..a nice BIG bite!  ~Enjoy!  🙂