Tis. The. Season!  It's officially time to dust off all of those icky-sticky, ooey-gooey, drizzly-drippy, flaky-cakey, holiday treat recipes!  Time to start scribbling down shopping lists, menu planning and invitation mailing!  Sometimes I think I mentally plan for this all year long, but that's just me, and I'm weird..haha!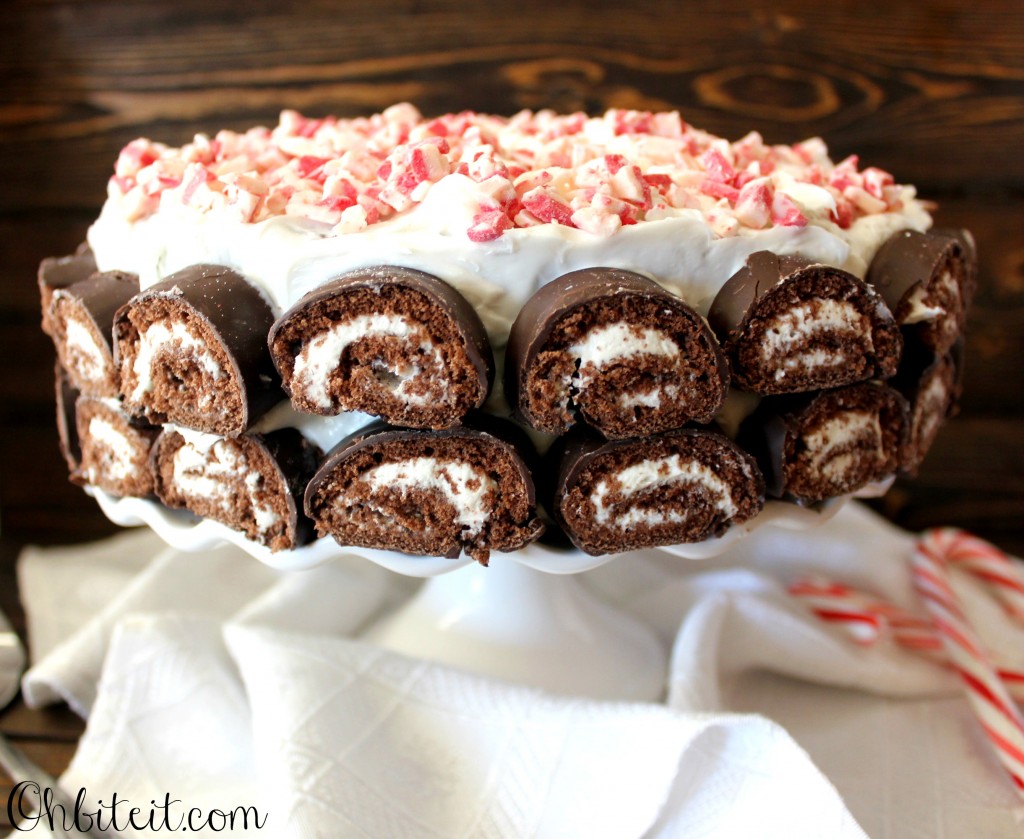 In my defense, I give it that much thought because every year I like to add at least one new, never before seen menu item to the usual bunch!  Something cute, something yummy and something that will have everyone still talking about it when they come back the following year!  Last year it was my Drunken Gingerbread Men Cupcakes..yeah, these lil' guys were pretty popular!
This year it's Ho's, 3 of them..and I'm sure they'll be just as popular!  🙂
Let me introduce you the 3 sweetest Ho's you'll ever meet, yep..it's my Ho Ho Ho Cake, not my friends..geez!  😉
Chocolate Fudge Cake so rich & dark,  generously layered with fluffy frosting and sweet Peppermint Crunch!  All bordered by an entire box of Ho-Ho's..remember Ho Ho's?!
Santa will be proud!  🙂
What you'll need:
1 Box of Ho Ho's (10 count)
2 Cups of Andes Peppermint Crunch (my new fave holiday ingredient!)
1 Box of Betty Crocker Chocolate Fudge Cake Mix
1.5 Containers of White Frosting (amounts may vary, but I used a little more than one container)
1 Candy Cane..crushed
2-8″ round cake pans
Directions:
Bake up the cake in the cake pans and let them cool completely!  Whenever I have to turn out cake, I always spray the pan and then line it with parchment paper..life saver! 🙂
Slice each Ho Ho into 5 even slices!  Go ahead and Cut a Ho..just this time..lol!
Frost the bottom layer of the cake and sprinkle it with about 1/2 cup or so, of the Peppermint Crunch…
Put the top layer of cake on and frost that too.  Sprinkle it with the remaining Peppermint Crunch and crushed Candy Cane.  Finish frosting all the sides of the cake and place the Ho Ho slices gently into the frosting, going all the way around the sides of the cake, in two rows.
Cut into that adorable cake and slice it up….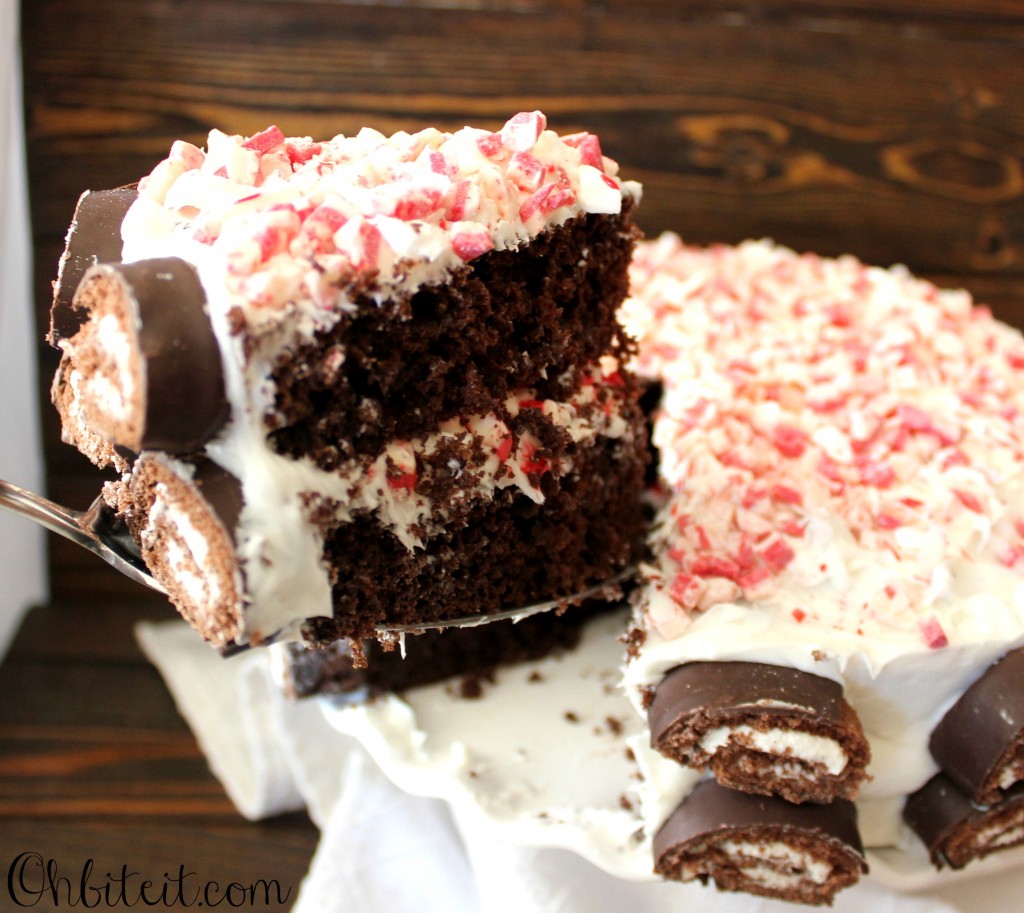 Fix yourself a plate…
And dig in..HO HO HO!  ~Enjoy!  🙂