I'm not really a lover of surprises, unless of course it's a food surprise!  And especially when that food surprise involves chocolate in unexpected places, well..not just chocolate, but REESE'S!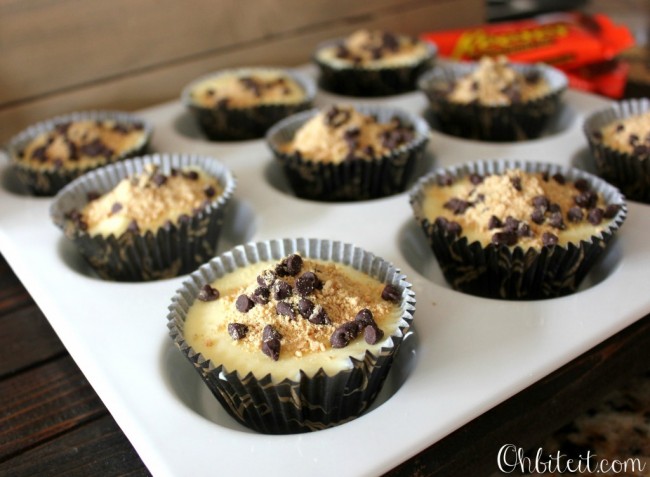 How much more awesome could Cheesecake possibly get?  This dream has a crust made of an entire Reese's Peanut Butter Cup On. The. Bottom?!  Sooo, not much I tell ya! 🙂
Creamy Cheesecake, topped with a dusting of nutty Graham Cracker Crumbs & Sweet Chocolate Chips, all resting on top of a Reese's Peanut Butter Cup Crust!  ~Simply Divine!  🙂
What you'll need:
1 Box of JELLO instant NO-Bake Cheesecake Mix (Feel free to make your own no-bake Cheesecake)
Reese's Peanut Butter Cups (one per each Cheesecake)
1 Cup of Mini Chocolate Chips..for sprinkling on top.
Approx. 1 Cup of Graham Cracker Crumbs (either store bought, or you can crush your own..or use the enclosed bag of crumbs from the boxed No-Bake Cheesecake Mix)…for sprinkling on top.
Paper Cupcake Liners
A Cupcake pan
Directions:
Mix up the no-bake Cheesecake according to the box directions..or make your own fave recipe…
Unwrap the Reese's and REMEMBER TO REMOVE THE BOTTOM PAPER!
Drop one Peanut Butter Cup down into each paper liner and pour the Cheesecake Mix onto it…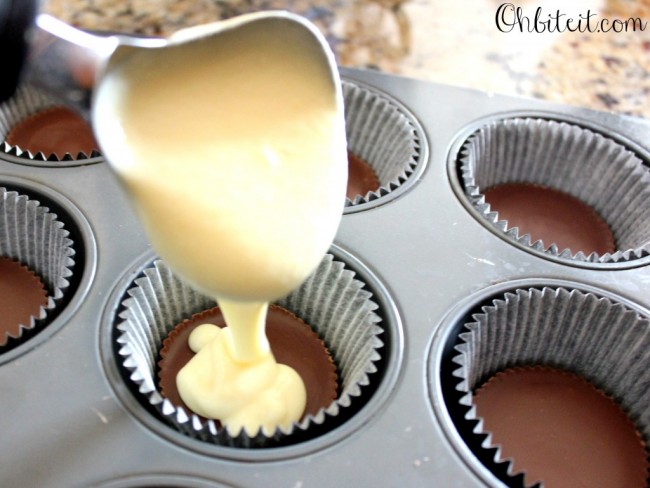 Into the fridge to chill for at least one hour!
Sprinkle them with the Graham Cracker Crumbs and/or Chocolate Chips!
Serve those sweet surprise bottom Cheesecakes up…
Take a bite and be amazed!  ~Enjoy!  🙂