'Tis the season for treats to get tipsy, fa la la la la..la la la lahhh!  That's my theme song for this time of year..my "jam", if you will!  I could literally add booze to everything from the salad to the dessert, to the midnight snack..lol!  Strange, since I'm not much of a drinker, I totally blame the holidays!  😉
There's just something about the holidays that drives me to add libation anywhere food has a dry spot.  Maybe it's the constant noise cheer throughout the house,  maybe it's the never-ending cleaning entertaining for the guests, or maybe it's just that mommy needs to escape relax for 5 frickin' minutes..LOL!  Whatever it is…it's darn tasty.
I like to keep these super moist, totally succulent, pop-in-your-mouth happy makers handy all throughout the house.  Hidden up high of course, away from the kiddos and husbands..lol!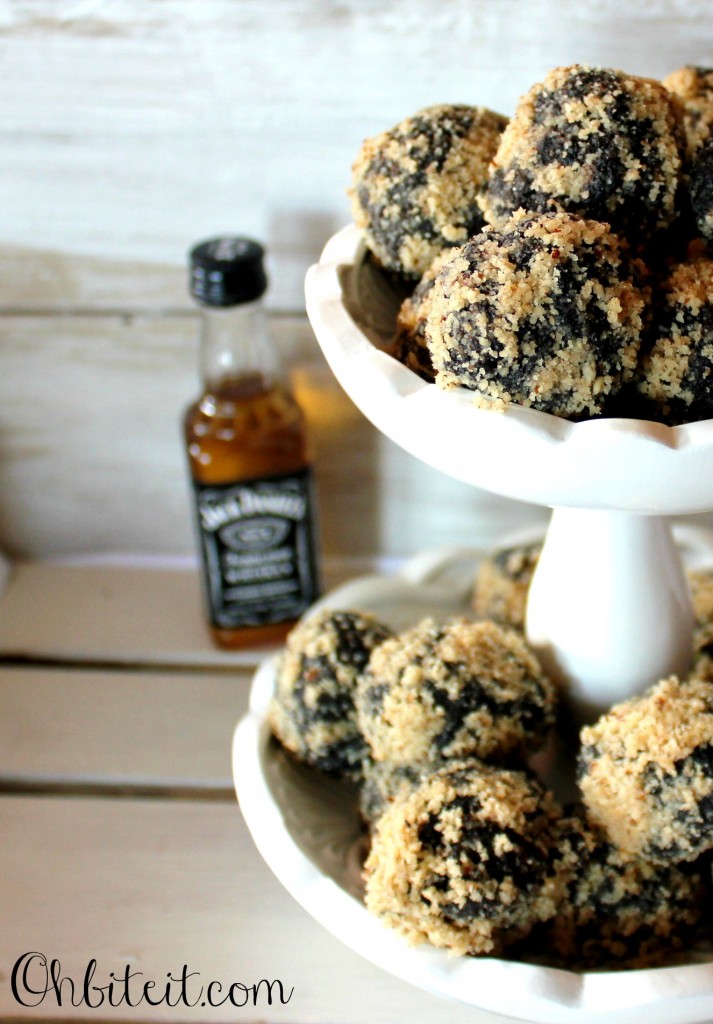 You'll be hooked from the very first nibble!  Each ball is dense, yet creamy & smooth, perfectly balanced with melt in your mouth sweetness and booze!  The crunchy Pecan Sandies coating simply hits these Balls out of the park!
They're the perfect little boozy bite to hide between your cheek and gums whenever that "holiday" mood strikes…yeah, make LOTS!  😉
What you'll need for approx. 22 Happy Holiday Balls:
A food processor (or lots of anger & a rolling pin)
A 1″ scoop..optional!
10-16 Pecan Sandies Cookies (10 should be plenty)
1 entire pkg. of Nabisco's Famous Chocolate Wafer Cookies (crumbs)
1 Cup pecans (divided)
1/4 cup Light Corn Syrup
1/4 cup Powdered Sugar (in the balls)
Some Powdered Sugar (for dusting..optional)
2 oz, semi-sweet Chocolate Melting Squares
1/4 cup Jack Daniels Tennessee Whiskey a.k.a Bourbon (not shown)
*For a non-alcohol version..simply replace the alcohol with your favorite Cola!  🙂
Directions:
Pulse the Pecans Sandies and half of the Pecans in the food processor into crumbs, set aside in a shallow bowl…
Now do the same with the Chocolate Wafer Cookies and the rest of the Pecans, set aside…
In a medium sauce pot melt the Chocolate square, Corn Syrup and the Powdered Sugar, stirring until smooth.  Add in the Chocolate Wafer Crumbs and the Bourbon (carefully).  Stir well, until fully blended, it will be thick!  Take it off the heat.
While the mixture is still warm, scoop up approx 1″ (with a scoop or your hands) and roll it into balls.  Toss the balls into the Pecan Sandies Crumbs, really push those crumbs into the balls..don't be gentle!  🙂
No one likes sticky Balls, let them dry on some parchment for a few minutes…  🙂
Give the balls a light dusting of sugar for extra sweetness…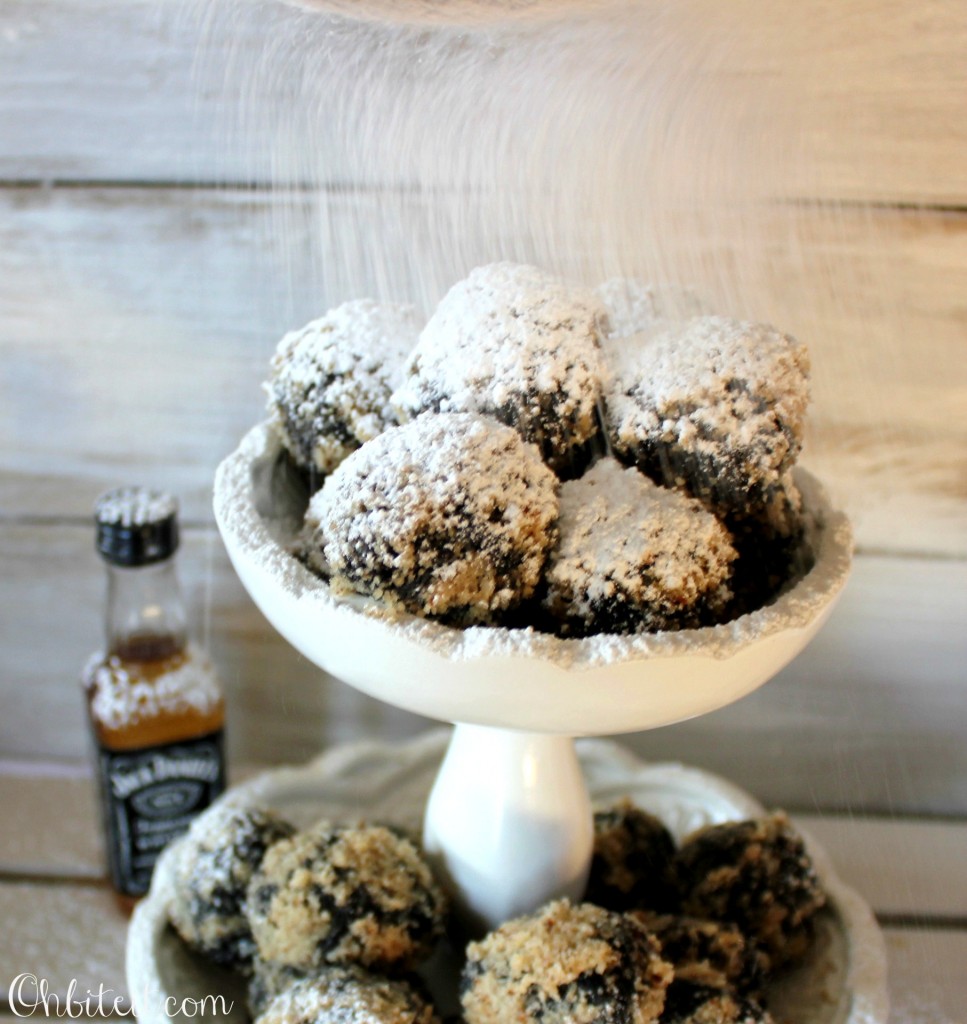 Serve up the Balls on a nice platter….
Grab a couple and, you know…  ~Enjoy! 🙂