If the perfect relationship compromise could be summed up in one bowl..this would be it!  We're talkin' manly, stick to your ribs Steak & Potatoes meets elegant, lady-like Bisque, in one of the most tastiest unions EVER!
Why can't we all get along like this people pleasing Bisque?!  Every spoonful is strong & satisfying, yet totally in touch with its feminine side.  It will fill your belly with goodness..and then call you the next day to ask you how you're feeling..lol! 😉
This rich, warm and comforting bowl of Bisque has everything we all love, and is SO incredibly delicious.  Filled with creamy Potatoes, smoky Bacon and grilled Steak, this will be your favorite belly warmer all Winter long!  Now you can get cozy with a big bowl of Steak & Potatoes, under a blanket on your couch..no fork & knife needed!
Your whole family will love it!  🙂
What you'll need: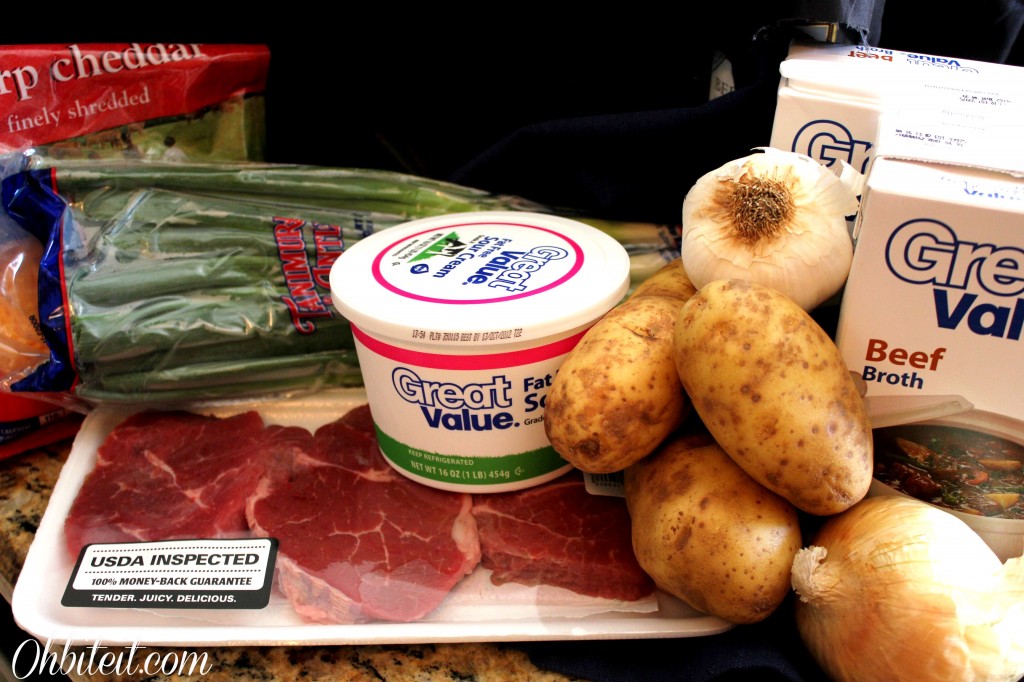 A 6-10 oz Good  Marbled Steak
3-4 large Potatoes
1 lb Bacon
1 med/lg. Onion
2 Garlic Cloves..chopped
8 Cups Beef Broth/Stock
1/2 Cup Cream
2 Cups shredded Cheddar Cheese
1 Cup Sour Cream
Some Chopped Scallions..optional
S&P to taste
A large stock pot
A Food Processor OR Immersion Blender
Directions:
Cut the Bacon into small pieces and crisp them up in the pot.  Drain them on a paper towel, reserving the bacon drippings in the pot.
Chop the onions and Garlic,  peel and cube the Potatoes and add them to the pot.  Cook them in the Bacon drippings, until they're tender and add them to the pot.
Once tender, add in the Beef Broth and the Cream, bring to a simmer, stirring occasionally.
While it's simmering, season the Steak with salt and pepper to taste.  Cook the steak in a pan or indoor grill, until it's fully cooked to your liking.
Slice the cooked Steak into thin, spoon friendly slices, and set aside.
With a slotted spoon transfer the tender potatoes, bacon, onions & garlic to a food processor, or use an immersion blender directly inside the pot.
Blend it until it's evenly smooth.  It will still have some texture!  Pour it back into the pot to keep it warm, seasoning it to your taste.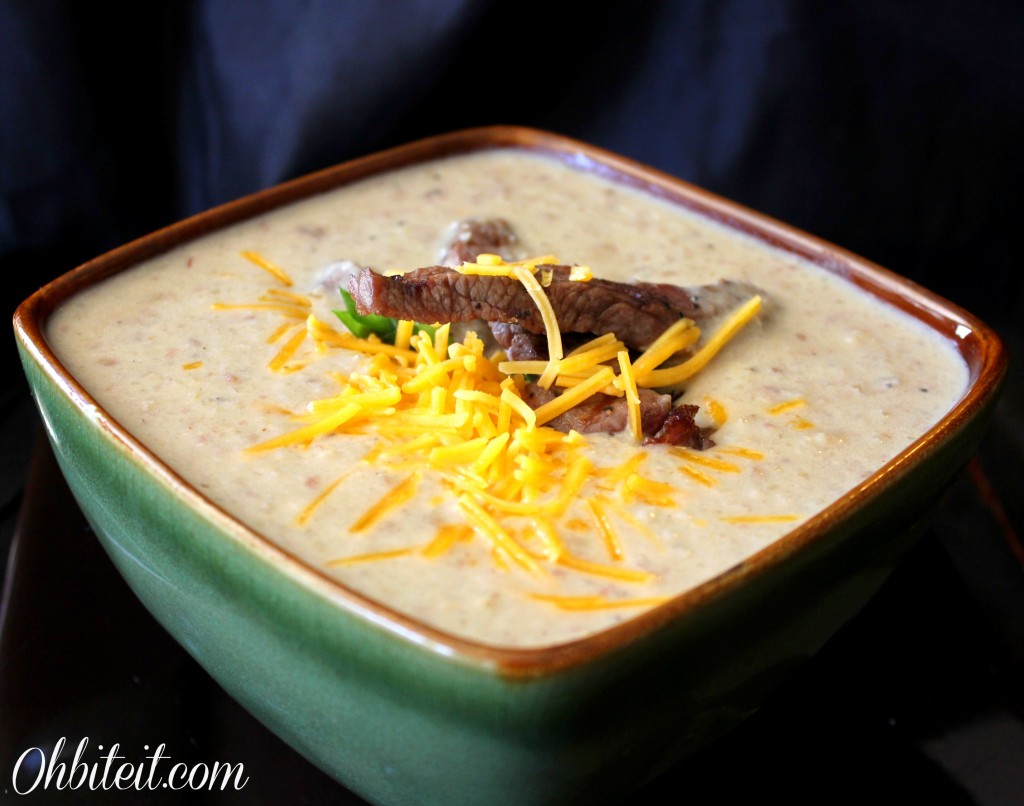 Serve it up and top each bowl with some Sour Cream, Shredded Cheddar, Scallions and of course..Steak slices!
Open wide for a big delicious spoonful of the best Steak & Potato Bisque ever! ~Enjoy!  🙂