WHOA!!  Moooove over all other food challenges, this episode of TOP CHEF started with MEAT!  And LOTS of it!  I'm talking gigantic slabs of Cow, unveiled and exposed in a way that would rival any horror flick..in the most deliciously disturbing way ever!
A steamy plate of intense drama was served, as nerves and frustration got the best of everyone.  Knives and name calling were flying everywhere as each Chef-testant had to stake their beef claim by literally slicing off their favorite cuts from the hanging Cow carcasses.
It was Moo-velous!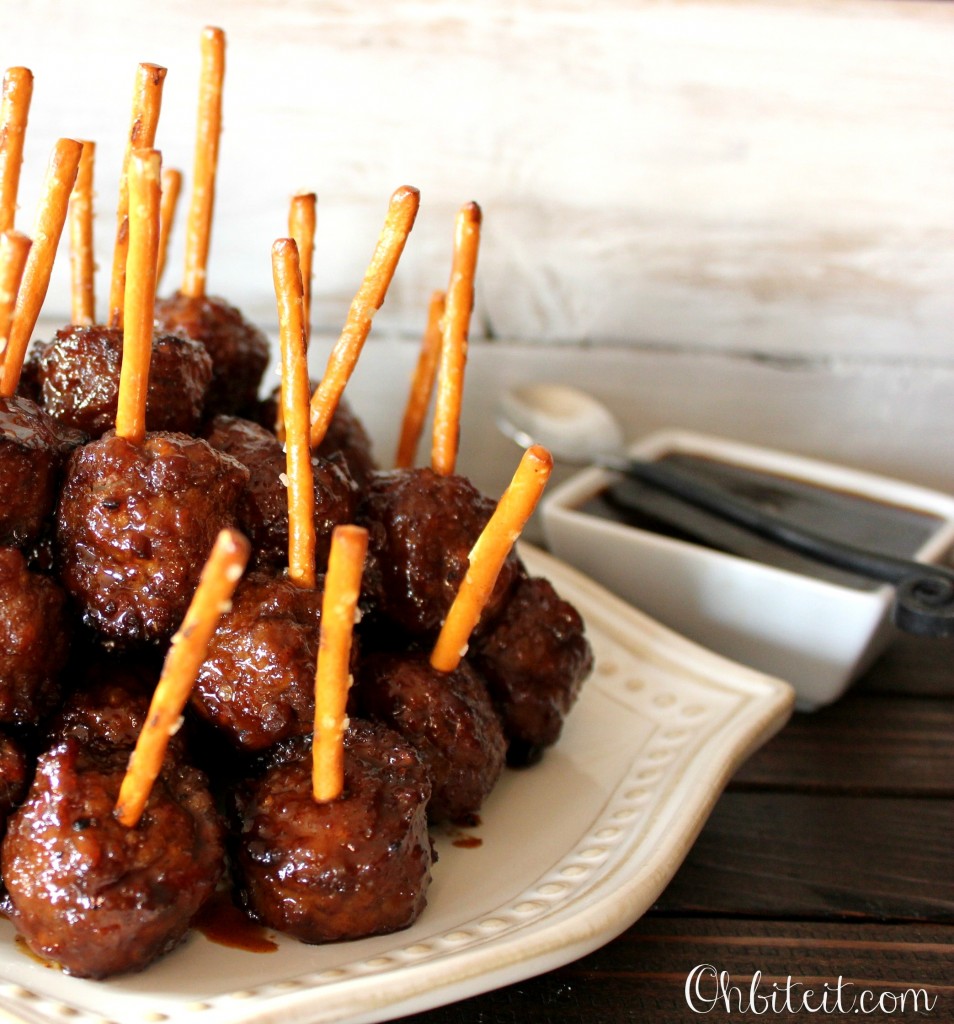 Beef just got real people.  True talents shined as the clock ticked away, in a battle that went from dead meat to decadent treat in a matter of minutes.  And no one disappointed!  This Quickfire Challenge left me nervous and hungry all at the same time..lol!
Of course I was Beef-inspired, but I was mentally exhausted and couldn't even dream of wrestling any part of a cow bigger than my hand..haha.  I needed tasty, I needed meaty and I needed it to be as little & as cute as possible…yep, MEATBALLS!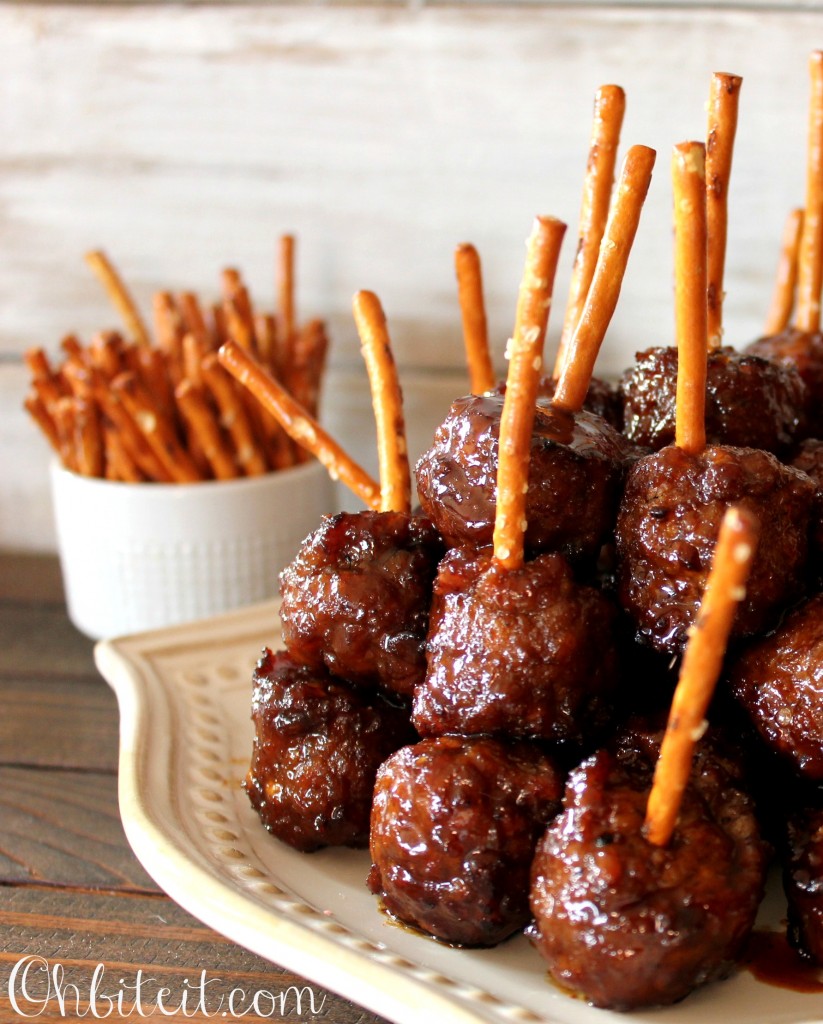 Spicy, sticky & sweet Meatball Poppers that will totally satisfy the Moo in you!  Adorable Pretzel "sticks" help you get them from plate to face while adding a crispy, salty whimsical bite!
Make a big batch of these for the next game, movie or simply to munch on!  🙂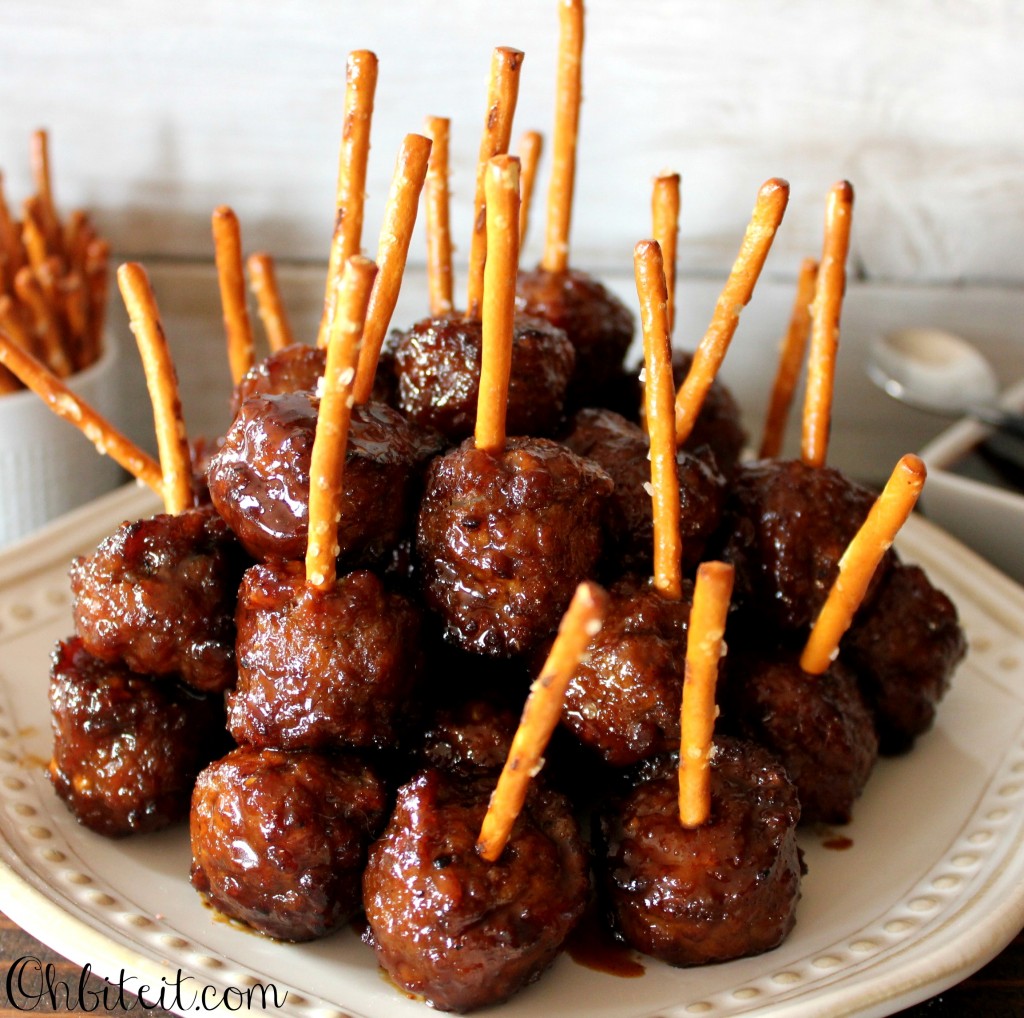 What you'll need :
1-2 lbs of Frozen, pre-cooked Meatballs.  I really suggest using frozen for this recipe!  You could make your own meatballs however, I think the cooking time necessary for the raw beef, and the added juice and fat, would mess with the outcome and thickness of the Molasses Glaze.
1 cup Molasses
1/2 cup Brown Sugar
1 tsp. Garlic Powder
1 tsp. Chile Powder
1 tsp. Ground Ginger
1 pinch of Cayenne..to taste
1/2 cup water
Directions:  
In a large pot, simmer the Water,Molasses, Brown Sugar, Cayenne, Chile Powder, Garlic Powder and Ground Ginger, just until it's blended…
Add in the Meatballs, making sure that they're evenly coated in the sauce.  Let them simmer until they're heated/cooked through.  They'll take on the most beautiful, rich, deep color and flavor!  Make sure to stir them so they're evenly coated and so the sauce thickens up without burning…
Serve them warm with adorable Pretzel 'Stick' handles…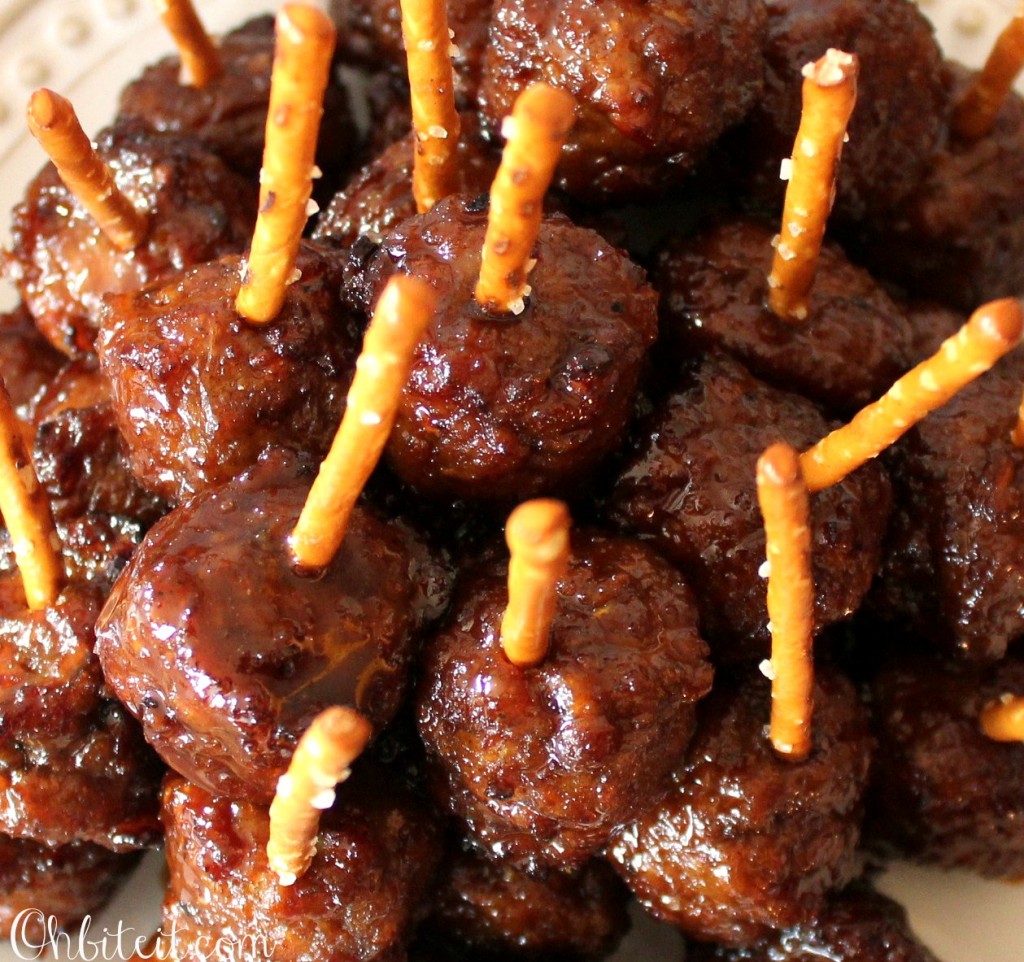 Serve some of those sticky, sweet Molasses Meatballs up…and be generous…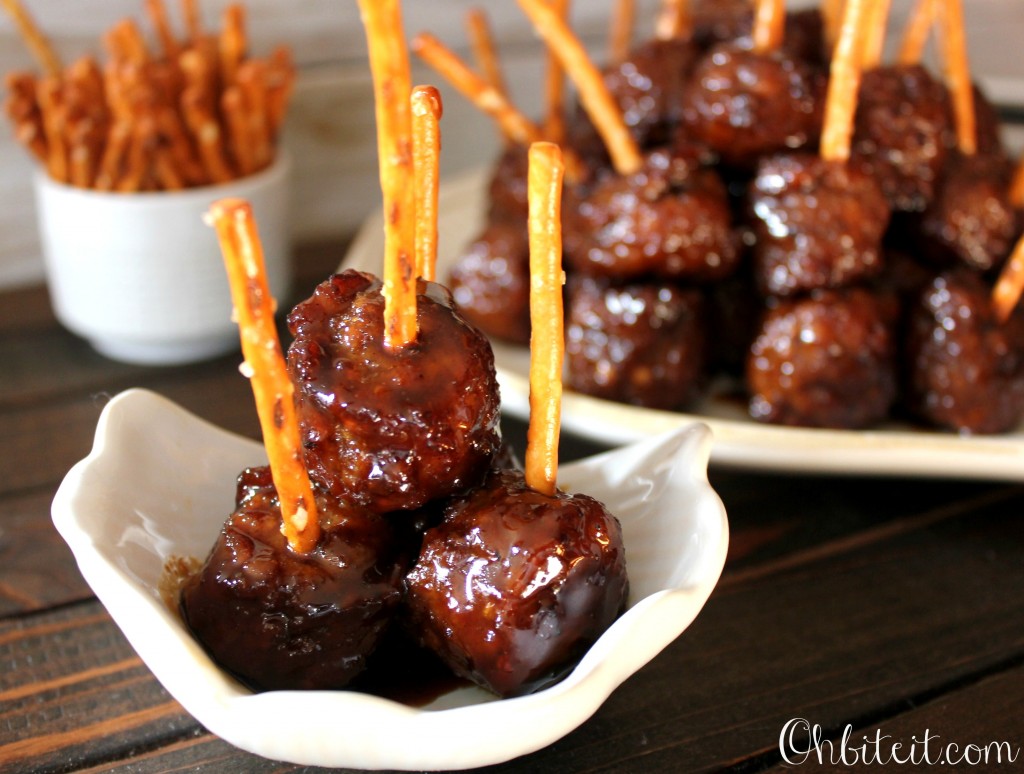 Pour the remaining Molasses reduction into a dish and use for extra drizzling…OHhh Yeahhh…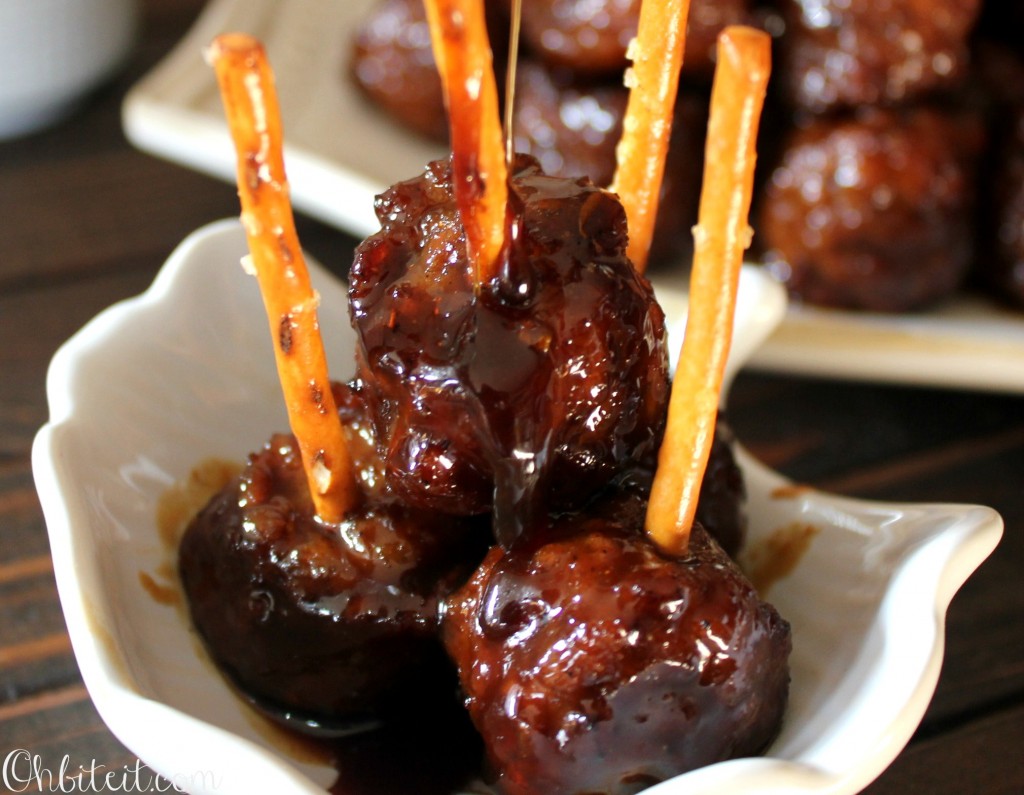 Take the tastiest, stickiest, sweetest, Meatball one-biter EVER!  ~Enjoy! : )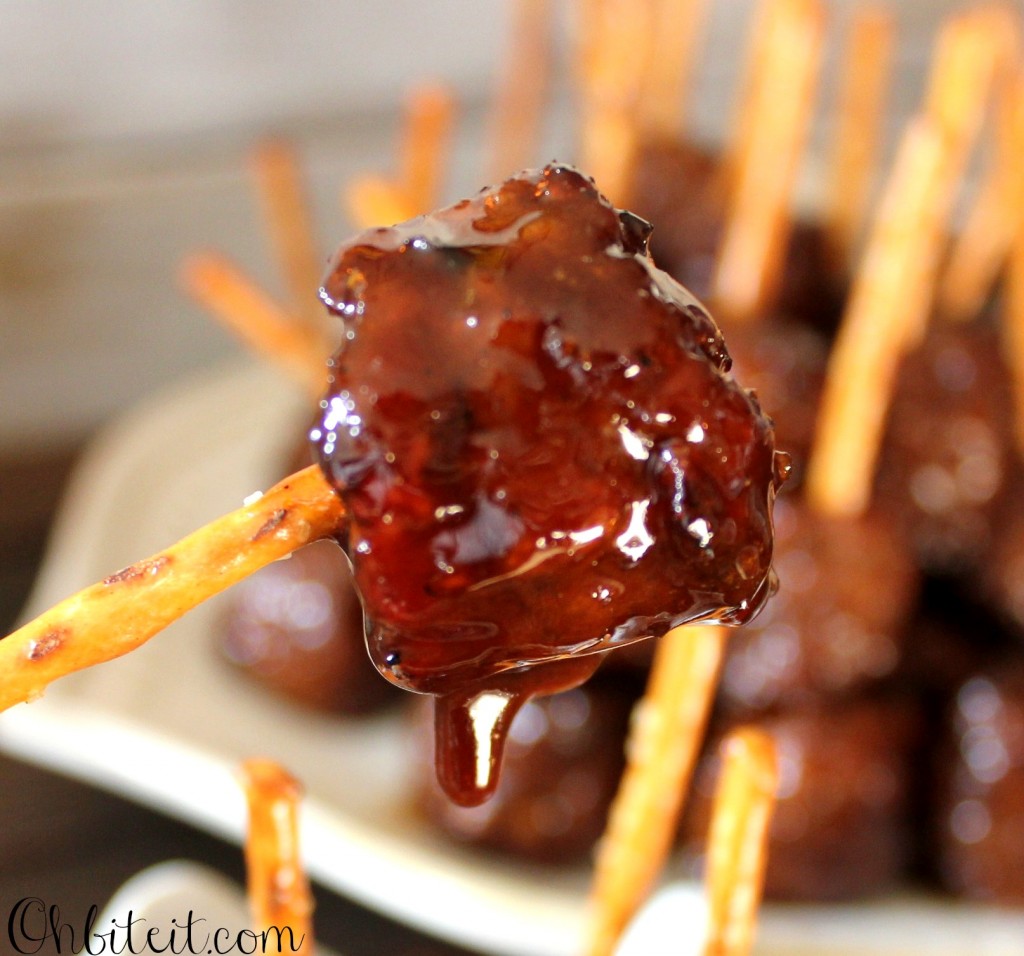 I'm required to disclose a relationship between our site and Bravo. This could include the Bravo providing us w/content, product, access or other forms of payment.