This time of the year is so much fun, especially when it comes to food!  And by 'food' I mean desserts!  Sweet, sugary, warm, gooey rewards for an entire year's worth of hard work!  I'm partial to holiday desserts because I love the seasonal colors and flavors that can be incorporated into them.  Bright, vibrant colors that just scream "grab a spoon and dig in"!
Speaking of digging in, that's exactly what happens when this incredible, gorgeous show-stopper of a dessert hits the table!  Spoons get grabbed and silence suddenly takes over!  This is one amazing dessert that's not only succulent and delicious, but is so beautiful, it's like bling for your holiday table.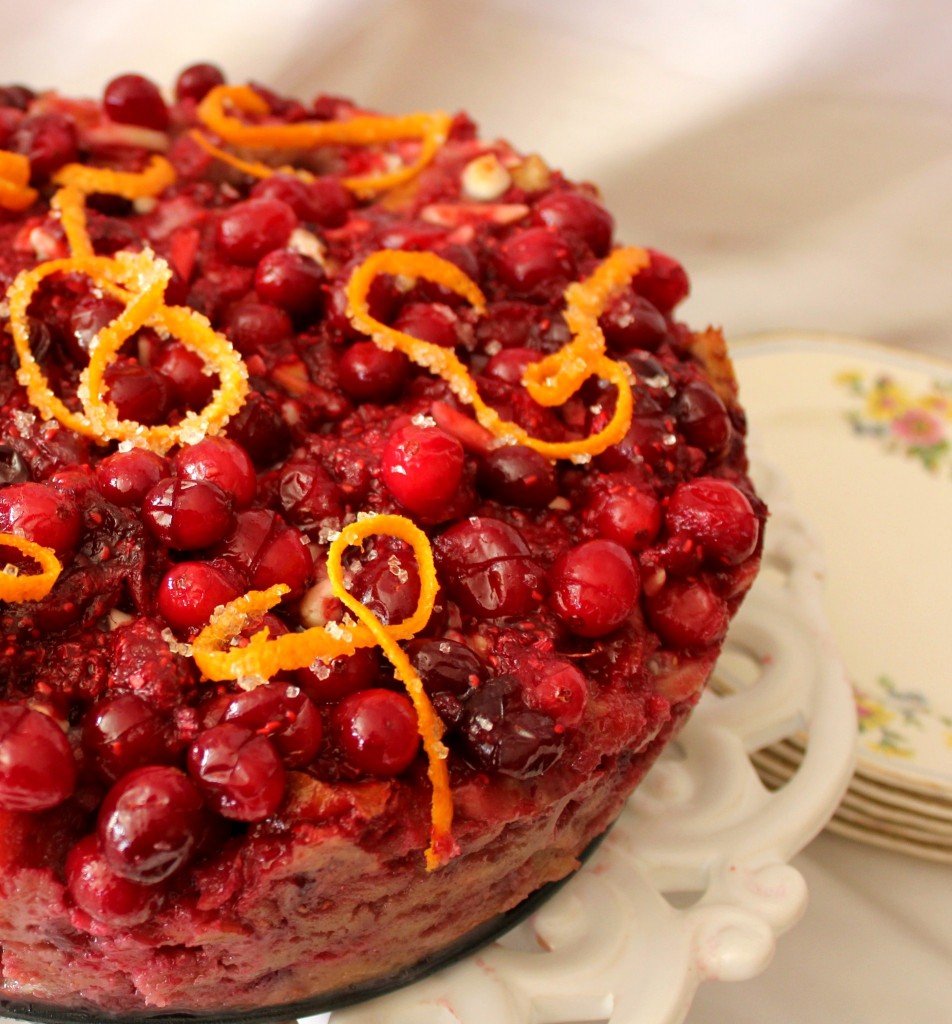 Rich Bread Pudding, filled with thick & creamy custard, sweet bursts of White Chocolate Chips, crunchy Almonds, juicy Raspberries and bursts of sweet/tart Cranberries.
One serving of this simple and elegant treat and you'll have a new dessert favorite all year long!
What you'll need for 12 servings:
1 French Baguette (1lb), cut into 1″or1/2″ cubes
1/4 cup Margarine or Butter (melted)
1-1/2 cups frozen Red Raspberries (thawed & drained)
1 cup BAKER'S Premium White Chocolate Morsels
2 pkg. (3.4 oz. each) JELL-O Vanilla flavor Instant Pudding
1-1/4 qt. cold Milk (5 cups)..not shown
3 Eggs
1/2 cup Planter's Slivered Almonds
1 cup Sugar
1/2 cup Orange Juice
1.5 cup Whole/fresh Cranberries
1 large Orange (juice & zest)
1/2 cup Sparkle Sugar (optional)
A 9″ Spring-form Pan
Directions:
Heat oven to 350 degrees
Cube up the Baguette, set aside…
In a medium bowl beat the pudding mixes and milk with a whisk for 2 minutes.
Reserve 1/2 cup of the Pudding and refrigerate until ready to use.  Whisk Eggs into the remaining Pudding until it's blended into a custard.
In a large bowl toss together the bread cubes with the Pudding Custard…
Fold in the melted Butter, 1 cup of the Raspberries, 1/2 cup of the Cranberries, 1/4 cup of the Almonds, and 3/4 cup of the White chocolate Morsels.  Make sure that the bread is evenly coated and all the ingredients are incorporated.  Let that stand for about 5 minutes..mixing it up occasionally.
Pour the bread mixture into the greased spring-form pan, top it with the remaining Almonds and White Chocolate Chips, bake it for 30 mins, or until a toothpick comes out clean!
This beauty is ready for the oven!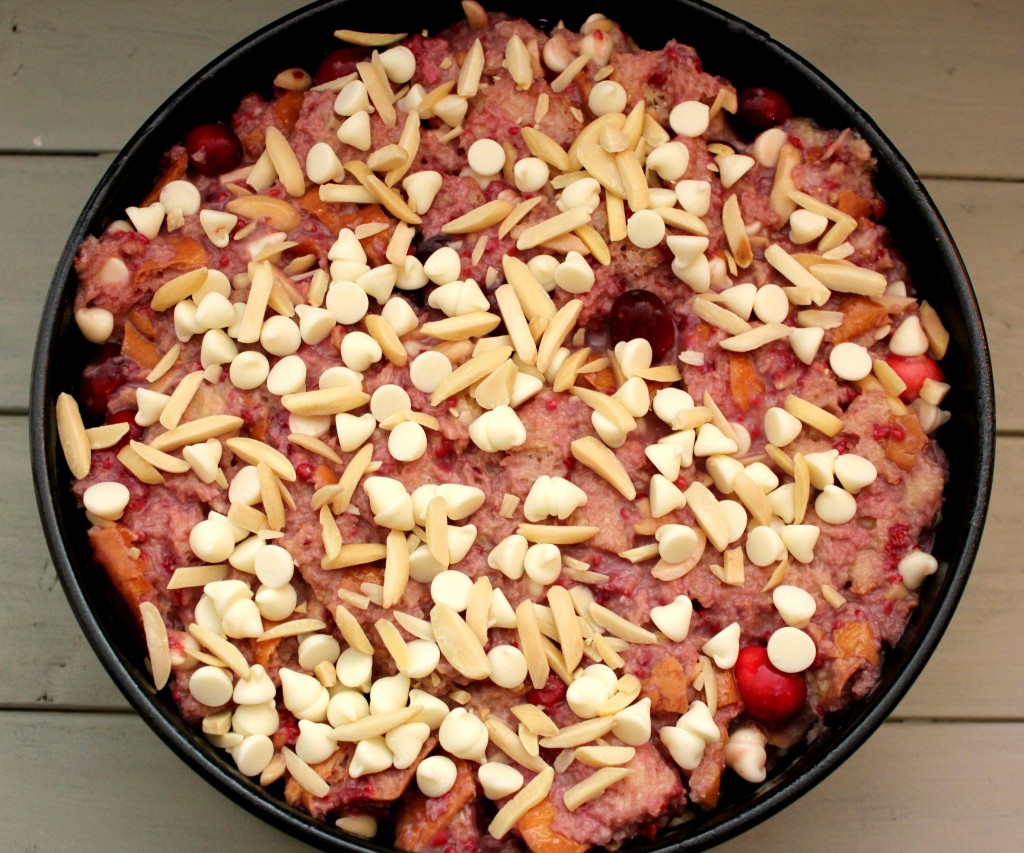 While it's baking prepare the topping:
Zest the orange into long strands, set side..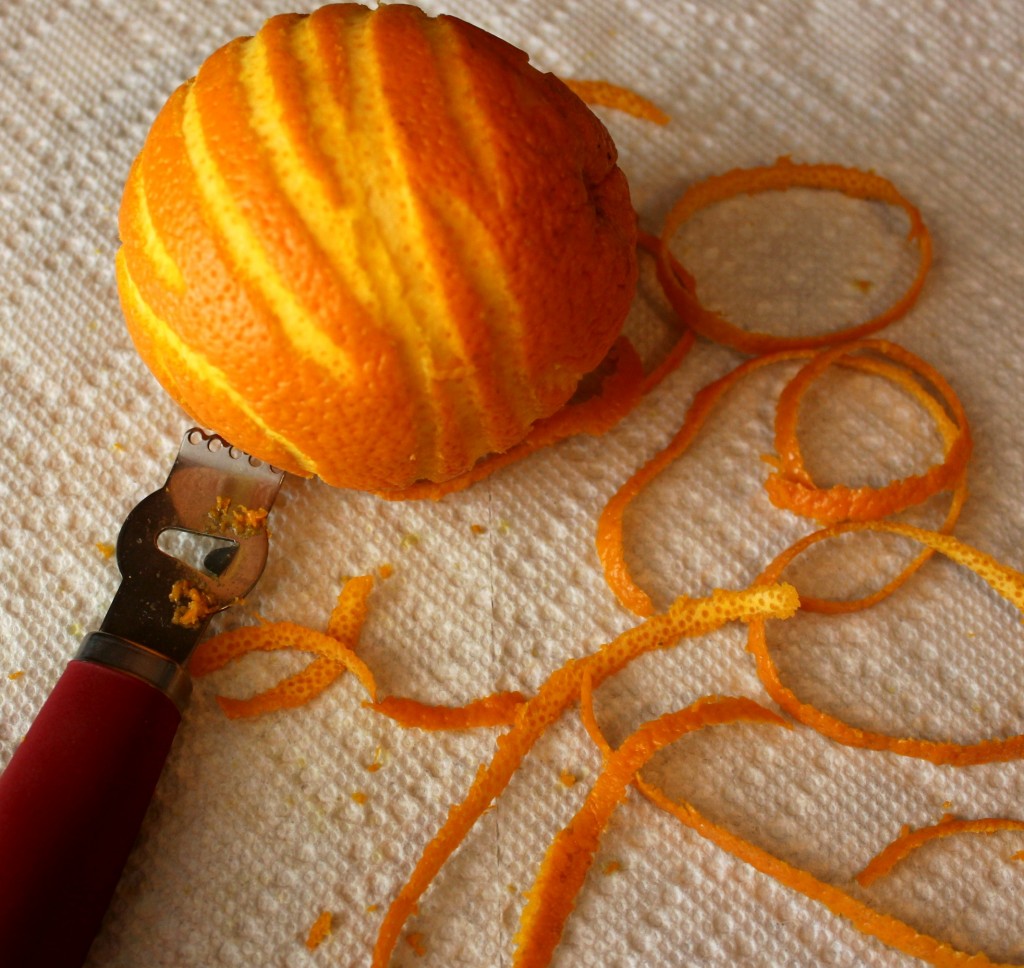 Pour the Sparkle Sugar into a small dish.  In a medium pot bring the sugar and orange juice to a boil.  As it's simmering, carefully dip each Orange Zest strand into the liquid and coat it in the Sparkle Sugar.  Set aside on some paper towel for later…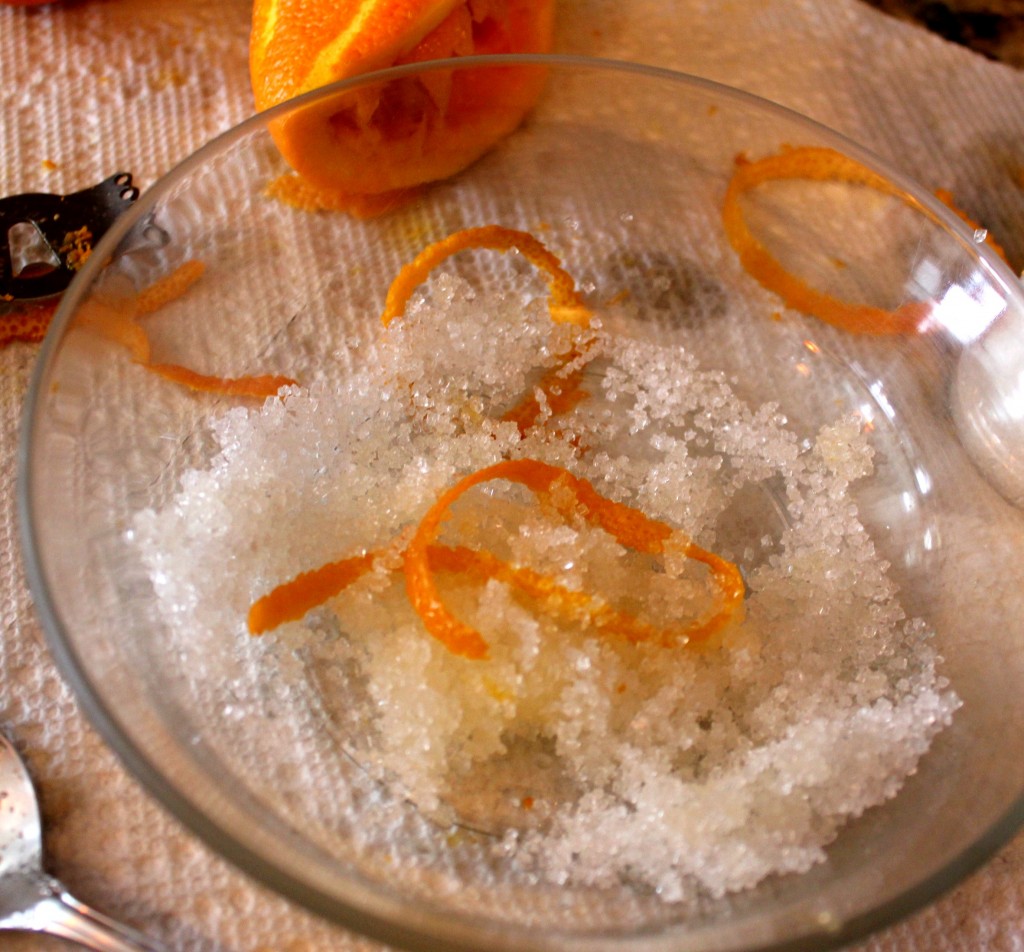 Cook the syrup for 3 minutes or until the sugar is dissolved.  Reduce the heat and add the remaining Cranberries and simmer 6-8 minutes, or just until the berries begin to burst. Remove from the heat and cover.
When the Bread pudding is ready, take it out of the oven and place it onto a sheet pan to avoid any spill-overs.  Carefully pour the Cranberry/Syrup mixture evenly over the top of the pudding…
Place it back into the oven for another 10-12 minutes…
Cool for at least 20 minutes before removing sides of the spring-form pan.
Then let it cool for an hour, or over night before serving..reheat at 350 for 10 minutes~!
Before serving, top it with those sparkly Orange Zest Ribbons….
Warm up the reserved pudding in a saucepan for 5 mins. or until heated through, stirring constantly.
Grab a plate, scoop up some Bread pudding and d-rizzle it good!
And then drizzle it some more…
Make sure and claim your plate while you have the chance…
Take a nice big, warm & succulent bite!  ~Enjoy!  🙂