Oh great day~!!  From the very first second of this episode, until the very last, this show was nothing short of spectacular!  First of all the Quickfire Challenge was super fun and right up my alley with the required ingredient being Ginger..Mmm!  Everything from fresh Ginger Root to Canada Dry Ginger Ale, left tons of room for creativity and my mind was spinning!
And then to top off the night, all of the Chef'testans had to come up with a Restaurant concept!  That's something I've always wanted to do..even if I never actually own my concept-born restaurant, I could literally create them in my head all day long..LOL!  So this inspired recap & recipe is a combination of my very own restaurant concept and a uniquely delicious Ginger filled treat to grace its menu!
The Ginger Ale Blondies below are dusted with Ginger Snap Cookie Crumbs..not Cinnamon..lol!
~Here we go (don't make fun of my idea ok?!..lol)
My restaurant is called "The Midnight Snackery"  ..Your late night dessert destination! 🙂
I may or may not admit to having a late-night sweet tooth of my own, but if I did, I'd be a regular at this place, if it existed..lol!  I will admit that after dinner, a movie and a little time left before the babysitter has to go home..I'd love a casual place dedicated to grabbing that quick, yet satisfying sweet & happy ending to the night.  Easy to read menus, dripping with your "Just Desserts"!  Nice, large photos for those a bit blurry eyed, coming in from the clubs..lol!  "You don't have to go home, you CAN definitely come here!"  HAHA!
My first menu item would totally be these warm, spicy, chewy Ginger Ale Blondies!  Canada Dry Ginger Ale makes this batter super moist & slightly dense.  A thick Ginger Ale Glaze tops them off, and then there's the optional dusting of Ginger Snap Cookie crumbs, for a nice crunch!  Perfect with a hot mug of Tea, Coffee, or even some Steamed Milk.
…Sweet dreams!  🙂
What you'll need:
1 1/2 cups all-purpose Flour
2 cups Sugar
1 tsp Salt
1 cup (2 sticks) softened unsalted Butter
4 Eggs
2 tsp. Ginger Ale
1 tsp. Ground Ginger
2 tsp. Freshly grated Ginger Root
a 13x9x2″ pan
20 finely crushed Ginger Snap Cookies..optional!
Glaze:
2 cups Powdered Sugar
4 tbsp. Ginger Ale (will vary according to consistency)
1 tsp. freshly grated  Ginger Root
Directions:
Grease the baking pan or line it with Parchment paper, set aside…
If you'd like a sprinkle of Ginger Snap Cookie Dust on top, now'd be the time to crush up the cookies!  Set them aside.
In a large bowl, stir together the Flour, Sugar, and Salt.  Add the Butter, Eggs, Ginger Ale and grated Ginger.  Beat with a handheld electric mixer until well blended…
Pour the batter into the baking pan and bake for approx. 30 minutes at 350 degrees, or until it's light golden and firm.
While it's baking make the Ginger Ale Glaze:
Combine all of the above Glaze ingredients in a bowl, stirring until smooth…
Remove the Blondies from the oven and pierce the entire cake with a fork…
Pour the Glaze over the top of the Blondies spreading it evenly…
Let it set up for a few minutes, but taste a little piece just to make sure it's safe for everyone else!  😉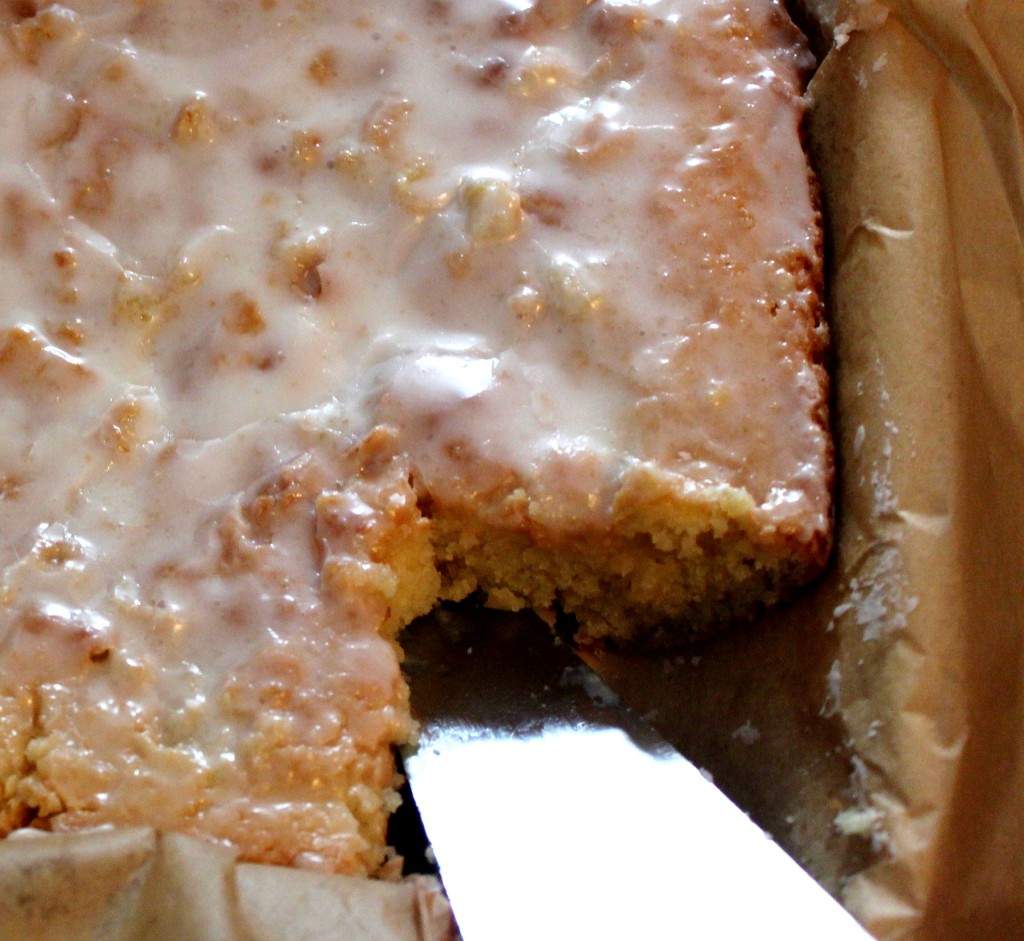 If you have some extra Glaze…use it!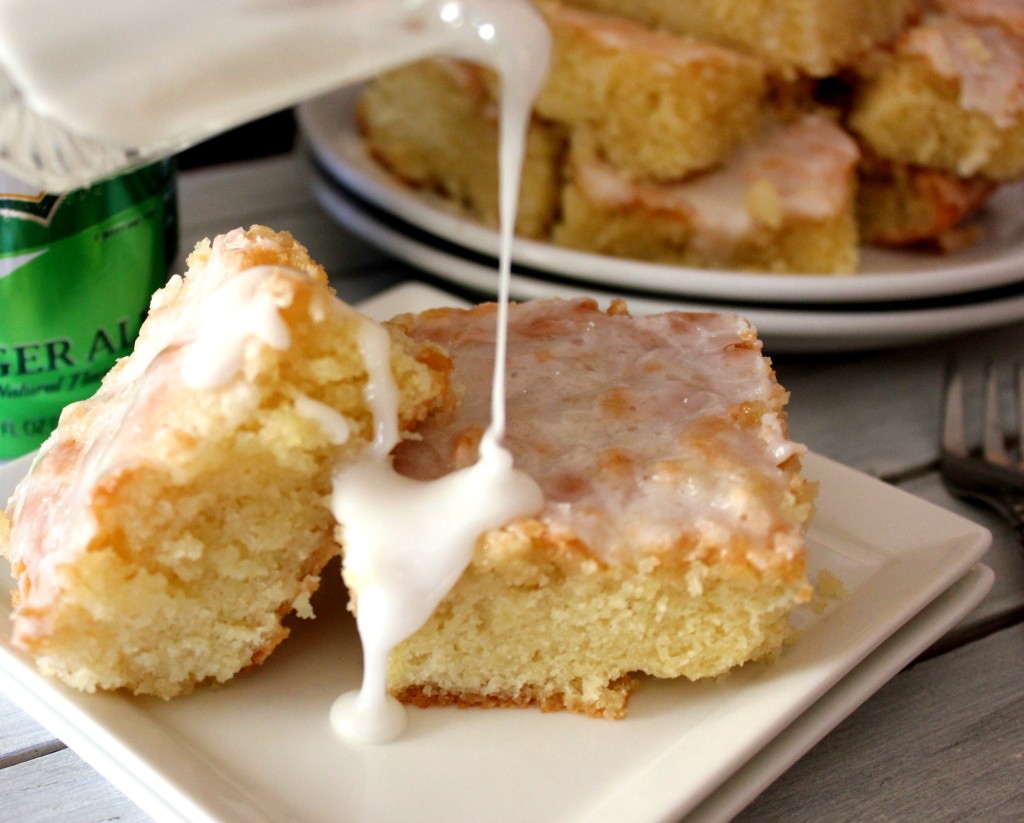 Take a moment to marvel at its sheer decadence…
Take these Blondies over the top with a nice dusting of Ginger Snap Cookie Crumbs…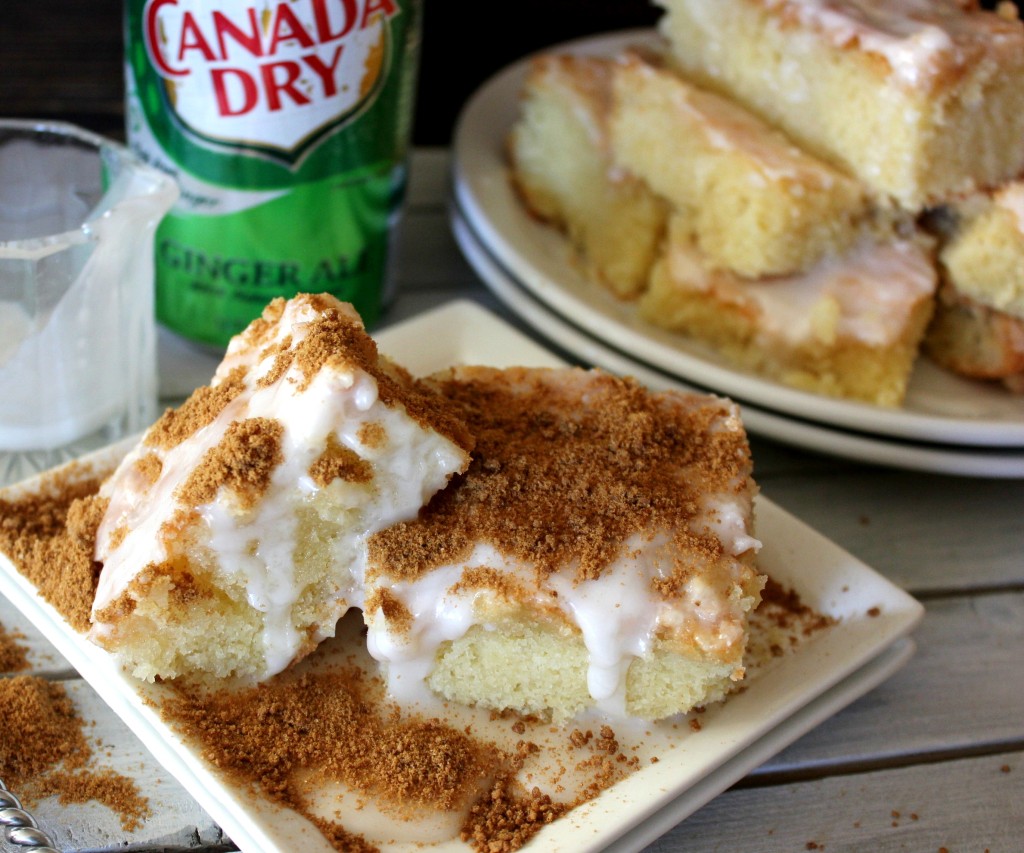 Either way be sure to fix a nice plate for  ummm..YOU…yes you!
And prepare for extreme yumminess!  ~Enjoy! 🙂
And be sure to watch an all new TOP CHEF tonight at 10/9c on BRAVO! 🙂
I'm required to disclose a relationship between our site and Bravo. This could include the Bravo providing us w/content, product, access or other forms of payment.