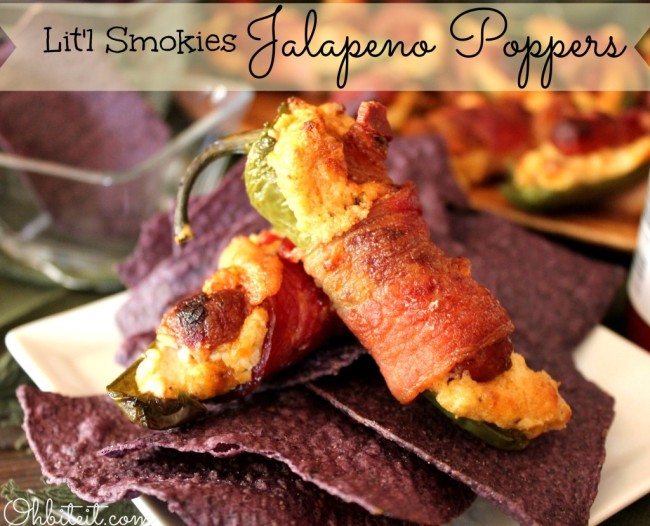 Get your stretchy pants ready people, and claim that special spot on the couch, you know..the one with the dent.  Preferably near an accessible entrance so the EMT's can easily get to you!  We've got Meat on Meat & Cheese on Cheese, yep…double the cheesy Meat~double the fun..perfect for the BIG game!
I'm talkin' Smoky Sausages ..errr, nestled in a cloud of Cheddar filled Cream Cheese, shrink wrapped in crispy Bacon and baked until gooey!  See a pattern here?!  🙂
No worries, Jalapenos are veggies right?  I mean, they're in the produce section so that makes them a Veggie..duh!!  We all know that veggies cancel out fat calories..now pass that plate!  🙂
What you'll need for 30 Meaty/Cheesy Poppers: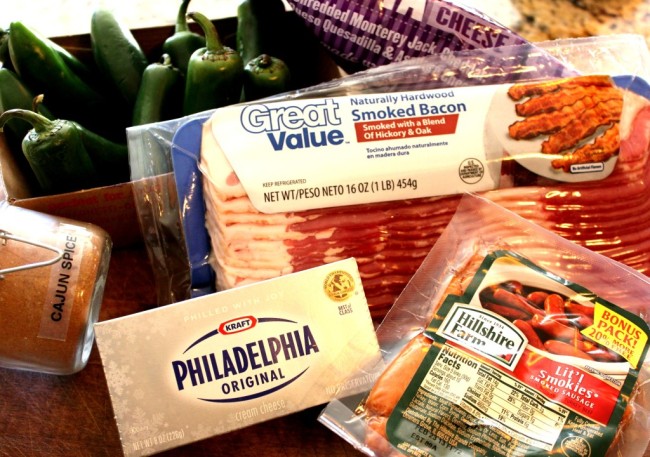 15 Fresh Jalapenos
1 Block of Cream Cheese (8oz)
1 Cup Shredded Cheddar
Lit'l Smokies..one per each Popper
1 tsp. Cajun Seasoning…optional
1lb Bacon..strips cut in half.
Directions:
In a medium bowl mix together the Cream Cheese, Cajun Seasoning and Cheddar, set aside.
**CAREFULLY slice the peppers in half and remove all the insides..wear gloves if necessary and DO NOT TOUCH ANYTHING UNTIL YOU WASH YOUR HANDS! 🙂
Fill each Pepper half with some Cream Cheese mixture and place one Lit'l Smokie on top, then wrap the pepper with half a slice of Bacon.  Place on a sheet pan with a rack…
Bake them at 375 degrees for approx 30 minutes or until the Bacon is crisp and the Pepper is tender.  Let them cool…
They're so hard to share..but share them you must…
Grab a plate for you…
Mmmm..dig in!  ~Enjoy! 🙂