Yikes, last week's TOP CHEF episode had me a nervous wreck!  The Quickfire Challenge was a lesson in knife quality as well as knife skills…two things I know little to nothing about, but wow, did I learn fast!
First of all, I learned that it's possible to spend $4k on a knife, and TOTALLY worth every penny for a culinary Carbon Steel work of art made by Master Bladesmith Bob Kramer!  Second of all, I learned that I have NO knife skills..lol!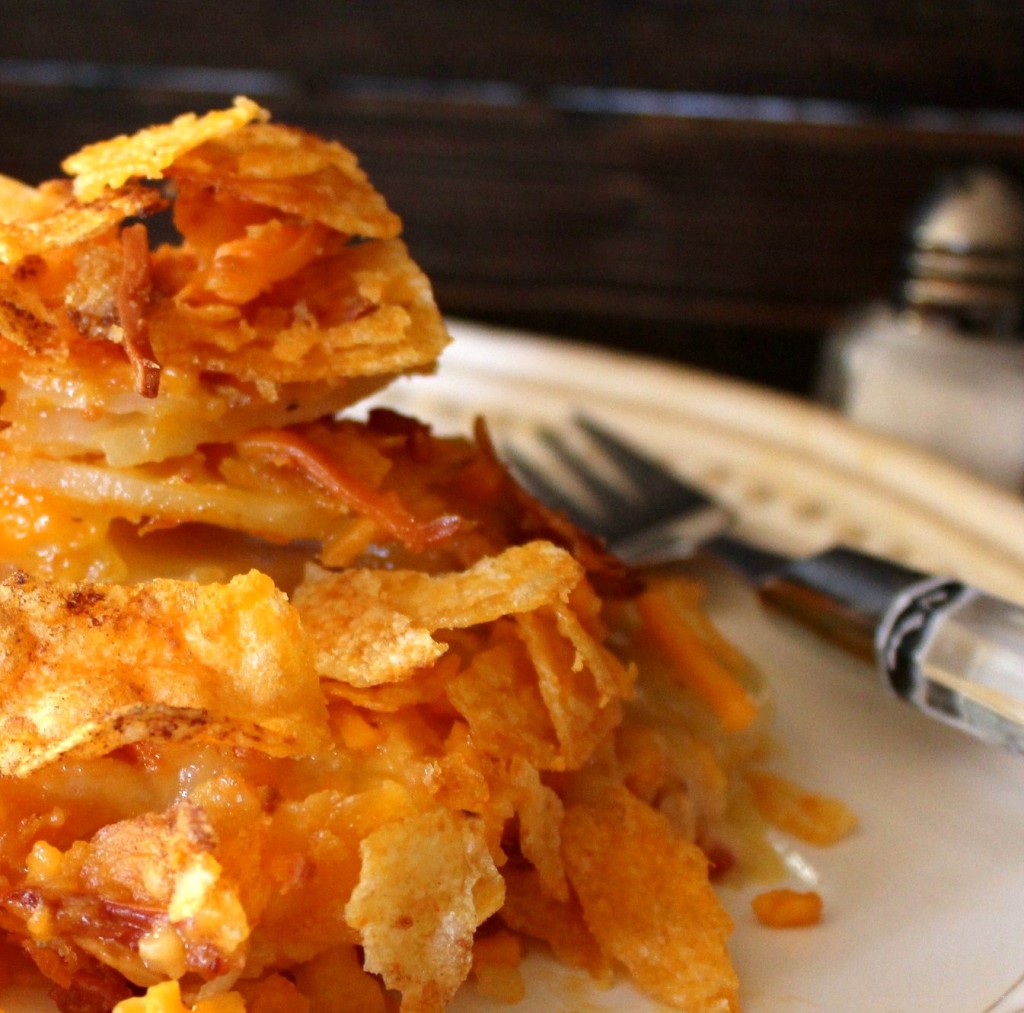 This creamy, cheesy, crunchy-topped, casserole of luscious Potatoes are my sad attempt at knife skills.  More power to those talented Chef'testants as they were required to "Tourne" 50 Potatoes each, within a super short period of time!  Sorry, you can "vote me off" but I used a Mandolin to slice my Taters.  Frustration, fatigue and a sudden love of my fingers got the best of me, and I ditched that knife fast.  🙂
Whatever points I may have lost in technique, hopefully I gained back with this unique recipe of creamy, crispy, cheesy, layered Potato perfection! 🙂
What you'll need: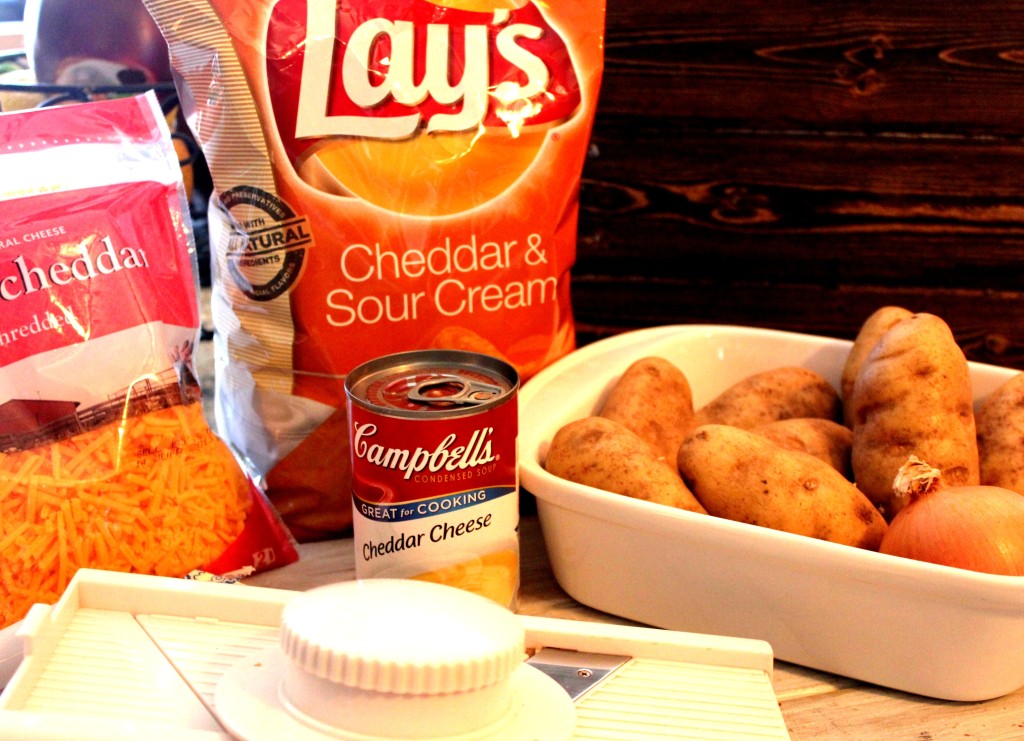 A 1 1/2-quart casserole dish, sprayed with non-stick spray
6 medium peeled and thinly sliced Potatoes
2 tbsp. Unsalted Butter/Margarine
1 small Onion..chopped (1/4 cup)
2 cups Shredded Sharp Cheddar Cheese (8 oz)
2 Cups Crushed Cheddar flavored Potato Chips (I used Lays)
1 can Cheddar Soup (I used Campbell's)
1 cup Milk
S&P to taste
Directions:
Peel & slice your Potatoes, set aside.
In a med. sauce pan, melt the butter and cook the onion until tender.  Stir in the Soup & Milk, season with S&P…
When that's combined mix in 1 1/2 cups of the Shredded Cheddar (reserve the remaining 1/2 cup) until it's melted and combined.  Set aside…
Smear a spoonful of the Sauce into the bottom of the casserole dish and add layers of the thinly sliced Potatoes.  In between the Potato layers add some of the Cheese Sauce…
Top the casserole with the remaining Sauce and bake for 1 hour at 350 degrees uncovered…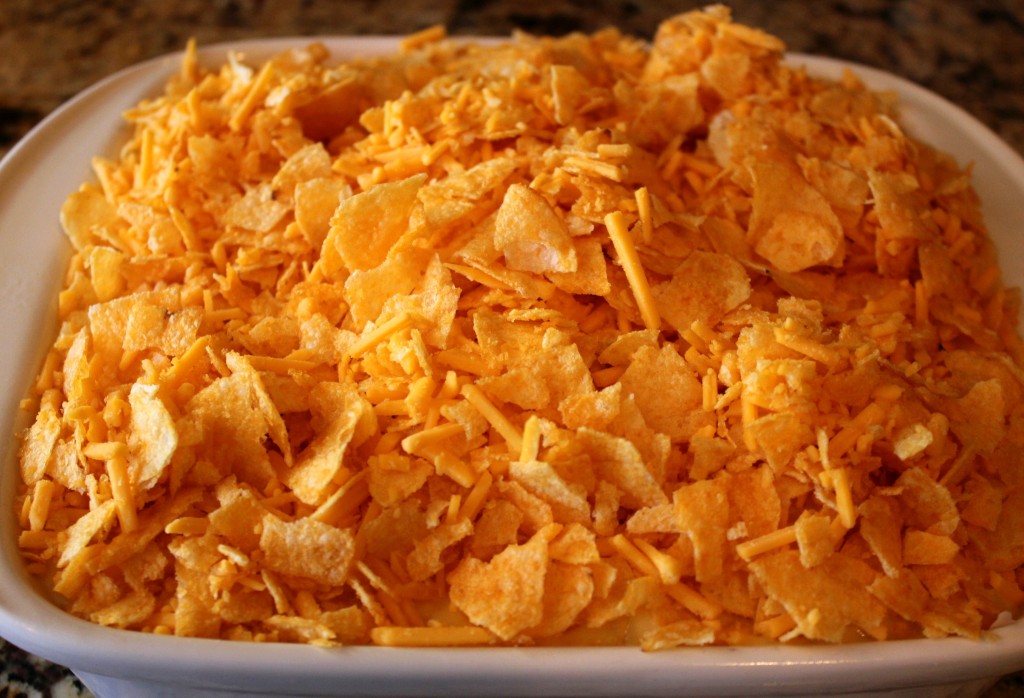 While it's baking crush up the Chips, don't eat any~j/k…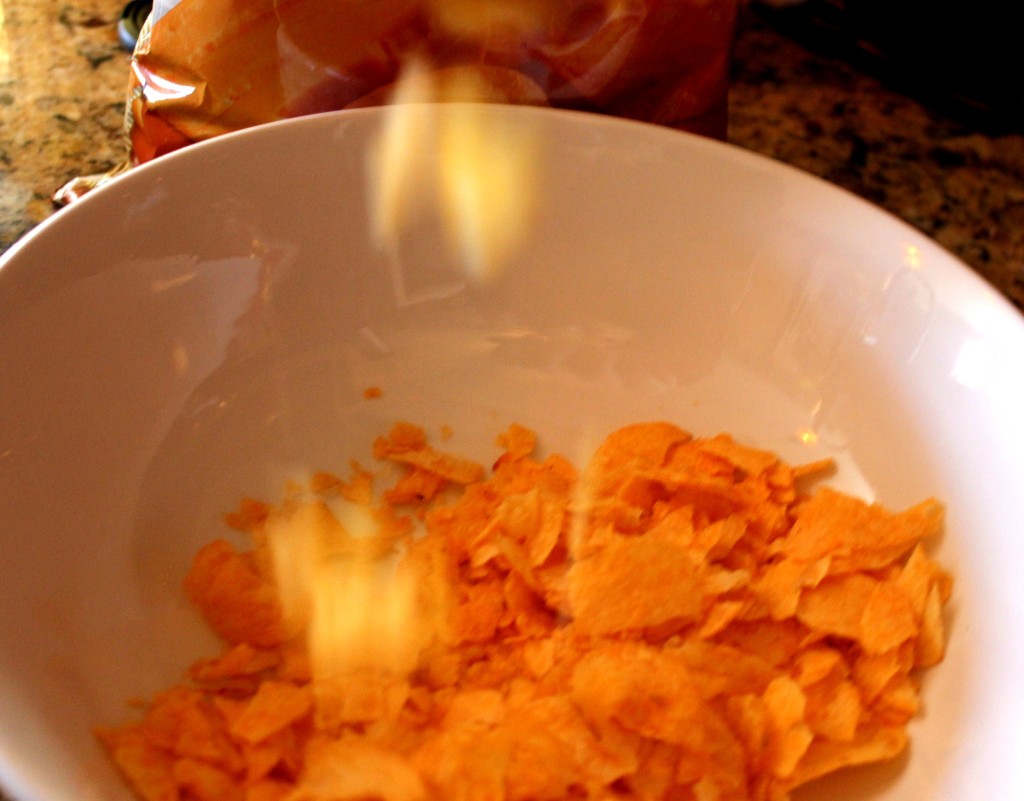 Mix the crushed chips with the remaining 1/2 cup of shredded cheese and set aside…
Sprinkle the Chip & Cheese mixture evenly over the Potatoes and continue baking for 15-20 minutes, or until it's golden and bubbly..
Let it cool…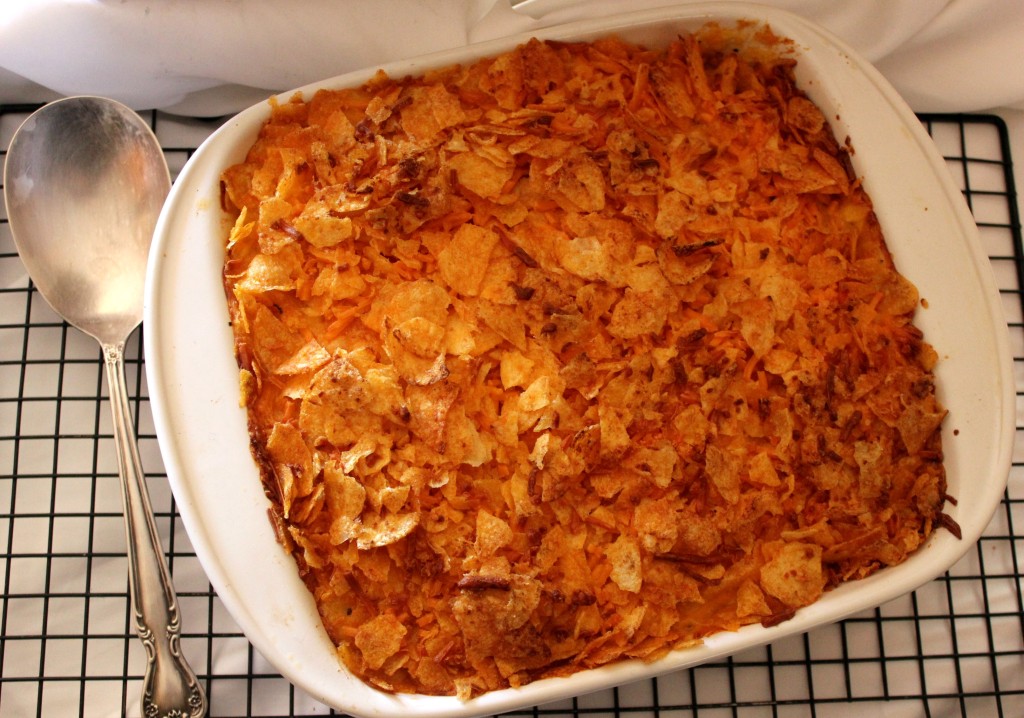 Tell it how pretty it is…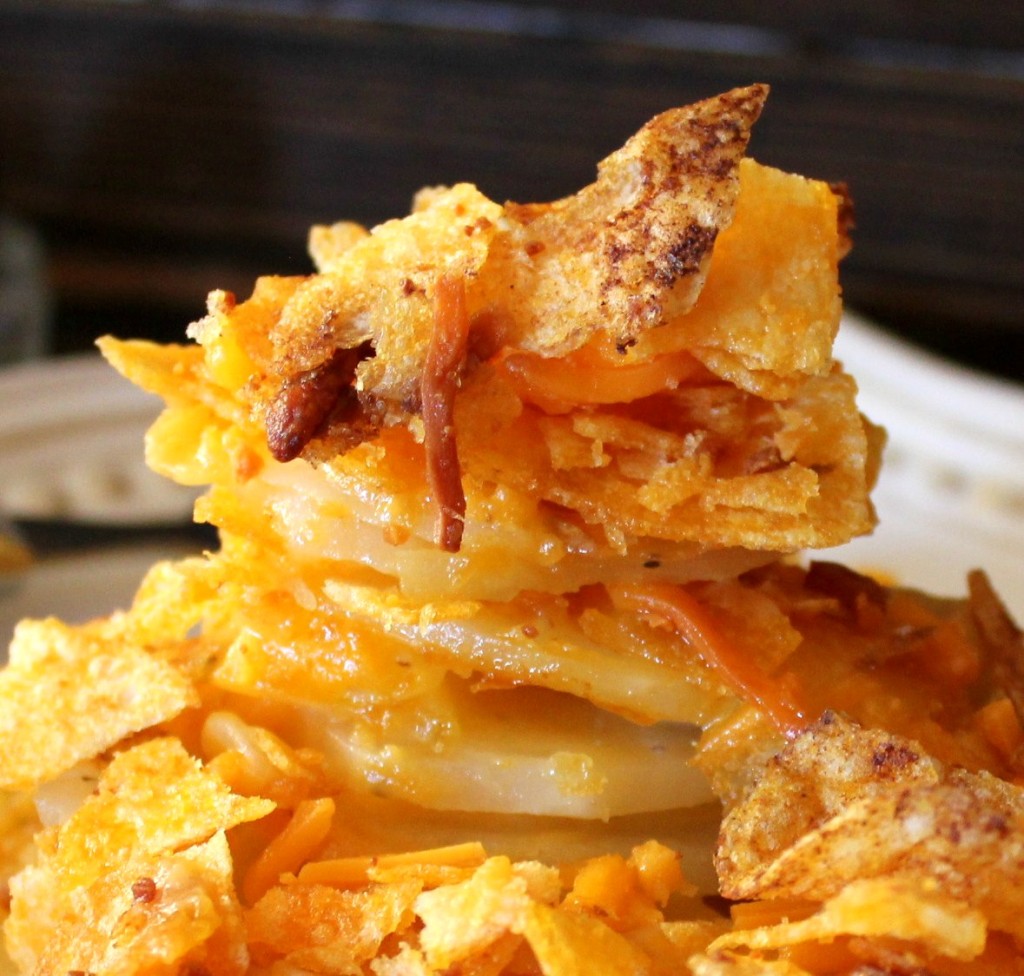 Scoop some up while it's nice and steamy…
Grab a plate and fill it…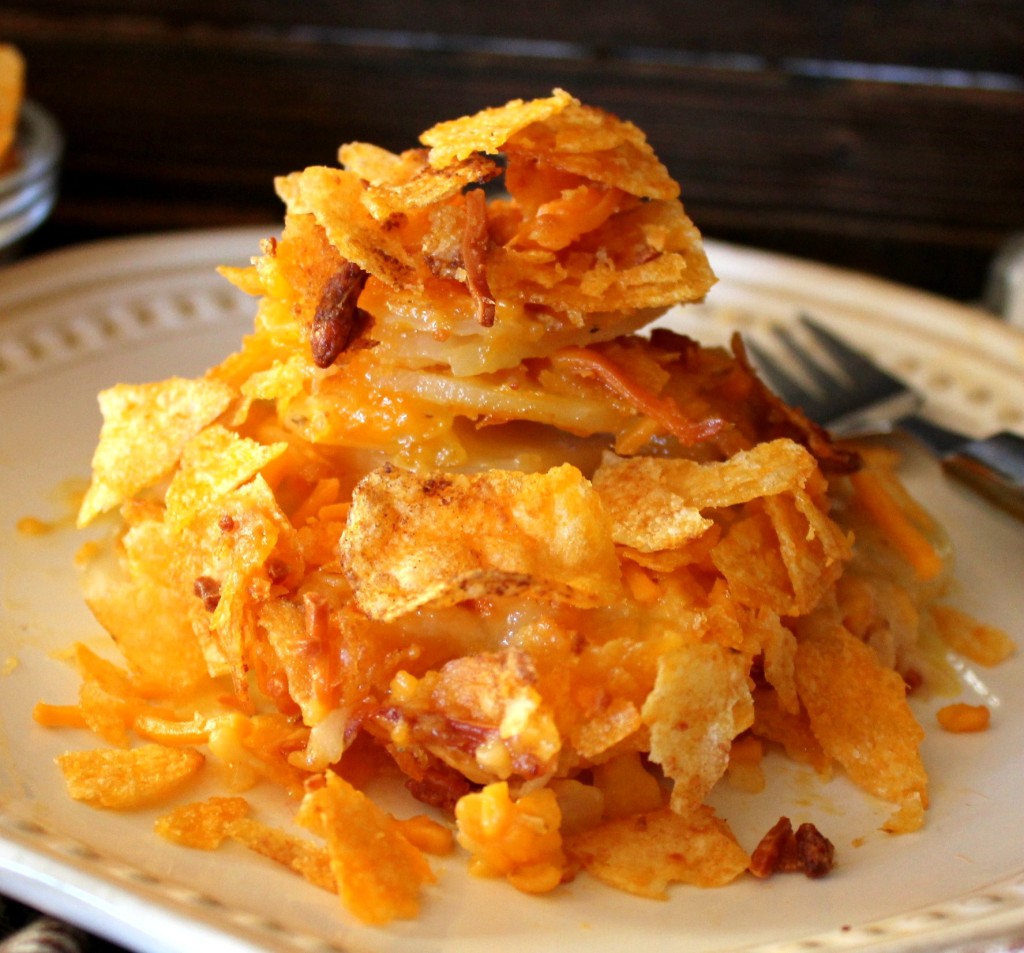 You know what to do next!  ~Enjoy!
And be sure to watch TOP CHEF tonight at 10/9c on BRAVO! 🙂
I'm required to disclose a relationship between our site and Bravo. This could include the Bravo providing us w/content, product, access or other forms of payment.