YES..you read that right!  ~Fried Pizza!  ~And NOT just your ordinary/regular/boring "Fried Pizza" either ..lol!  I'm talking about Pizza that's battered in Beer, oh yeah..BEER, and thennn fried until it's ultra-crispity!  Ooey-gooey cheese flows and drips effortlessly with each crunchy bite!
Hey..the BIG Game needs big snacks, right?? ~RIGHT! 🙂
Oh stop it..you know the naughty foodie deep down inside of you is, at the very least tempted intrigued!  Let's not forget that each fried slice is also generously dusted with  Parmesan Cheese, just in case you needed more convincing..lol!
Beer & Pizza all in one delectable, dangerously delicious dish..Football food Just. Got. Real!
~If this is wrong..I don't wanna be right..haha!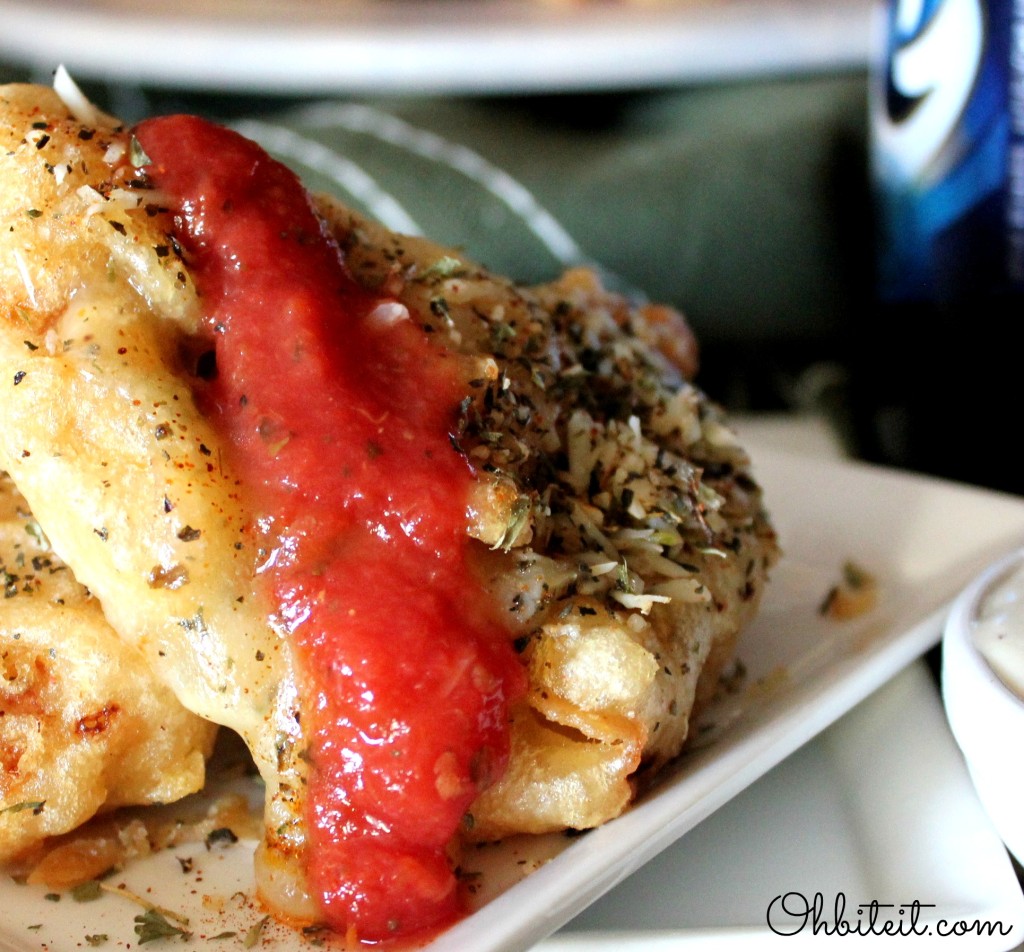 What you'll need to horrify and delight at least 8 grown men (double accordingly to horrify more):
1 Frozen Pizza..I used a (cheap) Totino's 8″ Cheese Pie!  NO Pizzeria style Pizza..it has to be these little frozen boxed variety..any and all toppings will work!
1 cup Flour
1 tsp. Baking Powder
Dash of Salt
Approx 1 cup/or so, of your favorite Beer (about half a bottle)..or any liquid will work!
1 cup of Grated Parmesan for sprinkling
Oil for frying..I used Canola
1 tbsp. Oregano for sprinkling
Dips and Dabbles of your choice
Directions:
**KEEP THE PIZZA FROZEN UNTIL YOU'RE READY TO FRY IT!
In a medium bowl mix together the flour, baking powder, salt and beer, until thick & smooth…
Slice the FROZEN Pizza into regular slices  (carefully so they don't break)…
Coat each FROZEN slice very well with the batter, one at a time…
Get it right into the hot oil.  Fry up both sides until they're evenly golden…
Season them with the Parmesan and Oregano while they're warm…
Marvel at the delicious insanity of it all…
Serve them up with all the typical Dips & Dabbles you love on your umm..healthy, un-fried Pizza…
I prefer a nice slathering of warm Marinara…
Maybe some privacy too…lol! ~Enjoy!