The long wait is over!  It's that glorious time of the year again where simply walking into a grocery store becomes a battle of self-control and will power!  Cute little faces and hopeful eyes, tempting and torturing me with their innocent smiles and evil, evil Cookies..lol!
I try to ignore them, and I do a pretty good job until I see the pinnacle of all GS Cookies..The Samoa!  Darn those Samoas…they get me every time!  That flavor combo is just to die for and I turn to spineless mush!  Five-ish boxes later, I decided that I needed to incorporate those winning flavors into something that I can feel not AS bad good about eating.  Just to bridge the gap between cookies..haha!  🙂
This Popcorn seemed like a nice, quick and simple way to enjoy that Samoa flavor, while easily convincing myself that eating 3 pounds of it is somehow healthy..shhh, it worked!
~Just let me believe it…K, thanks!  😉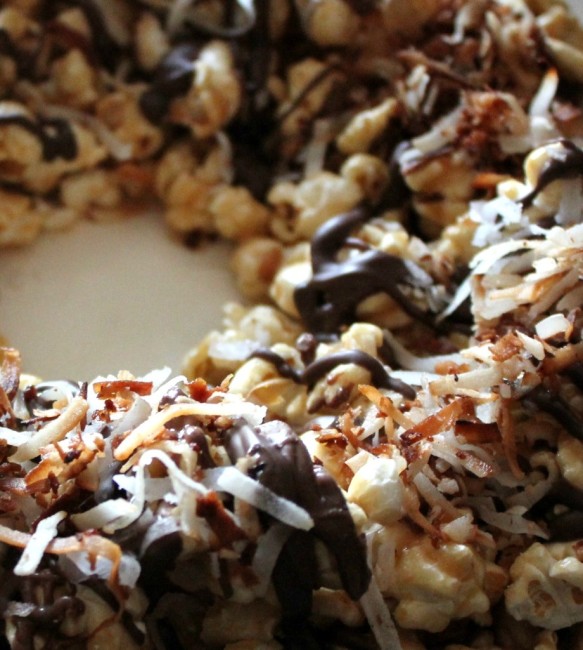 What you'll need to bridge your Girls Scout Cookie gap:
Caramel Popcorn..(Store bought..or you can make your own)
Chocolate Bark for melting..to taste
Toasted Coconut..to taste
Directions:
Simply drizzle the Caramel Popcorn with some melted Chocolate, and top it with Toasted Coconut!
~Instant Samoa GSC goodness, fistful after delicious fistful!  ~Enjoy! 🙂