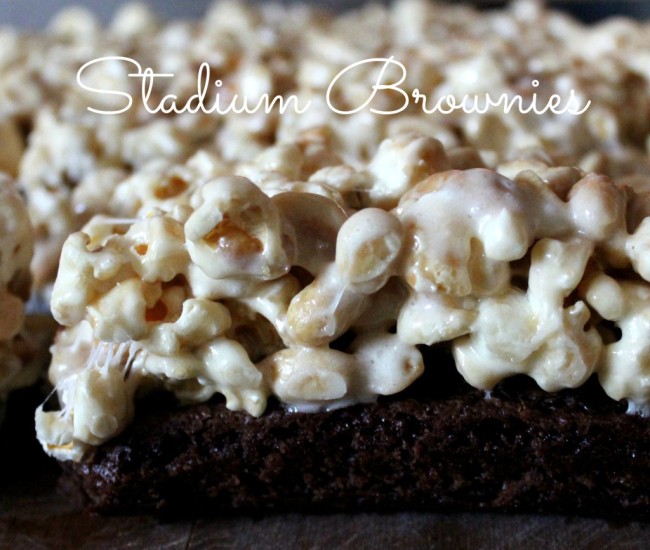 Okay, so maybe you can't exactly shell out the big bucks for tickets to every game you'd like to go to.  But, that doesn't mean you can't experience all of that big game day feel at home.  We all know that at least 70% 30% of your time at the actual game would've been spent standing in concession lines anyway…yes, you know it's true..haha!  So now you can enjoy all of those classic bleacher bites without ever leaving home!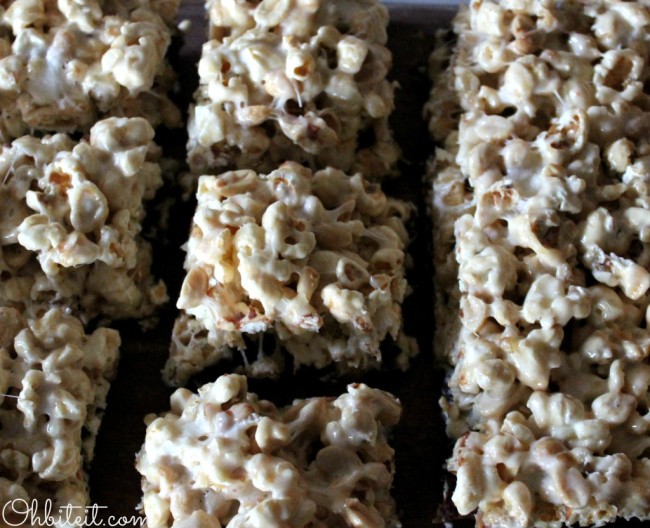 These Stadium Brownies are chewy, moist and totally topped with sticky Caramel Popcorn studded with crunchy & salty Peanuts.  They pack just about everything you'd ever munch on at the game into one sweet, chocolaty snack..ok, minus the Pizza, Beer and Hot Dogs.  Don't dare me..you know I'd gladly work those into some Brownies too..haha!  🙂
I was blessed with the opportunity to indulge in some of the BEST popcorn EVER to be popped!  I'm talking about G.H. Cretors Popcorn!  This is honestly the best popcorn I've ever had.. the flavors are on point, and the tim-tested quality is beyond compare!  Check it out!
FIVE GENERATIONS OF PERFECTING THE DETAILS.
To most, popcorn is just a snack. To us, popcorn is so much more than that. It's a mouth-watering break from your day. It's a flavor-filled moment to yourself. It's a love letter sent straight to your taste buds. And at G.H. Cretors, it's the reason we get up in the morning. 
Since 1885, we've been creating handcrafted, gourmet popcorn one mouth-watering batch at a time. Every perfectly-popped detail is intentional—from the premium, aged cheddar cheese that smothers our fluffy, delectable kernels, to the creamy caramel cooked by actual Candy Chefs. Yes, "Candy Chefs" are a thing. It all adds up to bringing you the most obsessively delicious popcorn you've ever tasted. Don't say we didn't warn you.  
We say NO to GMOs.
To put it simply, if it's not pure, it's not in our popcorn. We strive to provide the most authentic popped corn we can by using only the highest-quality, real ingredients. We use Non-GMO popcorn and Non-GMO ingredients whenever possible in all of our flavors, and only organic ingredients in our Organics line. 
A better way to sweeten.
Aside from its rich flavor profile, brown rice syrup has other pros—which is exactly why we use it. Unlike other sugars that cause "sugar highs," brown rice syrup offers a steady supply of energy over a longer period. Bonus: It also has a wonderful, crisp sweetness. Most caramel corns still opt for corn syrup. Most, but not us. 
100% gluten-free. 100% to-die-for.
Popcorn is naturally gluten-free, and we're committed to keeping it that way. We don't process gluten in our facility, and all of our products are Certified Gluten-Free. For those with dietary restrictions or a gluten-free preference, look no further. 
~If you can't go to the actual game…bring the game to you gosh darn it!
What you'll need for a sweet Stadium snackin' sensation:
1 Box of Brownie Mix
1/4 cup Butter/Margarine
3 Cups Mini Marshmallows
4 Cups Popped Popcorn..or (I added1 cup of) G.H. Cretors 'Just The Caramel Corn
JUST THE CARAMEL CORN
Handcrafted in old-fashioned copper kettles, one batch at a time, is the secret to success for this crunchy, creamy, caramel delight.  
Directions:
Bake up the Brownies..I used a parchment lined 9×13 pan
Let them cool completely!
In a large microwavable bowl, microwave the Butter and Marshmallows on high until smooth..you may need to stir it in between.
Stir in the popcorn and Peanuts until evenly coated.
Spoon evenly over Brownies, press lightly to even out the surface.
Cool completely and let set up uncovered for about an hour…
Cut them up to errr..share…
Gaze at the glorious ooey-gooey greatness…
Grab a plate and, you know…
Take that amazing Stadium sized bite!  ~Enjoy! 🙂
And be sure to check out G.H. Cretors on social and share the LOVE!
FACEBOOK > INSTAGRAM > TWITTER > PINTEREST > YOUTUBE