Alright ladies..I'm saying it now, this dish can be for you as well.  Granted it's filled with hunks of fatty, smoky, greasy assorted Meats, dripping in Beer/Cheese Sauce, and topped with crushed Potato Chips, Pretzels AND Bacon, but hey..you're totally free to enjoy it also!  It's just that "Estrogen Macaroni" didn't have the same ring to it..lol!
So here you are Guys, and Guy's-at-heart…I give you a hot, comforting dish dedicated to high carbin', calorie lovin', loud burping, male types!
I may or may not have had 1 bowl or 4, but I'm pretty sure I can go out and change the oil in my car all by myself now…haha!
What you'll need for lots of full & happy Man Bellies:
1 tbsp. Olive Oil
2 tbsp. Butter
3 tbsp. Flour
1 bottle of his favorite Beer (or 2 cups of milk)
4 cups Macaroni Noodles
1 lb, Crispy bacon..crumbled
1 roll of Jimmy Dean Sausage (any spice level)
1 lb. Ground Beef
2 cups Shredded Sharp Cheddar
2 cups Shredded Mozzarella
1 cup of Pretzels..crushed into crumbs
Approx. 1 cup of Potato Chips..crushed into crumbs
S&P and Spices of his choice..to taste (I used a dash of Nutmeg & Cayenne)
A baking casserole dish
Directions:
Boil up the Macaroni
Prepare the Meats:
In a large skillet crisp up the Bacon, remove it to cool and crumble it up, set it aside!  Leave all of the Bacon drippings in the pan.  Then add the other meats into the Bacon drippings to completely cook, set aside…
Make the Beer/Cheese Sauce:
In a large/deep fry pan melt in the Butter and Olive Oil, when it's melted stir in the Flour until blended.  Pour in the Beer as you whisk to combine…
Let it bubble and thicken up for a minute or so, and add in 1 cup of the Cheddar and 1 cup of the Mozzarella…
Now sprinkle in the spices and add in all the meats, making sure to reserve a handful of the crispy Bacon!  Fold it together with the noodles until it's all one meaty, cheesy pan of deliciousness…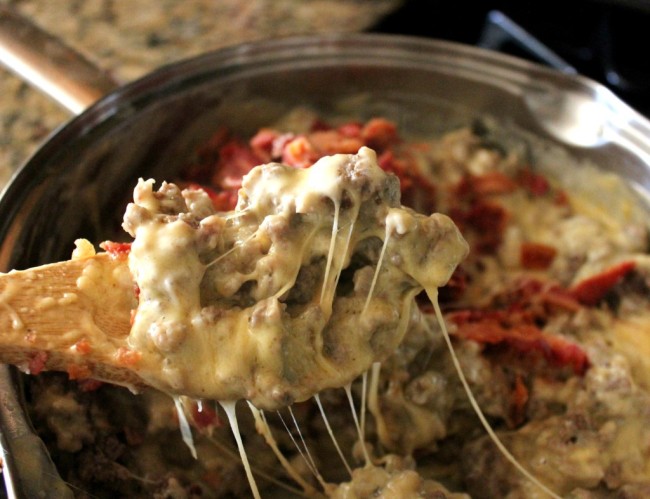 Pour it all into your baking dish, set aside.
Make the Topping:
Crush together the Potato Chips & Pretzels (a food processor works really well for this)…or a rolling pin and lots of anger will work too…
Sprinkle the top with the remaining Cheeses, all of the Crushed Chips & Pretzels, and the reserved crispy Bacon…
Into a 350 degree oven it goes, uncovered for approx. 45 minutes or until it's golden, bubbly and heated through.
Scoop up a huge portion, let him eat it on the couch (just this one time, let's not get crazy)….
Don't forget a cold one…
And maybe another, before he does the dishes!  ~Enjoy!  🙂