What's better than Bacon?  What's better than Bacon and Cheese?  What's better than Bacon and Cheese deep fried in a crispy shell until ooey-gooey?  Other than a child's laughter or a hug from Gramma, NOT much..and that's pushing it..lol!
There's no rocket surgery here, I just simply added what's been missing from our much adored Mozzarella Sticks, umm..Bacon!  Those two are a match made in artery clogging heaven and who am I to keep them apart?!  It was only a matter of time until they hooked up and created this crispy, cheesy, bacony love child!
So what if it's scandalous, let's not judge, let's pudge…haha! ~Sorry!  😉
What you'll need for some serious Crispy, Cheesy, Bacon filled Goodness: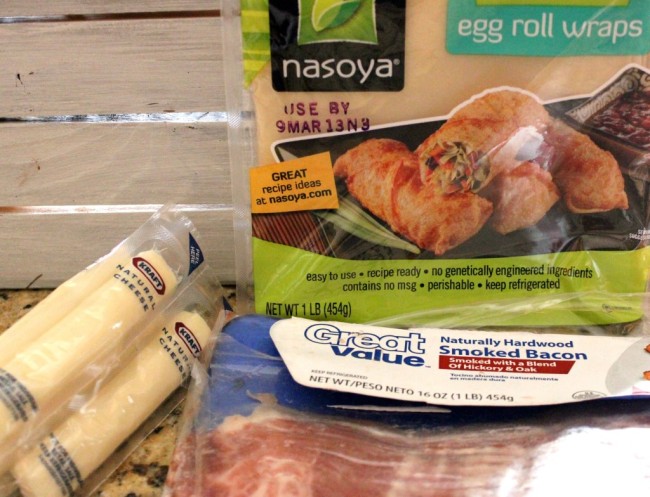 Large Egg Roll Wrappers..one per each Roll
String Cheese/Mozzarella Sticks…one per each Roll
Bacon..one slice per each Roll (either crispy or raw will work)
Marinara..for dipping
Directions:
**I highly suggest crisping up the Bacon first..however, if you don't mind tender Bacon simply wrap the raw Bacon around the Cheese stick and place it at a diagonal on the Egg Roll Wrapper, it will cook but it won't get crispy when you fry it!**
Otherwise, simply place the Cheese Stick and the already crispy Bacon on the Egg Roll Wrapper.  Moisten the edges with some water and proceed to roll it up tightly…
Fry them in approx. 2″ of Oil until they're crispy and golden, drain them on some Paper Towel…
Be sure to serve them up nice and hot…
Grab a few for umm..you!
And get your melty & crunchy, Bacon filled, Fried Cheese on! ~Enjoy! 🙂