To me, there's just something about the Chocolate~Cherry combo that's totally sexy, seductive and "lustful"..as far as food can go that is..lol!
~I'm not sure why, but it's true!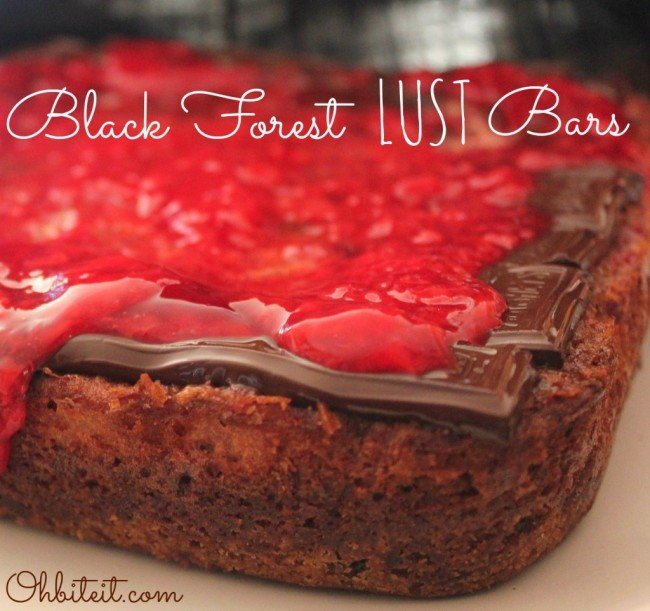 Sooo, that's why I named these decadent, sinful & sultry treats "Lust Bars".  They're that perfect & irresistibly sweet good time, that you don't have to make a huge commitment to.  A Dessert with benefits, if you will~! 🙂
In fact, these Lust Bars are so super quick & easy that you'll need to be careful who you share them with!  Make sure they're people you like A. LOT. because they won't be going anywhere for a while, and if they do..Ohhh yeah, they'll be back..haha!
What you'll need to satisfy 8-10 lusty cravings:
1 Roll (16.5 oz)Of Pillsbury Refrigerated Chocolate Chip Cookie Dough
1 can of Cherry Pie Filling..divided (crushed, either with a processor or rough chopped with a knife)
5-8 Hershey's Special Dark Chocolate Bars (regular Milk Chocolate is fine too)
4 Eggs, slightly beaten
1 1/2 cups granulated Sugar
2 tbsp. all-purpose Flour
2 tbsp. Butter, softened
Powdered Sugar for dusting..optional
13×9″pan..or smaller for thicker bars..may take longer to bake in a smaller pan!
Directions: 
Break up the Cookie Dough and press it evenly into the bottom of an ungreased baking pan…
Bake it for 15-20 minutes at 350 degrees, just until it's a light golden brown.
In  a large bowl, beat the eggs with a whisk until well blended. Beat in the Sugar, Flour and Butter until combined.  Stir in approx. 3/4 of the slightly crushed Cherry Filling.  Make sure to save enough for spreading on top as well…
Top the Cookie Crust with a layer of Hershey's Special Dark Chocolate Bars…
Pour the mixture over the warm, Chocolaty Cookie Crust…
Bake 20-30 minutes longer at 350 degrees..OR until it doesn't jiggle anymore..haha~~ and is slightly golden on top.
While it's still a little warm top it with some Herhsey's squares and the rest of the Cherry Pie Filling..just spread it around as evenly as you can.  Notice it's extreme beauty…
Cut it into squares and serve it up…
Find a plate fast..
And sink into the most succulent, sweet & sexy desert ever!  ~Enjoy!  🙂