Yep, we've got Boston Cream…for Breakfast!  I'm so hooked on that succulent & sweet Vanilla/Chocolate super creamy combo, that it was only a matter of time until it morphed into a nutritious Pancake Breakfast.  Which means…that with a nice glass of OJ, it's officially part of a balanced diet, and the perfect way to start your day..haha!  🙂
This super special stack is nothing short of AMAZING!  Fluffy Buttermilk Pancakes layered with thick (and simple) "Vanilla Cream", then topped with a seductive & glossy cascade of Chocolate Ganache!
~Mmmhhhmmm, that's right!
What you'll need:
Pancake mix  (As much as you'll need for the amount of Pancakes you want!) 🙂
Vanilla Pudding..I used pre-made, but feel free to make your own!  It took 1 standard Pudding Cup to layer 4 Pancakes nicely!
*You can also use Vanilla Yogurt instaed of Pudding, if you'd like!*
The GANACHE:
1-1/2 cups White Sugar
3 tbsp. Cornstarch
4-1/2 tbsp. Cocoa Powder (unsweetened)
1-1/2 cups boiling water
1 tsp. Vanilla Extract
1 tbsp. Butter
A microwave
Directions:
If you're making your own instant Pudding, prepare it now and set it aside.
Make the Ganache first by adding all of the ingredients into a large microwave safe bowl and mixing it up.
Microwave it for approx. 3-4 minutes until it gets bubbly, thick and almost pudding-like.  Stir it until it's smooth and set it aside to cool while you make the Pancakes…
Prepare your Pancakes as you normally do.
Layer each Pancake with some Pudding (or Yogurt) and stack them as high as you want to go…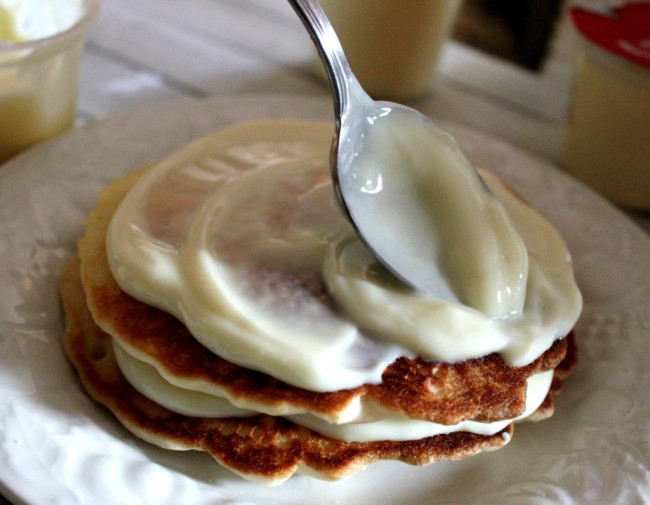 Pour on that amazing Chocolate Ganache…
Sink down through those heavenly Boston Cream layers of loveliness…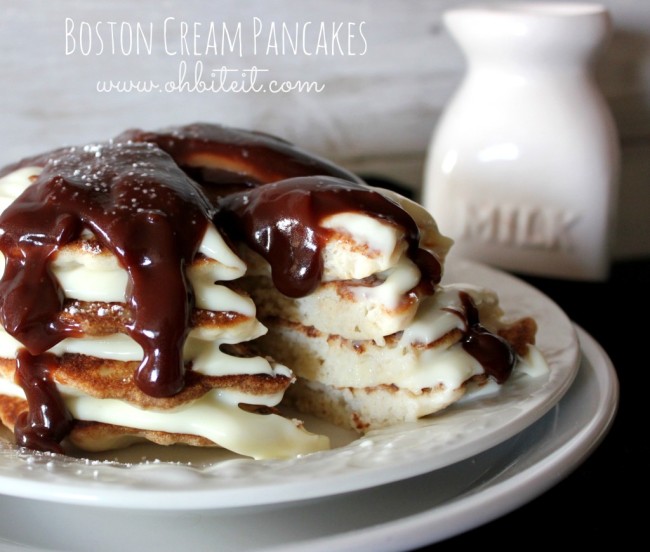 Find a comfy spot and grab a  plate…
I'm pretty sure you know what to do next!  ~Enjoy! 🙂