Are you a Pizza Crust lover, hater or don't give a darn-er?
I've come to realize that a person's Pizza Crust is an incredibly personal thing!  There are the stuffers, the dippers, the rippers, the dunkers and the nibblers.  You've also got your folders, your leave-on-the plate-ers and your feed-to-the-dog-ers..lol!
~Whichever one you are, be prepared to step outside of your Pizza Crust comfort zone!
These Stuffed Pizza Crust Sticks will change the way you feel about ordinary Pizza Crust for the rest of your Pizza eating days!  No Crust will ever live up to what you'll experience with these ooey-gooey, cheesy, slightly  spicy, tender sticks of Pizza Crust Heaven!
You won't even miss the rest of the Pizza…it's true!
What you'll need for 6 over-stuffed Ooey-Gooey, Spicy Pizza Crusts:
1 Roll of Pillsbury Pizza Crust Dough
Velveeta Cheese
Chopped Jalapeno (as much as you like)..optional!
1 Egg..for egg wash
Olive Oil
Oregano & Parmesan for sprinkling
Marinara for dipping, or any of your fave Pizza Crust Dippers!
Directions:
Roll out the Dough so it's somewhat even in thickness and width (a sprinkle of flour will help)
Slice the Dough into approx. 2″ strips…
Chop up the Jalapenos into a small dice…
Cut approx. 1/8″ strips of the Cheese, making sure that there's enough to cover almost the entire length of each strip of dough.
Place a line of the Cheese and a sprinkling of the Chopped Jalapenos (OR stuff them with whatever floats your boat) into the center of one Dough strip…
Now seal the dough around the filling making sure to NOT over-fill them.  SEAL THEM VERY WELL, and turn them over so the seam is down.
Now brush the stuffed crusts with some egg wash (a beaten egg with some Olive Oil..or water)…
Sprinkle them with a mix of some Parmesan & Oregano…
Place them onto a lined baking sheet and bake them at 350 degrees for approx. 12 minutes, or until they're golden…
Some of the Cheese may leak out and that's ok.  Once they cool you can get them back in "order", and they will taste fantastique…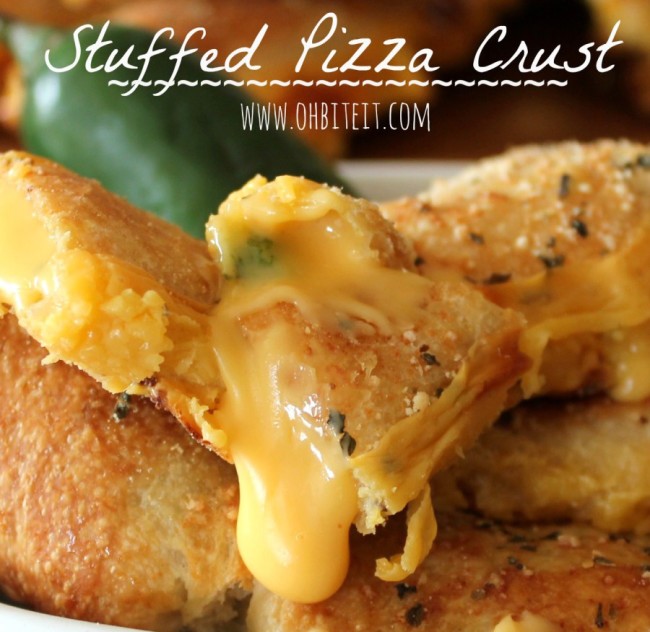 If you're feeling generous, go ahead and share…
If not, get busy with your own plate…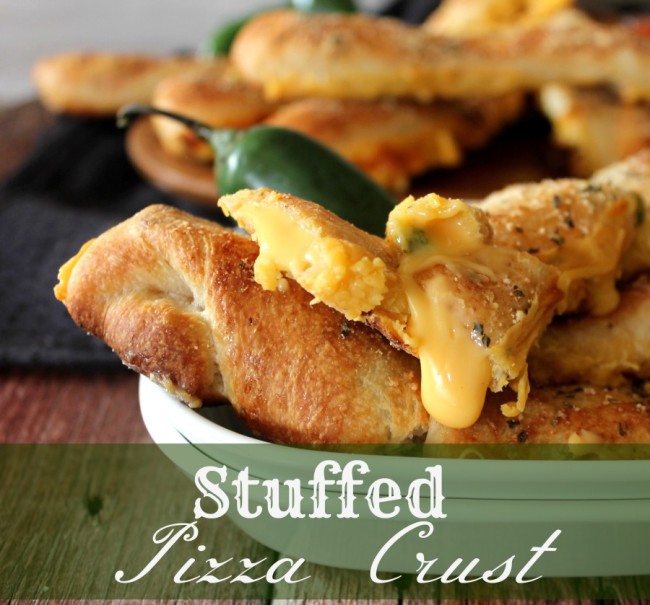 Just make sure to wipe your lips!  ~Enjoy!  🙂