Well good morning to you!  Rise & shine, get that robe on and grab some Coffee~you won't want to miss this hot little number!  It's one thing to start the day with some Orange Sweet Rolls..it's an entirely other thing to start your day (or end it) with Orange AND Chocolate Sweet Rolls!
Adding Chocolate to these already perfectly puffed pastries takes them to indescribable levels of flavor!  They're simply something you have to experience to understand.
~Now get into your kitchen and start understanding….lol!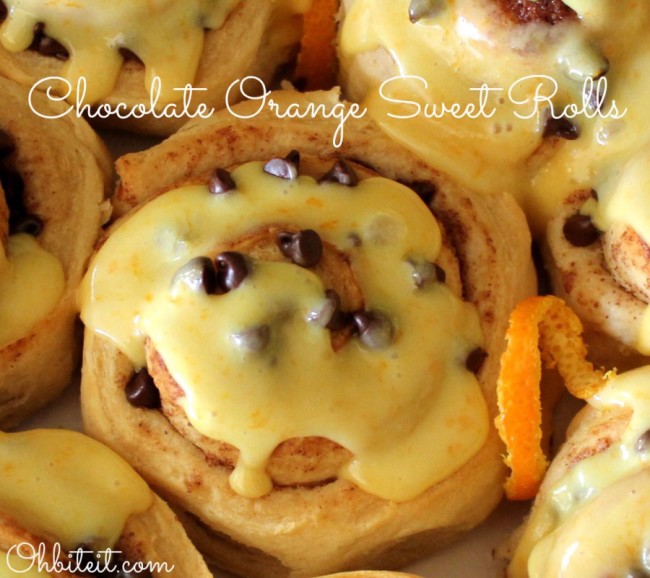 What you'll need:
1 Roll of Pillsbury Orange Sweet Rolls
1 Orange
1/2 cup pf Mini Chocolate Chips..or more, if you like!
Directions:
Remove the Rolls in one section, unroll it and lay it out.  Sprinkle it with 1/4 cup of Mini Chocolate Chips.  Zest the Orange and mix it into the Frosting…
Roll it back up, separate them and place them in your baking pan.  Sprinkle them with a few more Chocolate Chips, but save some for garnish!  ~Bake them according to the package directions…
Feel free to make some pretty Orange/Chocolate Curls for garnish, by dipping some Orange Curls into melty gooey Chocolate…
Let them cool slightly…
While they're still warm. top them with the remaining Chocolate Chips.   Nowww..drizzle some of that zesty Frosting over the warm Rolls~~OH, My!
And don't forget your pretty Orange curls, if you made some! 🙂
Share those babies with people you REALLY care about, because they won't be leaving anytime soon…
OR..keep them all to yourself~
Prepare for the incoming YUM! ~Enjoy!  🙂