See, I DO know how to come up with healthy treats!  These buttery, doughy Crescents are filled with plump, nutritious Raspberries.
~Oh, and errr, sugar & gooey Lemony Glaze, but let's focus on the healthy Raspberries, so we can have 2 servings!  😉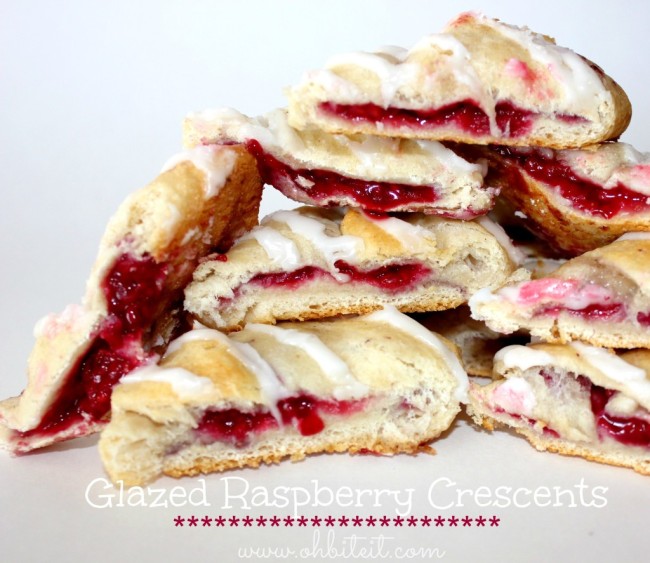 And since I subscribe to the belief that if there's fruit in, on, near, or around a high calorie treat, that treat then becomes a low-cal healthy option by association.  SOoo these are health-food!
…just go with it! 🙂
Each flaky Crescent is literally bursting with gorgeous ruby red Raspberries.  They're taken to another flavor level by way of a thick Lemon Glaze that totally balances out the sweet Berries perfectly!
Super delicious, quick, easy..and so impressive!
What you'll need:
1 container of Pillsbury Crescent Rolls
1-1/2 cups of frozen Raspberries..semi-thawed (I used unsweetened)!
1 cup Sugar
The Lemon Glaze:
1 cup of Powdered Sugar
2 tbsp. Lemon Juice and/or Zest…liquid will vary a bit, just make sure you get a nice thick consistency!
Directions:
Sprinkle the Crescents with the Sugar….
Add about 2 tbsp. of Berries (don't over fill them, use your best judgement) to the wide end of the Crescent.  Make sure to leave about a 1/8″ border, or so..and roll it up.  ~Seal them well with a gentle pinch!
Bake them at 350 for about 12 minutes or until they are firm and golden.  If they leak a little it's no biggie, use more Glaze and cover it up..lol!
Prepare the Lemony Glaze by combining the Powdered Sugar with the Lemon Juice until it's a thickness you like.
Drizzle them with the glaze and serve those beauties up…
Prepare for the tastiest bite ever!  ~Enjoy! 🙂