Since I recently discovered how to make "Candy Apple Chips" I couldn't just go about my life pretending that I didn't want some Maple Apple Chips too.  I mean, Maple and Apple are a match made in my kind of Heaven!  Besides, where can you even get Maple Apple Chips??  I've never seen them anywhere, so I had to take matters into my own hands.
Dare I say, I think these turned out even better than their inspirational cousin "Candy Apple Chips"!  And that's saying a lot, because those are FAN. TAS. TIC!  If you love Maple, if you love Apple, if you love crunchy, if you love sweet…go make these, you'll LOVE them!
What you'll need: 
*Ignore the red Food Coloring and the Cinnamon in the photo*
2 medium Apples
1 cup Sugar
1 cup Water
1/4 cup Maple Syrup
A Mandolin for slicing
Directions:
Slice the Apples.
In a medium pot, bring the Sugar, Syrup and Water to a boil (stirring constantly).  Add in the Apple Slices and let them simmer for approx. 15 minutes until they're translucent…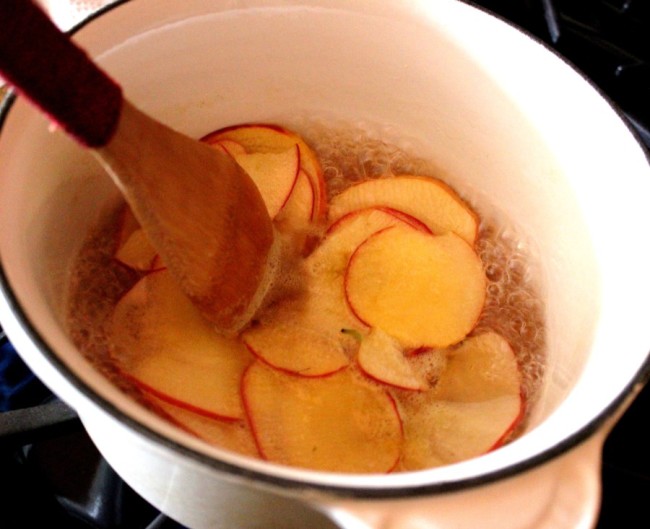 With tongs, transfer each Apple Slice onto a wire rack over a baking sheet and bake them at 350 for approx. 15 minutes…
 Place them onto some parchment paper and let them cool.  They will get crispy as they cool!
And as a bonus you also get a nice pool of warm, sweet Maple Glaze left behind in the pot, to do with as you please.  I chose to pour it over some cold Vanilla Ice Cream!
~I haven't been the same since~it's totally life changing..lol! ~Enjoy!  🙂