Good Morning~
Today I have for you a healthy breakfast, yes it's healthy..you don't doubt me do you..hmm?!  😉
It's a breakfast filled with healthy FRUIT, yep fruit!  Nutritious, good-for-you fruit….nestled in between a few umm..Donut Holes.  Donut Holes that just seem to be drizzled with errr..Raspberry Glaze.  Eh, so what, the fruit will cancel out those Donuts anyway, and not only do the Donut Hole calories get canceled out, but the fruit renders them healthy by association..yep!
~That's my story and I'm sticking to it.  Join me in these beliefs and be happy..lol!
These succulent skewers are super easy, fun & impressive, offering up the perfect balance of Fruit and Donut!  Serve them up with a generous drizzle of sweet and pretty Raspberry Glaze or even a nice, thick squirt of Maple Syrup!
~~Oh, yeah!!
What you'll need:
Assorted Fruits of your choice
Donut Holes
Skewers
Raspberry Glaze:
Blend all of the below ingredients in a blender or processor…
1/2 cup (or so) of Raspberries (I used frozen)
1 cup Powdered Sugar…may vary until you reach your desired glaze consistency!
A blender or food processor
Directions:
Simply assemble the skewers by altering like-sized fruit & the Donut Holes…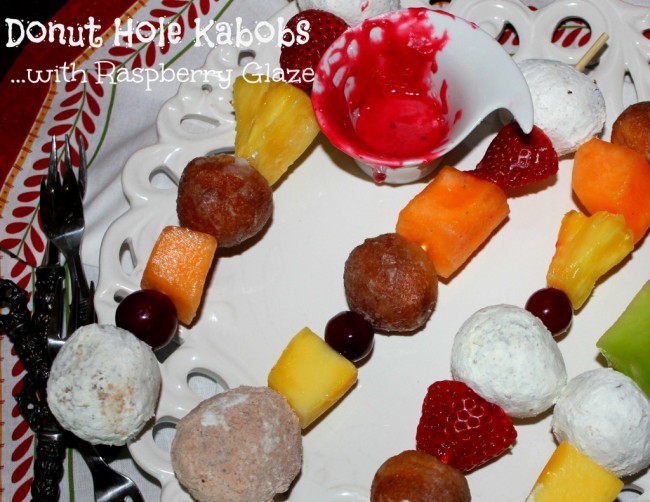 Drizzle them with the Glaze or anything else you'd like…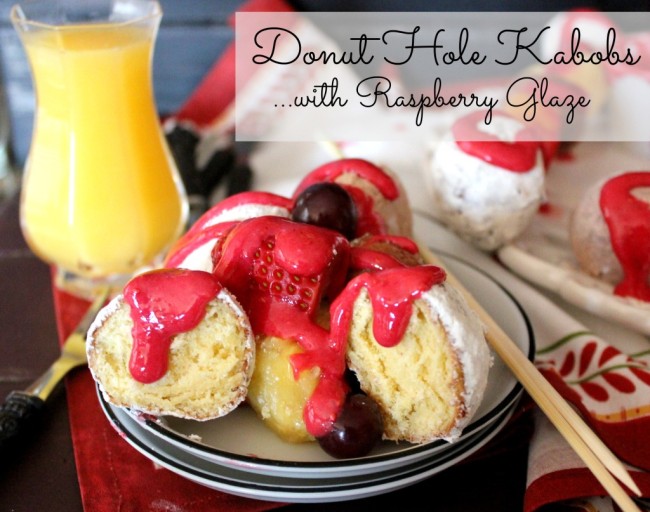 Eat lots & smile!  ~Enjoy! 🙂