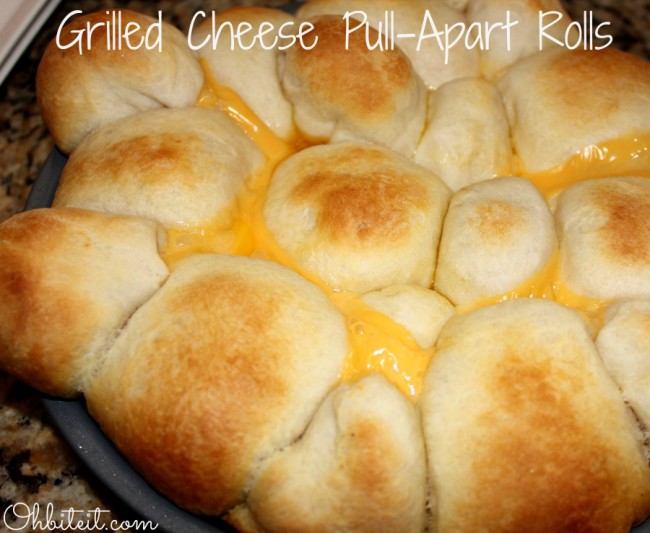 Not sure what came over me, but one minute I was cleaning out the fridge and the next minute I was stuffing obscene amounts of Cheese into Biscuit Dough, rolling it into balls, drenching it Butter and baking them until this happened..lol!
No plan, no reason, just buttery, cheesy, stuffed & puffed dough-ball nonsense!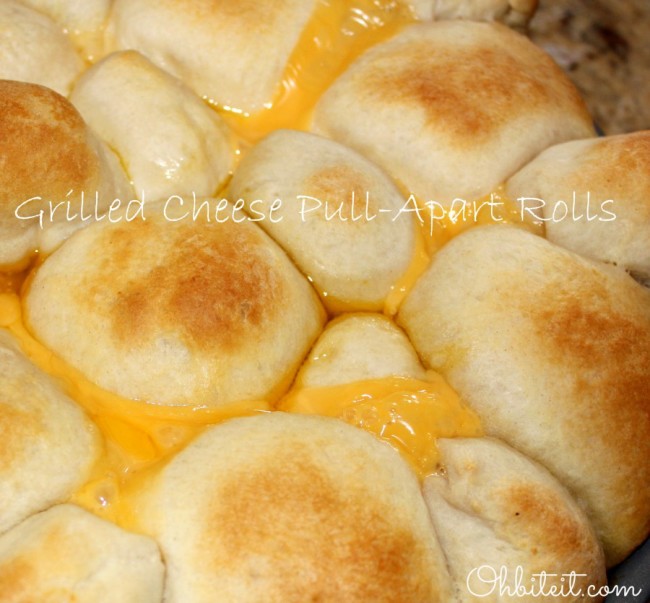 Gooey balls of Grilled cheese-like orbs, baked to a puffed perfection!  I just keep telling myself that the very best things in life happen this way sometimes…
~Especially when it comes to food..lol!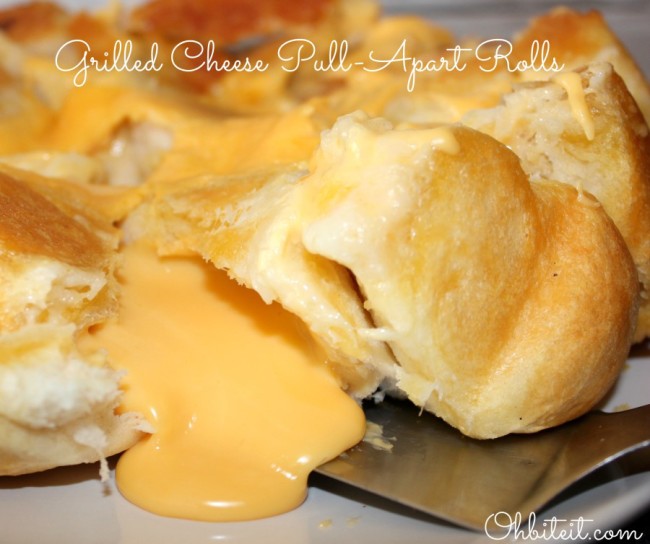 What you'll need for enough Rolls to feed at least 12 people:
1 Container of Pillsbury Grands Flaky Layers Biscuits (8 ct.)
1-7.5 oz. Container of Pillsbury Buttermilk Biscuits (10 ct.)
**I used two different sizes of Biscuits just for interest, but you can use all the same size Biscuits if you'd like!  It will take 2 cans of either size to fill the cake pan.
1/2 cup melted Butter..you could leave this out, but the Butter is what makes them taste just like Grilled Cheese! 🙂
Velveeta Cheese…approx 3/4 of an entire box.  (you will need a 1-2″ cube to stuff into each Roll)
A 9″ round cake pan
(If you'd like to really make everyone feel like a kid, serve these with a hot bowl of Tomato Soup) …you're welcome mom! ; )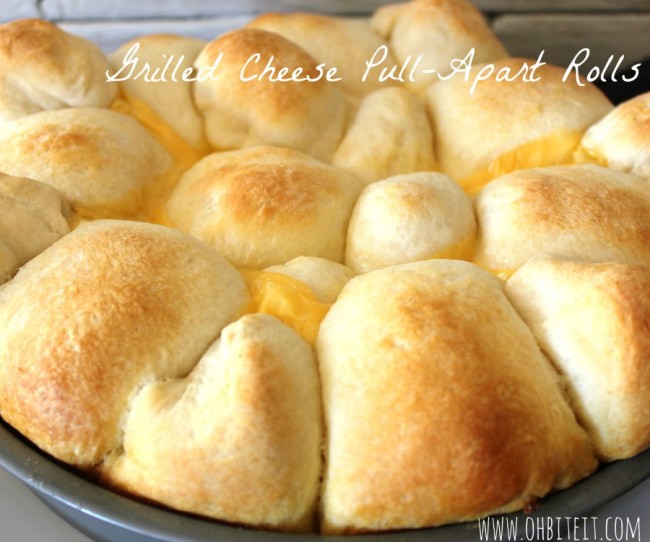 Directions:
Melt the Butter and pour about half of it into the cake pan…
Cut the Velveeta into approx. 1-2″ cubes, making sure to cut enough for each Roll.  You will have some Velveeta left over for other yummies!
Pop open the Biscuits and stuff each one with a cube or 2 of the Cheese.  Of course the larger Biscuits will hold more cheese than the smaller ones.
I, of course,  stuffed them with as much Cheese as I could get in there..lol!  Roll the dough around the Cheese, sealing it tightly and forming a ball..
Place the stuffed dough balls into the buttered cake pan, arranging them evenly.  Pour the rest of the Butter all over the top!
Place the pan onto a larger baking sheet to protect your oven from any spill-overs as they puff up…trust me..Grr!  🙂
Bake them at 350 degrees, uncovered for 12 minutes, don't let them burn.  If they get too dark before 12 minutes, cover them with foil!
Definitely cover them them with some foil now, and continue baking them for another 12 to15-ish minutes or longer, until they're golden, puffed and firm all the way through.  The inner Rolls take longer to firm up so be patient, as long as you have them covered they will be fine.  🙂
Some of the Cheese oozes all around the Rolls, this is a beautiful thing!  ~See…
Let them cool slightly…
These are especially fun because you can serve them straight out of the pan and just start pulling at them…
Or, you can turn the pan over onto a serving platter, and make Mom proud by using a plate…
Or you can dive in however the heck you'd like…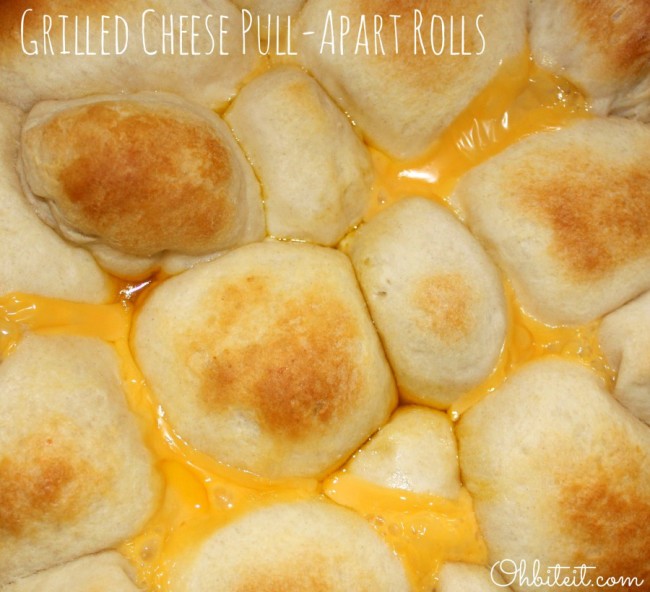 The main idea is to get these hot, melty Rolls into your mouth…
…as soon as you can, or they will be gone…
So…open up, stuff your lips, repeat, enjoy! 🙂