In my house ordering Pizza always ends up costing way too much money.  We need a thin crust, a regular crust, a veggie, a meat, a spicy and an extra cheese.  Nope, not all on the same maybe 1 or 2 Pizzas like sane people, Ohh NO!   😉
Well, now I'm one step closer to Pizza sanity since I took matters into my own hands and created this fun and tasty little inside-out Jalapeno Pizza.  Perfect for those spicy Pizza people that always want to convert everyone else..lol!
These little guys are jam packed with huge flavor, so don't let their size fool you!  Spicy little Jalapeno Peppers are filled with gooey Mozzarella & Pepperoni, then snuggled in Pizza Crust and baked in a shallow pool of Marinara!  Pizza is now totally 'pop-able'!
~If you love Jalapenos on top of your Pizza, you're going to adore these easy to eat, spicy little smile makers!
What you'll need to satisfy at least 12 sassy & spicy Pizza lovers: 
13 Fresh Jalapenos (makes 26 Poppers)
1 container of Pillsbury Pizza Crust (thin crust)
Cheese Sticks (approx. 13..cut in half)
Pepperoni Slices (2 per Popper)
2 cups Marinara..your fave!
1 cups Shredded Mozzarella
Olive Oil for drizzling
Oregano for sprinkling
A 13×9 pan
Directions:
Unroll the Dough and lay it out on a board.  Cut a square approx. 2-3″ as you go.
CAREFULLY and with common sense prepare your Jalapenos by slicing them and removing all the seeds and veins.  Then wash your hands, and still don't touch anything..lol!
Place 2 Pepperoni slices down into the Pepper and top it with half of a Cheese Stick.  Wrap the Pepper with the Dough square, making sure to leave the stem end exposed (it's just prettier that way..lol)
Pour the Marinara into the pan, covering the bottom with a generous layer.
Place the wrapped Poppers into the Marinara and drizzle them with some Olive Oil, the Shredded Cheese and some Oregano…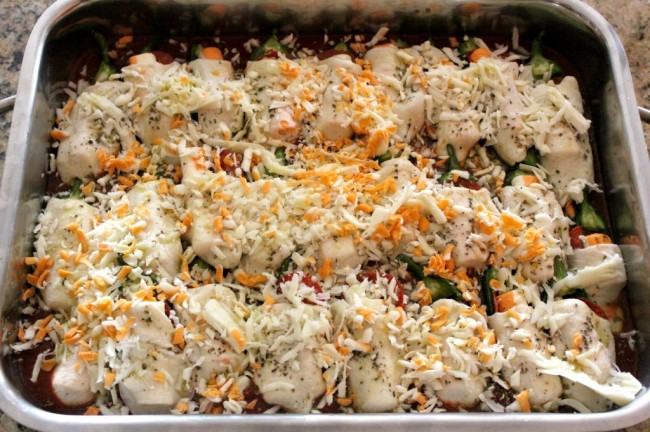 Bake them at 350 (uncovered) for aprox. one hour or until they're golden and bubbly.  The smell is amazing, should be a candle..LOL!  ~Let them cool, they sure do hold the heat!
Serve up those sassy little Pizzas and make almost everyone happy! ~Enjoy! 🙂