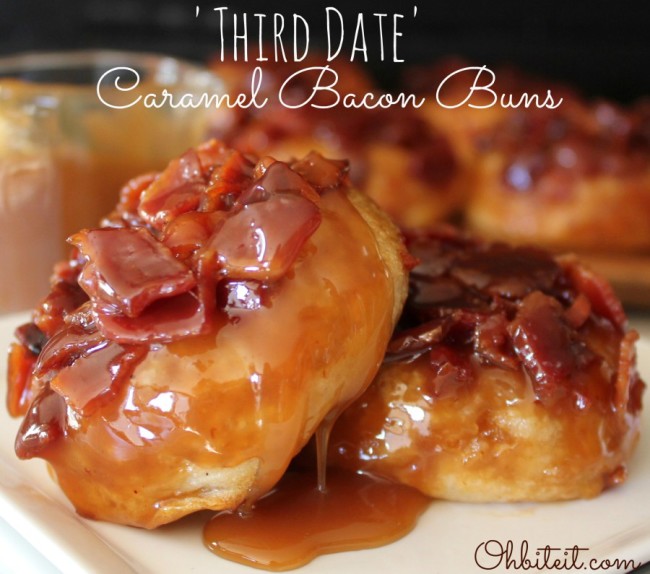 So, I'm sure you all know the significance of the oh-so-important 3rd date.  That awkward moment when a new relationship teeter-totters between "This may be forever, let's get crazy" and "Oh, God, get me out of here'..LOL!
Whatever you do, no matter what you're feeling, no matter what you're thinking..never..NEVER make these scrumptious, sticky, bacony Buns before the 3rd date, heck, maybe even wait until the 5th date, just to be sure..haha!
Why wait?  ….here's why:
1.  It would be horrible to give someone the impression you like them waaay more than you're sure of yet, by sharing with them something that tastes this amazing!
…and
2.  After one bite of these hot, gooey, caramelly "deal sealers", that person will never go away!  Even if they don't like you..they will call you at all hours, begging for a fix of that addictive salty Bacon and candied Caramel combo!  And who needs that..lol! 🙂
However, if you really want them to stick around, go ahead and shove one, or four in their mouth..SCORE! 😉
What you'll need for 10 perfect dates:
1-7.5 oz. can of Pillsbury Biscuits (10 ct.)
1 lb of Crispy and crumbled Bacon
1 jar of Caramel Sauce (approx. 1.5 cups)
2 standard Cupcake/Muffin Tins
Directions:
Fill each cup with enough Caramel Sauce to cover the bottom nicely…
Top the Caramel with some crispy, crumbled Bacon, making sure to evenly coat the bottom of each cup…
Now top the Bacon with one Biscuit…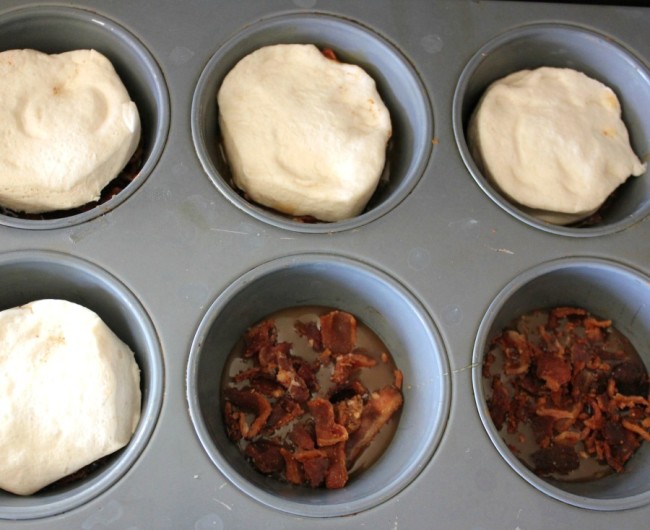 Place the empty Cupcake Pan on top of the Biscuits and press down lightly, this will help them not get too puffy…
Place them on a baking sheet to keep your Oven clean in the event of a spill-over~~Always use protection..lol!
Bake them at 350 degrees for about 12-15 minutes.  Take them out and let them cool before attempting to flip them out…
Place the baking sheet over them and flip it over.  If they don't all pop out give them some help, but they will come out pretty easily.  If there's any Bacon left behind, simply place it back onto the Buns…
Serve them warm, but these get better as they sit.  The Caramelized Bacon turns almost Candy-like on top of that tender Biscuit…truly amazing!
Like many more dates amazing…
Adding some extra Caramel will get you a "drawer" at his place…lol!
Serve them up all fancy and I bet he'll do the dishes!  (If you're married, just tell him to get off his butt and do them or NO Buns for him!)  😉
If not share them with someone who will…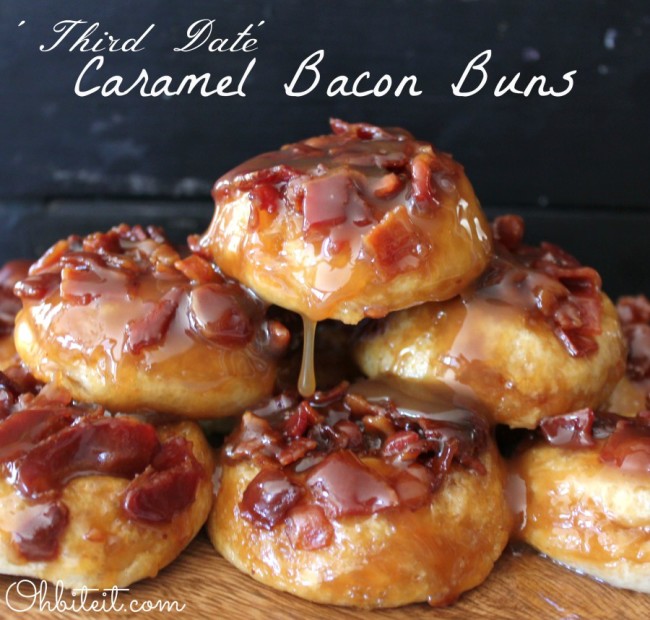 Like you..haha!  😉  ~Enjoy!