Have you found a way to make everyone in your life happy??  If so, please tell me the secret..lol!  Especially when it comes to food, everyone has their likes, dislikes, textures, flavors, and colors..oh my gosh.  It's not usually a problem to accommodate, unless it's a weekday morning and the race to get fed and out the door is ON!
It would be all too easy to grab an unhealthy Doughnut and go, but that's not necessary thanks to Quaker Perfect Portions (Maple) Oatmeal.  With Quaker Perfect Portions Oatmeal, you can make as little or as much instant Oatmeal as you want.  The versatility, and variety options are endless.  I like to turn that bowl of Oatmeal into a wholesome Batch of Fruity Oatmeal Cookies that we can all grab on our way out the door.  No guilt, and amazing flavor that puts a smile on everyone's face.
These rich, thick Cookies are bursting at the seams with sweet Chocolate Covered Cherries, that no one can resist.  And the best part is, they're filled with 'no sugar added' Quaker Oats!  I control the amount of Sugar that my family will be eating and that makes for a great start to any busy day!
It also makes for a great ending to any day, with the addition of a sweet Chocolate Sauce drizzle.  Now those Breakfast Cookies have become a decadent Dessert!  🙂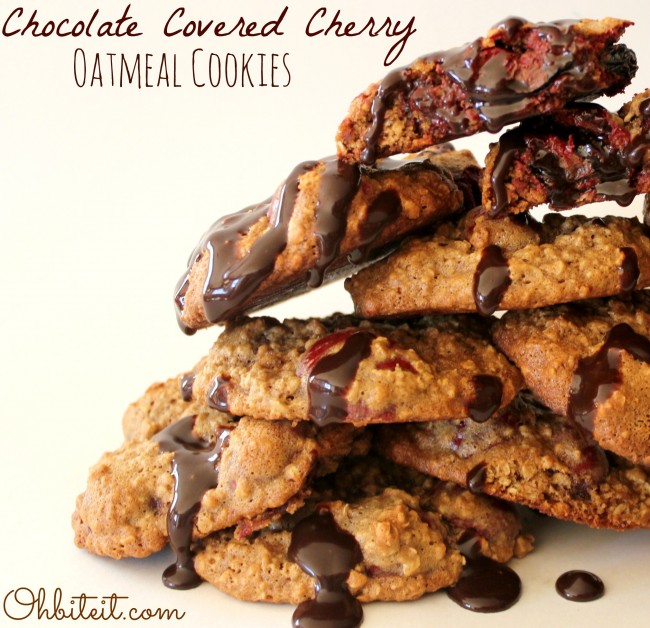 What you'll need for approx 1 dozen Super Stuffed Oatmeal Cookies (you can easily double this recipe for more):
1 1/2 cups of Quaker Perfect portions Maple Oatmeal found >here<
2 cups of Chocolate Covered Cherries
3/4 cup Flour
2/3 cup Brown Sugar..packed
1/2 cup (one stick) Butter..softened
1 Large Egg
1/2 teaspoon Baking Soda
1/2 teaspoon Cinnamon
1/2 teaspoon Vanilla Extract
1/4 teaspoon Salt..just a pinch
Chocolate Syrup if you so desire..!  😉
Directions:
In a large bowl cream together the Brown Sugar, Vanilla, Egg, and Butter, set aside.
In another bowl sift together the Flour, Baking Soda, Cinnamon, and Salt.
Add the dry ingredients into the wet and mix until well combined.
Now stir in the Oats..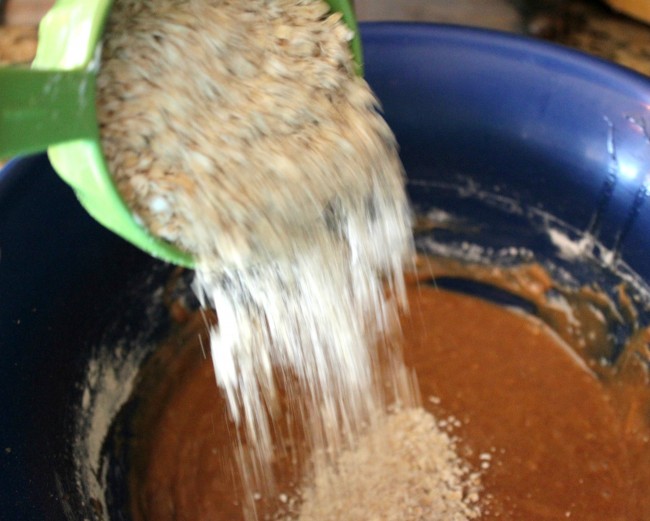 And gently fold in the Chocolate Covered Cherries…
Line a baking sheet with parchment paper and place scoops of  the cookies  2″ apart.  Put them into the fridge to chill while the Oven preheats to 350.  This will keep them nice and thick as they bake…
Bake them for approx. 12 minutes, until their golden around the edges.  Let them cool before devouring any…
These also make for a fun dessert with the simple addition of some Chocolate Sauce.  A great way to end a busy day as well…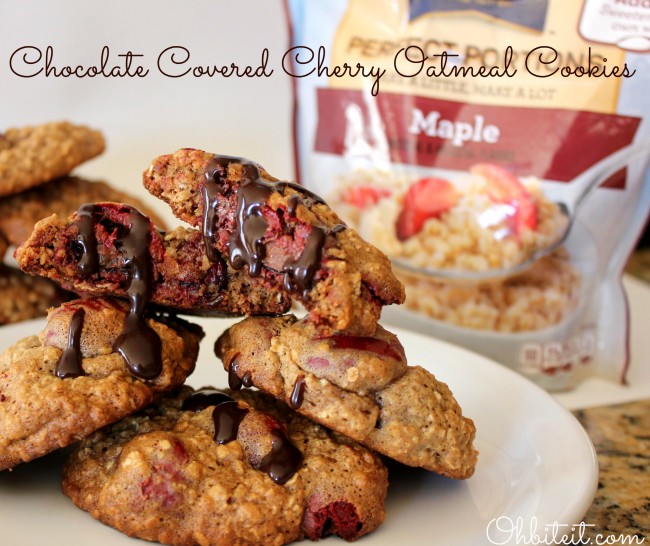 No one will be able to resist~happy people everywhere…
They will be gone in moments..
So be sure to grab some for you!  ~Enjoy!  🙂
1.  Disclosure: Compensation was provided by Quaker via AOL Media.
2.  The opinions expressed herein, are those of the author and are not indicative of the opinions or positions of Quaker.