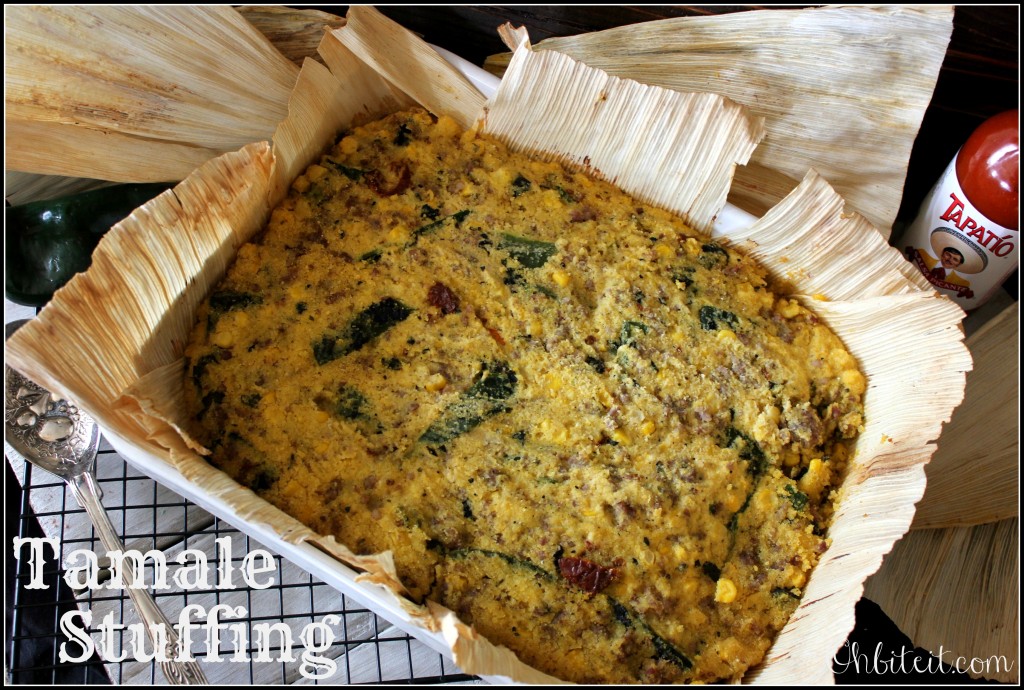 Here I go again, putting a Southwest spin on a traditional favorite dish!  I think that being an almost "Native New Mexican" gives me the right to do that dontcha agree..say yes!  Changing things up is always nice and maybe some new tasty traditions can be started along the way!
This dish isn't just divine, but whimsical and gorgeous too!  You literally unwrap the corn husks with a show-stopping interactive presentation right at the table, as if it were one giant Tamale.  Then you reveal the most amazing and delicious Southwest twist on traditional stuffing. 
Comforting, warm and tender "Tamale" is complimented by sweet corn, mild Poblano Pepper, Chipotle and Cheese!  Seriously It's one of the best side dishes EVER, yet it's so simple!  What an amazing flavor punch of Southwest ingredients while somehow still keeping all of that traditional stuffing greatness!
Add a bit of the 'Southwest' to your table this year and spice things up! 🙂
What you'll need:
1lb of Sausage..cooked
1 can of Whole Kernel Corn..drained
2 Cloves of Garlic..chopped
2-4 Charred Poblano Peppers..seeds/stems removed
3 1/2 cups Masa Harina (Corn Meal)
1 1/3 cup Lard
1 cup Chicken Broth
1 cup Shredded Cheddar Cheese
2-4 Chipotles In Adobo Sauce ..chopped
1 tsp. Oregano
2 tsp. Baking Powder
S&P to taste
a 9×13 baking pan
8-10 Corn Husks
Directions:
Soak the Corn Husks in water while you proceed:
Char the Poblano Peppers, either on the stove top or the oven.  until the skins are blistered.  Let them cool and remove the seeds/stems and the black skin if you don't like it!  Slice them up.
In a medium bowl combine the Cooked Sausage, Sliced Poblanos, Shredded Cheddar, Corn, Garlic, Oregano, and chopped Chipotle Peppers. Mix to combine and set aside..
In another medium bowl combine the Lard, Baking Powder, and S&P, mix with a wooden spoon until combined.
In a separate bowl whisk the Masa Harina, 2 cups of HOT water and the Broth, add to the Lard mixture until smooth.  Now gently add the Sausage mixture into the Masa mixture.  Combine WELL!
Layer the baking pan with some of the Corn Husks…
Fill it up with the Stuffing mixture…
Top the Stuffing with a layer of Corn husks and bake it at 350 for approx. 45 minutes, or until the stuffing is golden and firm…
Present the dish with the Corn Husks on for effect…
Remove the top layer of husks at the table for maximum ooh's and ahh's!  Serve it up…
Spice up your Holiday Table with some Tamale Stuffing!  ~Enjoy! 🙂