~Like, ummm…Apple Pie!
Something about the combo of Bourbon, Apples and a super cute, Bacon Lattice topper, is a triple threat of out of this world deliciousness!
There's just no other way for me to explain how they perfectly compliment each other.  You'll just have to add some shock value to your Dessert, and give this drunken delight a try!  🙂
What you'll need:
1 Pillsbury Refrigerated Pie Crust..defrosted.  Or you can make your own!
12 slices of Bacon
2-21 oz. cans of Apple Pie Filling
2 (or so) tbsp. of Bourbon
A 9″ oven safe Pie Plate
Directions:
First make the Bacon Lattice.  On a parchment lined sheet pan, weave each Bacon strip the way you would any Pie Lattice…
Bake the Lattice at 350 until it's crispy.  Peek in on it to make sure it's not burning…
Let it cool on some paper towel…
Add the Pie Crust evenly into the Pie Plate and crimp the edges all pretty.  🙂
Pour the Bourbon into the Apple Pie Filling and gently mix it up…
Add it those tipsy Apples into the Crust…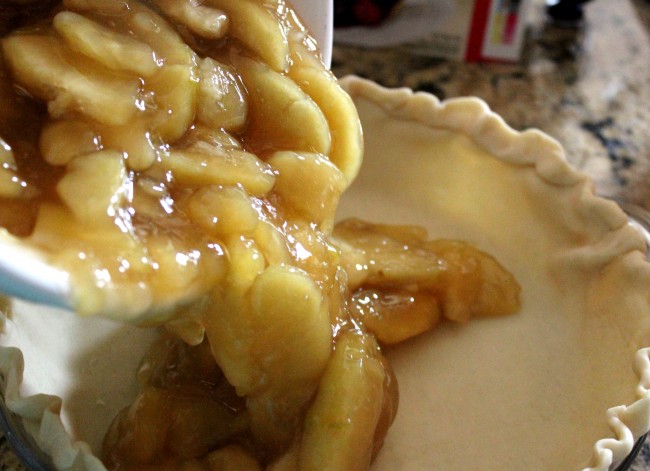 Top it with the Bacon Lattice and bake at 350 for approx. 15 minutes, or until the crust is cooked and the Pie is warmed through…
If your Lattice starts to get too dark while the Pie is baking, simply cover it with some foil for the remainder of the baking process!
Let it cool before you cut into it…
Make sure to take a moment to gaze into its eyes..LOL!
Before you completely have your way with it…
Like this!  ~Enjoy!  🙂