Once in a while it's fun to take what's normally a big, fattening, deliciously LARGE meal, and turn it into an adorable little, portion controlled 3 biter!
Enchiladas are just perfect for this concept because we all know once you start digging deep into that huge casserole of melty Cheese…get those fat pants on, because you're done for!  With these Enchilada Biscuits, you can actually stay in pants that have a button..lol!
Each delicious bundle is filled with spicy, cheesy Chicken, nestled in between flaky Biscuit layers!  They puff up and transform into the most simple and succulent Enchiladas EVER!
~Grab a Margarita..and do this! 🙂
What you'll need for 8 Enchi-biscuits..double accordingly for more:
1 can of Pillsbury Grands Flaky Layers biscuits (8 count)
1-12.5 oz. can of Chicken (or you can shred your own fresh Chicken)
1-10 oz. can of Cream of Chicken Soup
1-14.5 oz, can of Diced Tomatoes with Green Chiles..drained!
1.5 cups Shredded Cheddar..or a Mexican Blend would be good too.
S&P..to taste
1 can of sliced Black Olives
Sour Cream for garnish..optional!
A muffin/cupcake pan
Directions:
In a medium bowl mix together the Chicken, Diced Tomatoes, Soup, Black Olives (reserving some for garnish), 1 cup of the Cheese, and some S&P to taste…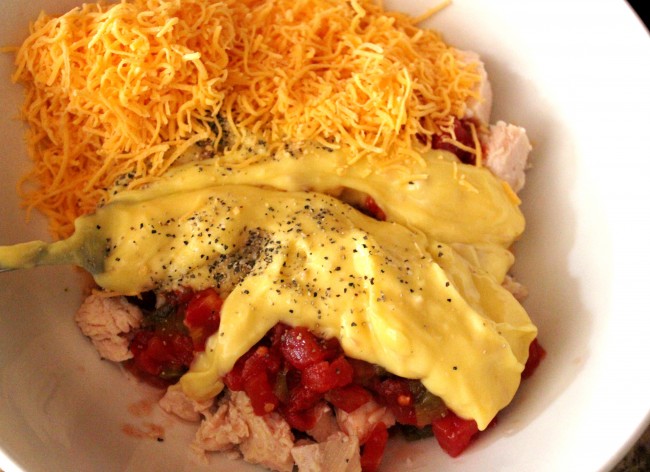 Pop open the Can of Biscuits and separate them.  Gently peel each Biscuit apart creating 3 pieces.
Place one of the biscuit layers down into the muffin pan and layer on some filling.  repeat until you have used all 3 biscuit layers.  Top with the remaining Cheee..
Bake them at 350 degrees, for approx. 12-15 minutes..or until they're firm and slightly golden…
Top them with some Sour Cream and olives!  They will look and smell amazing…
As soon as you take them out of the oven..you will have a crowd ready and waiting…
Forks in hand…
Grab a plate for you..first! 🙂  ~Enjoy!