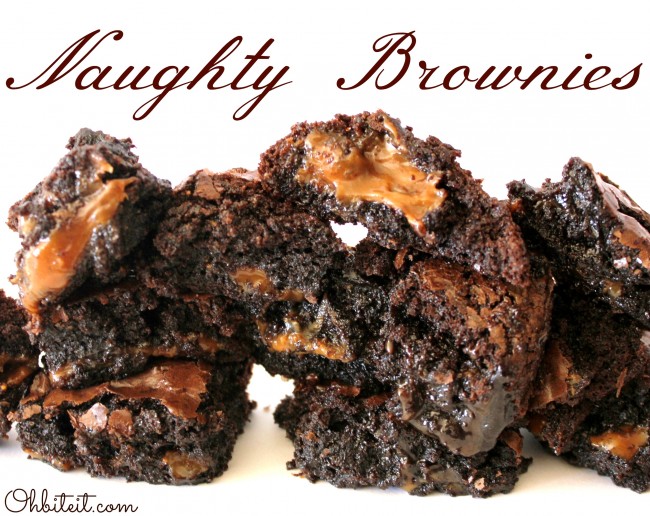 Well, what can I say?  If these Brownies were a date, you'd stay home..lie to your family about them, and keep them far away from your friends!
They're so bad, so tempting, and so down right naughty, you'll fall in love faster than you can get that top button on your pants undone umm…to make room for seconds..lol!
There's nothing really extraordinary about these sweet & shameful Brownies, I mean they're really just Brownies, …with Caramel …and Bourbon.  It's the way they present themselves that'll getcha!  Sticky, gooey dark Fudge Brownies-gone-wild are bursting  with lava-like~Bourbon-soaked-Caramel that will get all over you!
This is not a grab-n-go Brownie…nope, you'll need to commit with a spoon, a fork and possibly even a napkin!
Unless you're all alone of course, which in that case, go ahead and get messy!  🙂
What you'll need for Naughty OR Nice Brownies:  
1 Box of your fave Brownie Mix
25 Kraft Caramels..unwrapped
2 tbsp. Bourbon..(Naughty) OR Milk..(Nice)
Directions:
Unwrap the Caramels…LOL
In a medium bowl microwave the Caramels and the (naughty OR nice) liquid of your choice on high for 1 minutes..STIR IT!  then another minute on high..stir to blend.  Set aside..
Mix the Brownie Batter and Pour 1/2 of it into a baking dish ( I used a small, deep dish because I like thicker Brownies)
Pour the Caramel Sauce over the Brownie Batter…you could always just drink the Caramel Sauce and call it a day, it's THAT good!  😉
Now Pour the remaining Brownie Batter over the Caramel Sauce.  Gently spread it over the Caramel..some may peek through and that's fine!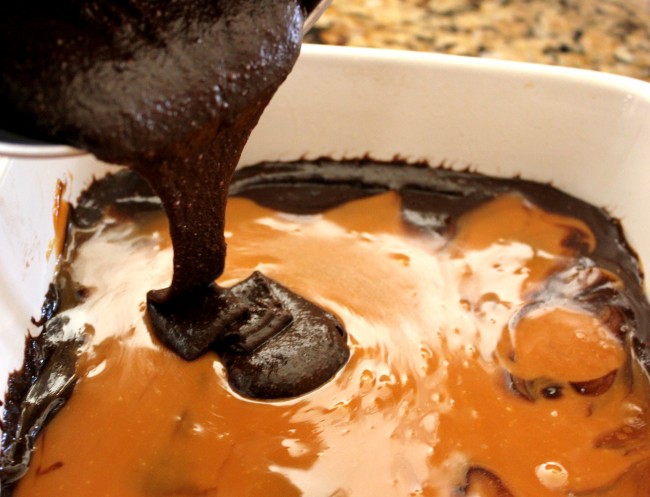 Bake it at 350 for about 25-30 minutes, or until it's firm and baked through.
Let it cool!!!!!!
Find a private spot and dig in..admit to nothing!  ~Enjoy!  🙂