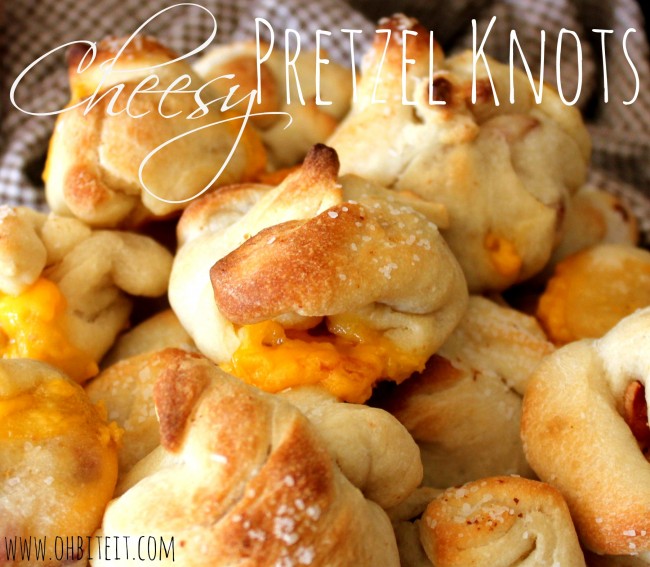 Does anyone like Pretzels?  Like reaallly, really like Pretzels?  Or are they just the last resort, the plan "C"..the snack back-up plan??  I mean, they're always the poor forgotten snacks at the bottom of the assorted cracker mixes, right?!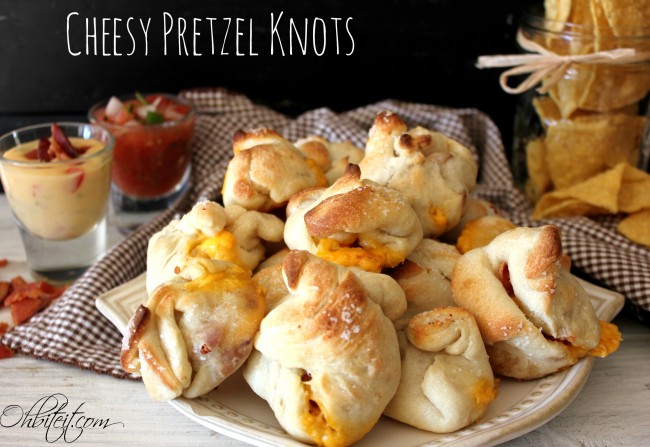 Well, I like Pretzels..and by like I mean, as long as they're stuffed with Cheese, and Bacon and baked until they're totally bursting with ooey-gooey Cheddar and sprinkled with enough Salt to raise your blood pressure!  Oh, let's not forget to plunge them deep into a pool of Queso or Salsa! Now, that's how I like my Pretzels! 🙂
These stuffed Pretzel Knots are filled with everything that's great in this world and then some!  Hot drippy Cheese, crisp, smoky Bacon~Ahhh you'll be popping these Knots like it's the last snack you'll ever eat and not even be ashamed!
What you'll need for a nice pile of Knots:
one container of Pillsbury Pizza Crust
1/2lb Cheddar Cheese…block
1lb Crispy and crumbled Bacon
Salt..to taste
Olive Oil or Bacon Greasse for shine
Directions:
Cut the Pizza dough into approx 3″ X 5″ strips.
Stuff each one with a cube of Cheddar and some Bacon crumbles.  Seal it up like a pouch, creating a knot-ish looking top with the excess dough…
Brush the tops with some Olive Oil OR Bacon Grease…
Sprinkle them with Salt..this is the Best part of the finished product!
Bake them at 350 degrees for approx. 12 minutes, or until they're puffed and golden.
Start grabbing fast, or you won't get one!  ~Enjoy!  🙂