By now we've all heard of Chicken and Waffles..right?!  That incredible combo of sweet and savory, all held together by drizzles of sticky Syrup.  To. Die. For!  I just wanted to come up with a way to make the process a little bit easier, and dare I say…healthier?!
~I won't say it's because I'm lazy, or anything like that..nope, I'm not going to say that at all..lol!  🙂
The easiest & quickest way I could think of to bring these two amazing things together was simply to combine them.  Yep, basically a Chicken Nugget that's coated in 'Waffles' instead of a savory batter and fried!
Then of course their dipped into puddles of sweet Maple syrup..lol!
In no time, you've got a tall stack ready to be devoured, with all the greatness of Chicken & Waffles, minus the messy grease splatters and time consuming ingredient juggling..do it!  🙂
What you'll need for approx. 12 Waffles:
12 Frozen and breaded, FULLY-COOKED Chicken Nuggets..in the forzen food section!
2 cups of Waffle Mix
Syrup for drizzling!
Pecans for authentic crunch..optional!
A Waffle Iron
Directions:
In a medium bowl mix together your Waffle Batter according to the box instructions.
Dip each chicken Tender into the batter and make sure to completely coat it.
Place it into the Waffle Iron and pour some Waffle batter over it just enough to coat it and make a normal size Waffle!
~Let them cook until they're golden and firm..then scream to whoever will listen that "Chicken and Waffles should be a candle!"  ..the smell is crazy good!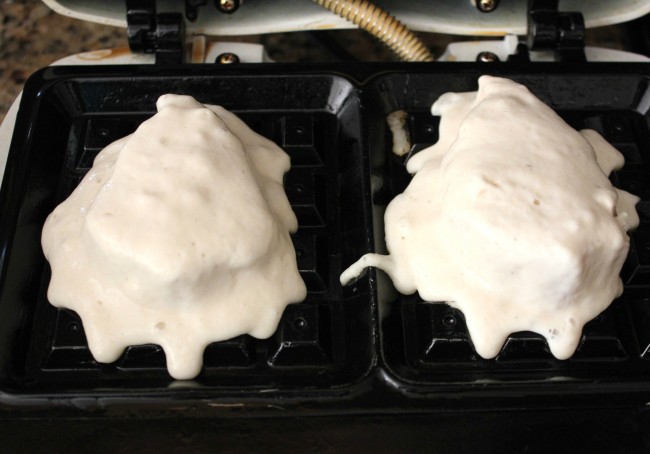 Serve them up!
…with lots of Syrup & maybe some Pecans for crunch…
Grab some for you!
And dig in!  ~Enjoy!  🙂