Let me start by saying that regular Monkey Bread has the power to totally turn me into a weak, self control-less embarrassment to myself.  SO clearly, I won't share with you what happens to me when that Monkey Bread is studded with an entire pound of BACON!  That's right!!  Salty, smoky, sticky & chewy BACON, generously glued together by puddles of sticky Maple Syrup!   🙂
This treat is best described in whimpers and moans, but I'll do my very best to adequately describe the sheer and undeniable 'epicness' of such a decadent delight, using cognitive speech, ok? ..here it goes:  Warm, fluffy and flaky Biscuits, layered & drenched in melted Butter, thick Brown Sugar & sweet Maple Syrup, held together by shards of sticky, candied Bacon that's crusted onto the bottom AND onto the top of the Whole. Darn. Thing!  ~whew!
This Sticky Bacon Bread is a decadent combination of everything that's tender and chewy, sweet and cinnamony, ooey and gooey..all in one bite!
~And all quite possibly before Noon..Oooh yeah!
Might as well just give in now and don't pretend you've got the self control to refuse…they're calling your name!
Go for it!  🙂
What you'll need to satisfy at least 8 crazy cravings:
One can of Pillsbury Grands Flaky Layers Biscuits
One pound of crispy & slightly crumbled up Bacon!
4 tbsp. Melted Butter
1/2 Cup packed Brown Sugar
1 tsp. – 1 tbsp. Cinnamon…to your liking.
1/2 Cup Maple Syrup
Chopped Nuts optional..I didn't use any!
A 9″ round baking pan..a Bundt pan will work as well!
Directions:
Spray the baking pan with non-stick spray..
Combine the melted Butter and Syrup in a small bowl and set aside.  In another small bowl combine the Brown Sugar, Cinnamon and nuts if desired..mix well!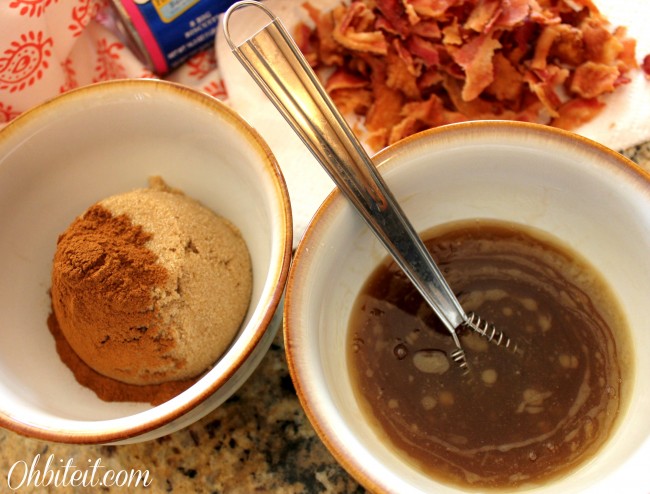 Pour a enough of the butter mixture in the bottom of the pan just to coat, and sprinkle some of the Sugar onto that.  Top with a nice layer of Bacon shards!  This will end up being the gooey top of the Sticky Bacon Bread when you flip it out! 🙂
Layer each Biscuit in a circle around the pan, making sure to top each one with some Syrup, Sugar & Bacon!  Really 'goo' that baby up, use every last drop of the Syrup and Sugar mixtures!
The empty center will fill in as it bakes..no worries!
Resist the urge to eat it like this!  Bake it at 350 degrees, uncovered for approx. 30 minutes…
It will be golden and puffy when it's done!  Let it cool a bit to set up, before flipping it out onto your platter!
Say a Bacony prayer before flipping it!  🙂
Now…dig into that warm, gooey and SO sticky Bacon Bread Heaven!
Hurry and grab a slice just for you..like seriously hurry or it will disappear!  Don't underestimate the way this smell will hypnotize everyone in the house, claim your piece and trust no one..haha!
Open wide and try to control your Sticky Bacon Bread Euphoria!  ~Enjoy!  🙂