Sometimes I'm just left with no choice but to go over the top!  I can't look at Burgers time after time and not want to jazz them up, especially the typical homemade variety!
And what better way to jazz anything up, than with Sausage and Gravy, and lots of Pepper, and Flaky Biscuits..and all resting gently on a juicy Hamburger?!  These are Heaven I tell you!  If you love Biscuits and Gravy..if you love a thick, juicy Burger..you will double love these babies!  Make it SUPER special with a fried Egg on top…Oh yeahh!
~Napkins mandatory~~Forks optional!
What you'll need for 4 Burgers:
1 roll of Pillsbury grands Flaky Layers Biscuits
1.5 lbs. of Ground beef shaped into patties
1/2 lb. Sausage..browned and cooked through
1 packet of White Gravy (Country Gravy) Powder..as prepared per pkg. directions
Pepper..to taste, but it's SO good!
Directions:
Bake up the Biscuits and set them aside.
Brown the Sausage and Cooke the Burgers.
Make the Gravy and add in the cooked Sausage, and Pepper.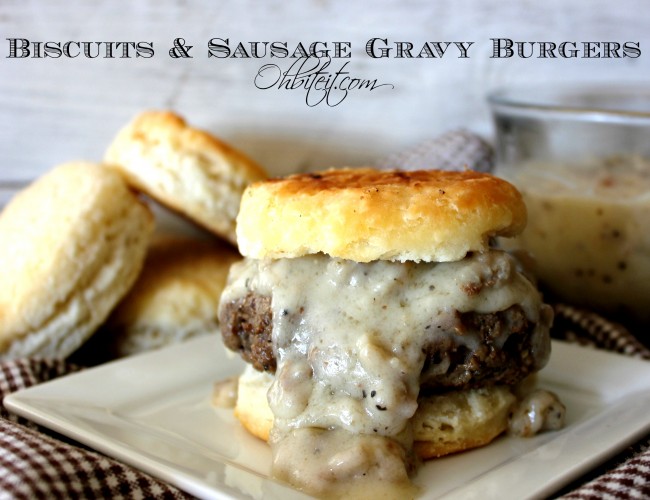 Now just assemble the Burgers on a Biscuit Bun..top them with scoops of Gravy and Dig in!  ~Enjoy! 🙂