This is yet again, another "use whatever is laying around" creation that went horribly right!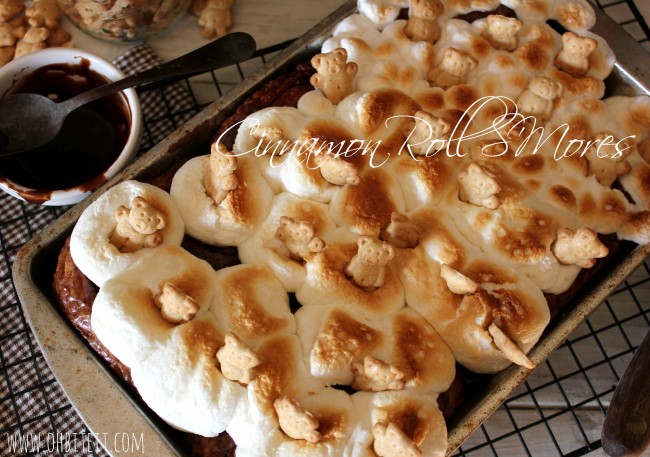 Yep, I had Marshmallows that were turning into rocks, a chunk of Chocolate Almond Bark that was literally getting dusty, and dare I say..Cinnamon rolls in the fridge?!  Sooo…what's a girl to do?  Make Cinnamon Roll S'mores..duh!  😉
Now..I've created a monster that will require me to actually go to the store from now on just to purchase all of these ingredients, just so I can make them again and again…and again! ~They're To Die For!
~And SO super simple!
What you'll need:
1 roll of Pillsbury Grands Cinnamom Rolls with frosting (5 count)
1 tbsp. Light Corn Syrup
2-3 tbsp. Milk
6 oz. of Chocolate (I used Almond Bark)
2 cups of regular sized Marshmallows
1 cup (or so) of Teddy Grahams
A baking pan
Directions:
In a medium pot melt the Chocolate into the Milk and Corn Syrup…then stir in the frosting that was included inside of the Cinnamon Rolls..
Dip each raw Roll into the melted Chocolate, coating it well.  Place it into the baking pan and pour the remaining sauce over the top…
Bake them at 350 degrees for approx. 12 minutes.
Take them out and top them with the Marshmallows…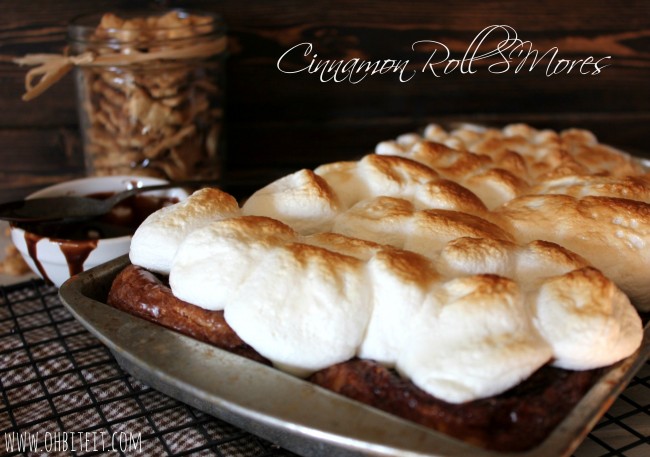 Broil it for about 4 minutes, just until the tops are golden..keep a close eye on them so they don't burn.
Let them cool a bit…
Add some Teddy Grahams to the top for cuteness, and the S'mores 'Graham Cracker Effect'!
Serve them up…
Make sure to share…
Grab a plate for you and add just a little more Chocolate, becuase you did all the work..lol~
Prepare for the most delicious S'morey bite EVER! ~~Enjoy!  🙂