Well, it's official, I've lost my mind!  I've taken the "most important meal of the day" and turned it into the most over-the-top, sinful stack, "meal" of the week.  ~Maybe even of your lifetime?!..lol!
If you like OREOS, if you like Cheesecake, if you like Pancakes, if you like Santa, little old ladies and newborn babies…you will flip for these perfect Pancakes!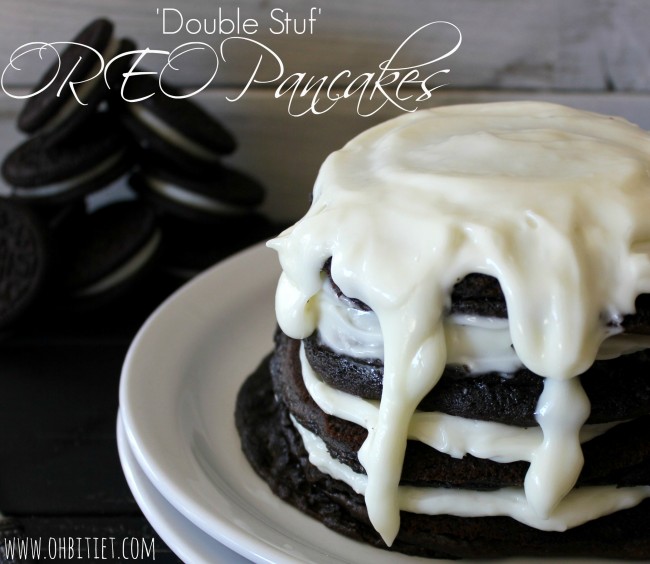 Fluffy, OREO filled cakes, are layered with creamy, Cheesecake-like 'double stuf' cream, that balances out the sweetness like perfection!!  ~~They're seriously like sinking your teeth into a warm stack of Double Stuf OREOS Cheesecake Pancakes!
~So sinful & SOoo satisfying…and all before Noon!  🙂
What you'll need:
1 – 1/2 Rows of finely crushed OREOS
1 cup Pancake Mix
1 cup Milk
'Double Stuf' Syrup:
6 oz. Cream Cheese
1 cup Powdered Sugar
1 tbsp. Milk
(A food processor, or some decent muscles)
Directions:
In the Processor, blend the Cream Cheese, Powdered Sugar and Milk..
Put it in a bowl and set it aside…taste it now ~you're welcome!
Now in the processor, crush the OREOS, then add the Pancake Mix, blend it until it's combined.  Add in the Milk and process it agian until it's smooth…
BOOM~OREO Pancake Batter!  Do your best not to eat it like this..lol!  🙂
Ahhh..sometimes words are just not necessary!
Layers of Cheesecake-like Frosting, lovingly snuggles those fluffy OREO Pancakes together…
Grab a plate…
Open wide…taste the YUM!  ~Enjoy!  🙂