Okay…you all probably know by now that I'm a fantasy food fanatic~however, even I can't pass up something that tastes like a big fat dessert, but only has 100 calories!
This succulent Smoothie was being sold at an upscale Smoothie shop for $7.00 per small size~YES..$7.00!  My wallet wasn't having any part of that, so I created my own, and you won't believe how rich, sweet and healthy (and affordable) this Smoothie is.  🙂
I made a double batch (2 Smoothies) simply by doubling this recipe.  Obviously, if you double it, it would then be 200 calories, if you drink both of them yourself..lol!  Actually, that would be very easy to do since it's totally scrumptious, plus, it's filling enough to replace a meal…WooHoo!
Here we go~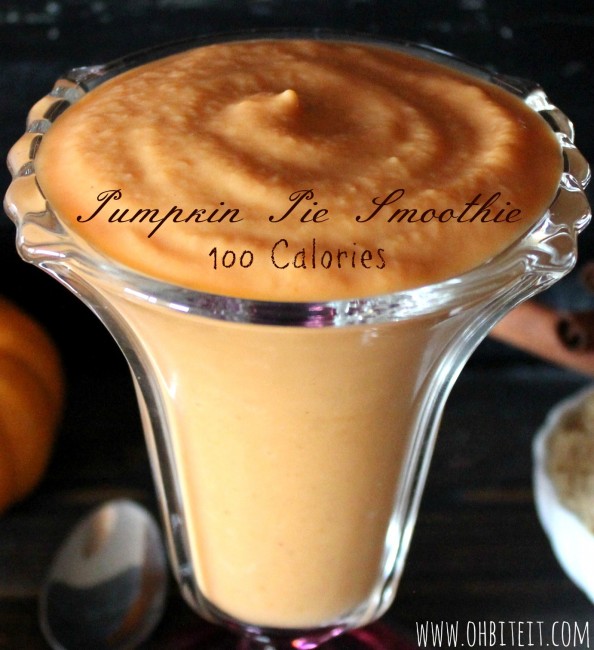 What you'll need for one BIG 100 calorie Pumpkin Pie Smoothie (double for more):
1/2  cup Unsweetened Pumpkin Puree   =40 calories
1/2 of a container of Dannon Light & Fit Vanilla Greek Yogurt  =40 calories
1/3 cup of Silk Pure Unsweetened Almond Milk  =10 calories
1 splash of Maple Syrup  =10 calories (optional, but yummy)
One dash of Pumpkin Pie Spice  =ZERO calories
1/4 cup of ice  =ZERO calories
A light dusting of Graham Cracker Crumbs for topping  =trace calories (also optional)
A Blender or Food Processor…no calories…lol!
TOTAL =100 CALORIES of Pumpkin Pie Yumminess!
Directions:
Add all of the ingredients (other than the Graham Cracker Crumbs) into your Blender and pulse until thick and smooth.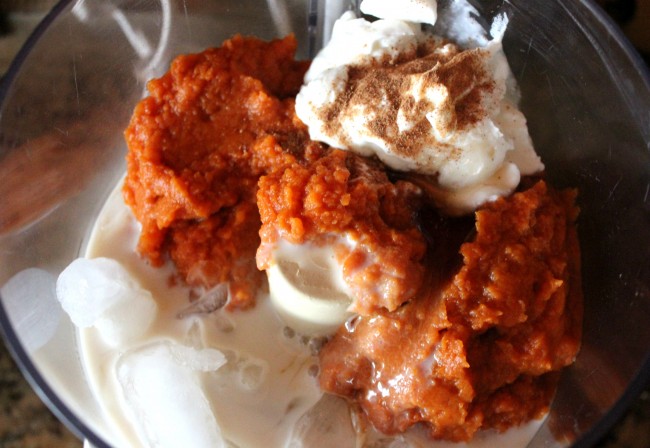 Pour it into your glass, top with some Graham Cracker Crumbs if you'd like, and start slurping~
You won't believe how yummy it is, and NO stretchy pants necessary!  ~Enjoy!  🙂