Now that the weather is getting cooler, the time has come to spice up our snackage!  And NO, it doesn't always have to be Pumpkin~haha!  Sometimes it can be Shrimp..sheesh!  😉
~Plump, juicy 'JUMBO Shrimp' , covered in the lightest, crunchiest & spiciest batter EVER!  Thennn, they're totally "Buffalo'd" with crumbles of Blue Cheese (that gets all melty) – Oh,  and let's not forget to have some crispy Celery close by, that no one will ever eat..lol!
Make a giant pile of these for the next game and even the most football obsessed husbands will turn away from the TV!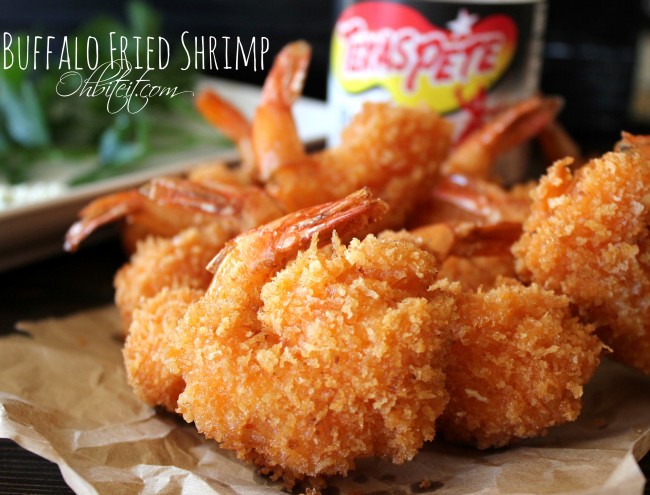 What you'll need: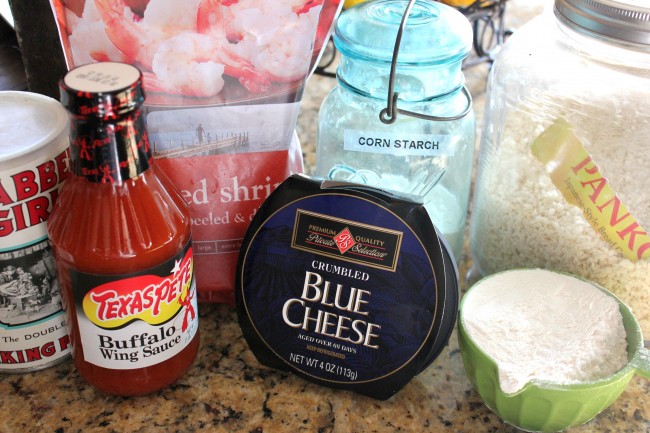 1-1/2 lbs. Jumbo Shrimp…I used (16-25) Cooked, Peeled, Cleaned with the tail on!  I like other people to do all of the gross work for me..lol~
Oil for frying..I used Canola
Blue Cheese Crumbles…for yummy garnish
Celery… for helping with our calorie guilt
The Batter:
1 cup AP Flour
1 cup PLUS 1/4 cup of Buffalo Wing Sauce~your favorite!
2 cups Panko Bread Crumbs
1 cup Corn Startch
4 teaspoons Baking Powder
Directions:
**SIDE NOTE**  If you'd like to take these to a whole other level of HOT, Marinate your peeled Shrimp overnight in some Buffalo Sauce~then move on to the steps below!
In a large bowl combine the Flour, Buffalo Sauce, Corn Starch, Baking Powder..mix until smooth~you may need a few splashed of water to get it to a "Pancake Batter" consistency.
It will look like LOTS of Buffalo Sauce..trust me, it takes this much to taste it, you may want to serve more along side for the brave!
In a shallow bowl…add the Panko, set aside!
Heat up about 2-3″ of Oil to 350-360- degrees.
Dip each Shrimp into the batter, leaving the tail clean~
Now, into the Panko -get a nice, generous, even coat on those babies!
Gently now, into the oil, until golden and amazing!
Serve them up on little beds of Blue Cheese for each Shrimp to rest on before their demise.  ~The Cheese gets all melty and fabulously sticks to each Shrimp like a bite of Heaven in your mouth!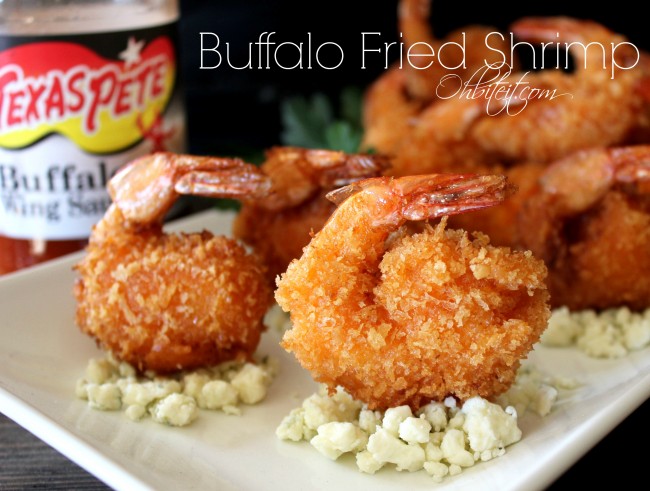 Grab a socially acceptable plate for yourself, and act like you didn't just eat 4 Shrimp in the kitchen before serving them!  😉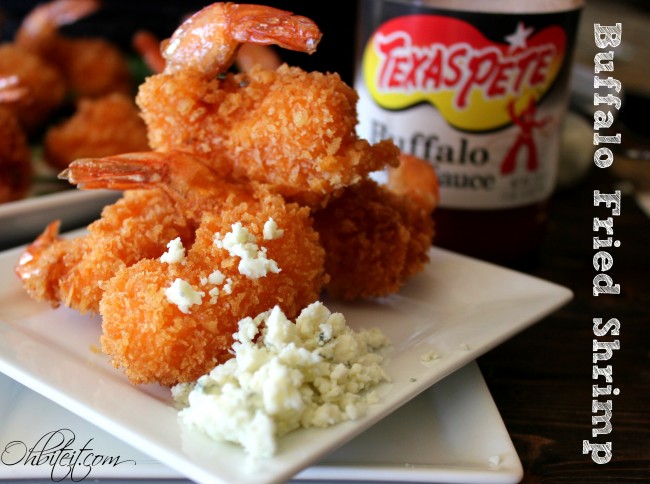 Keep that Buffalo Sauce close by for the show-offs!  ~Enjoy!  🙂