Well, now that the weather is getting colder, the kids are back in school and women everywhere are getting traded in for Football games, that can only mean one thing~FOOD!
~That's right, we're eating our feelings and they are delicious..lol!  🙂
Nothing says Fall like ooey-gooey, cheesy, finger foods that will help everyone  nosh & nibble the colder days away!
These Jalapeno Popper Melts are everything we know and love about a typical Jalapeno Popper, combined with all of the double-handed greatness of  a succulent sandwich!
And not just any Sandwich..this sandwich is coated in crushed, butterd and toasted Pretzels that will make you feel like you're in the best sports bar ever, minus the gigantic tab!
What you'll need for a few Melts..(this is only a method, so double accordingly for more):
Good sliced Bread..I used Whole Grain
Good Cheese..I used sliced Colby-Jack
2 cups Pretzels..crushed, I used a food processor, but by hand will work too!
Fresh Jalapenos..sliced
CRISPY BACON IS OPTIONAL!  I didn't use it this time! 🙂
Cream Cheese
1 egg
1/4 cup Milk
Butter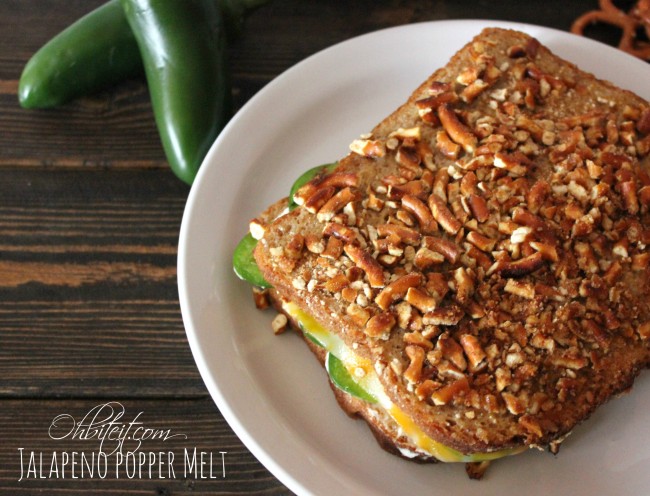 Directions:
In a small bowl mix the Egg and Milk…set aside…
Crush your Pretzels into a coarse chop, put them in a shallow bowl and set aside..
Slice up the Jalapenos..BE CAREFUL THEY'RE HOT!
Build your Sandwich by smearing one side with some Cream Cheese…
Now add the Jalapenos, and the Cheese…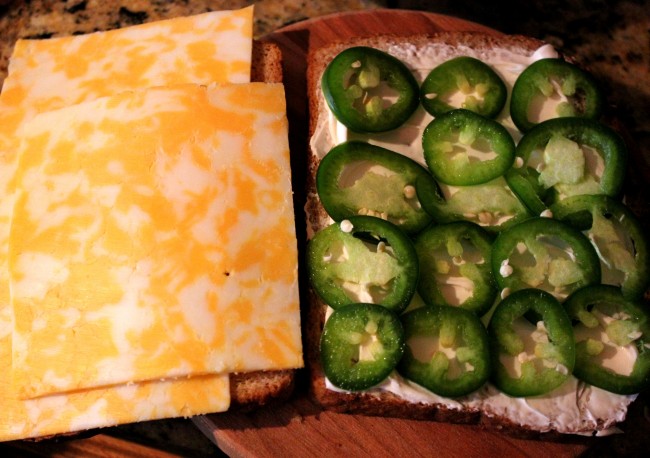 Give both sides a nice dip into the Egg…
And then, both sides generously into the crushed Pretzels…
Now butter up your pan/sillet/griddle and grill that baby up on both sides.  Just until the Pretzels are golden and the Cheese is melty…
Plate her up, and get your spicy, ooey-gooey ON!  ~Enjoy! 🙂