I love Bread Pudding, but that wasn't always the case.  I think I actually hated it until I turned 30-ish.  It took me that long to realize that Bread Pudding didn't have to be Bready..OR 'Puddingy' at all!
This Bread Pudding is not only yummy, but it's also interactive!  Nothing says 'family gathering' quite like hammering away at your dessert.  The whole process of cracking through the amazingly, crunchy and nutty Praline Brittle, in order to sink deep into the Maple Syrupy soaked Bread Pudding, is a labor of delicious love!~~it's AMAZING!
~Add some Ice Cream on top while it's warm, and now you're really happy! 🙂
What you'll need:
1 roll of Pillsbury Flaky Grands Biscuits
4 eggs
1 cup Sugar
1 cup Maple Syrup
1 cup Cream
1 cup Milk
The Brittle
1 cup Sugar
1 cup Pecans..chopped
1/4 cup Water
Directions:
Bake up the Biscuits according to the package directions.  Cube them up into about 2″ pieces/chunks…set aside.
In a large bowl, mix together the 1 cup of Sugar, Milk, Cream, Maple Syrup and Eggs.  Add in the Biscuits and stir gently to evenly coat.
Pour it into your baking pan,  smooth out the top so it's flat  Bake it at 350 degrees for approx. 35-40 minutes.  Or until it's golden and cooked through.
While it's baking make the Praline Brittle:
In a medium pot  add the Water and the 1 cup of Sugar.  Stir it until the Sugar is disolved and then bring it to a boil.  Let it simmer for 7 minutes, or until it's a medium Amber color.  Take it off the heat and stir in the Pecans.
~Carefully pour the hot Praline Brittle onto the top of the Bread Pudding, making sure to cover it evenly…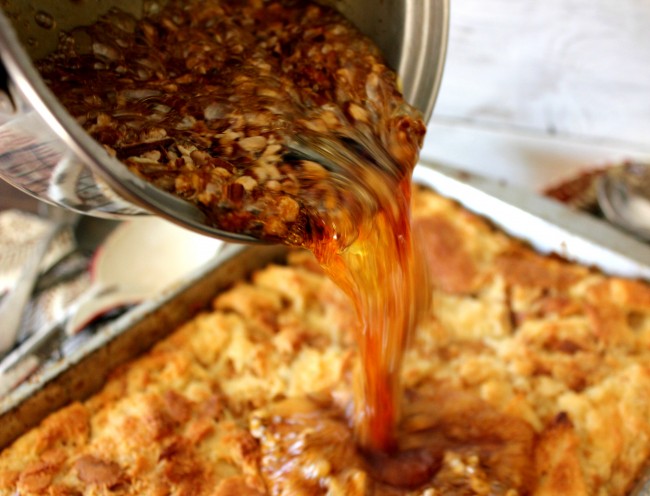 Let it cool and set up.  It will turn to a hard shell that you will need to crack through to get to the Bread pudding!
~Set your table with mini hammers…listen to the Ooh's & Ahh's!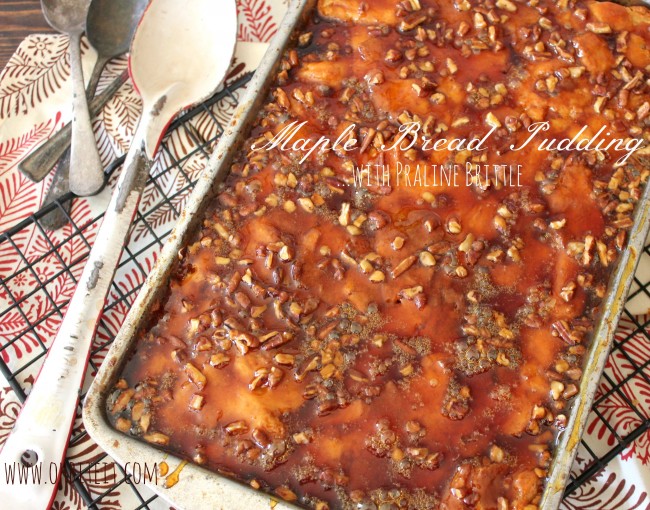 Take a moment to enjoy its beauty…and get out your Ice Cream!  🙂
Now get crackin'!
Now get eating!  ~Enjoy!  🙂