Can you tell what day it was when I created this recipe??  Do you know me well enough yet..lol??  It was "clean out the Pantry and Fridge day"  a.k.a.  throw together anything you can so you don't waste any food day~and here we are!
I made a Giant Peanut Butter Cookie and filled it with warm, creamy Chocolate Chips, sweet Apple Pie Apples, and crunchy, candied Peanuts!  What can I say..it's one huge hodge-podge of yumminess!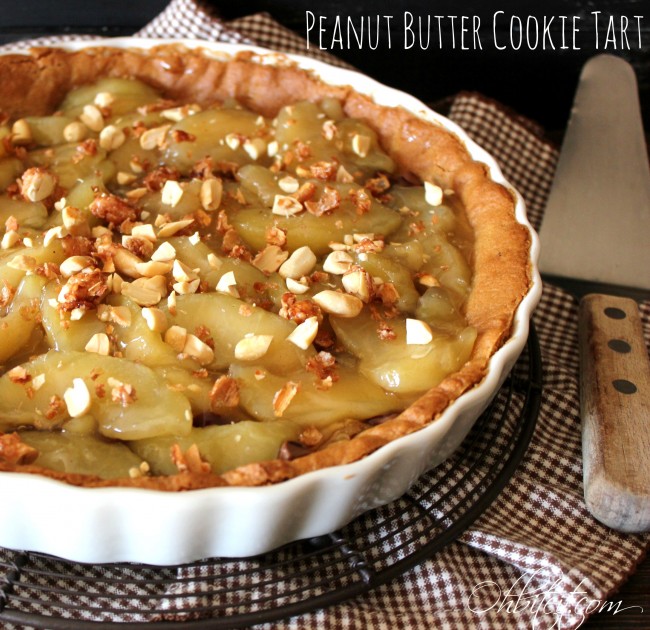 What you'll need:
1 roll of Pillsbury Peanut Butter Cookie Dough
1 can Apple Pie Filling
1 cup Chocolate Chips
Candied Peanuts for crunch…optional!
Directions:
In a tart pan, spread out the cookie dough evenly…poke it with a fork..yep, fork it!  🙂
Then bake it at 350 degrees for approx. 12-15 minutes, until it's on the verge of being completely done.
Take it out and kind of flatten it into all the edges, and so the bottom isn't too puffy…I used a small round bowl.
Sprinkle it with the Chocolate Chips…
Top it with the Apple Pie Filling…
Even out those Apples…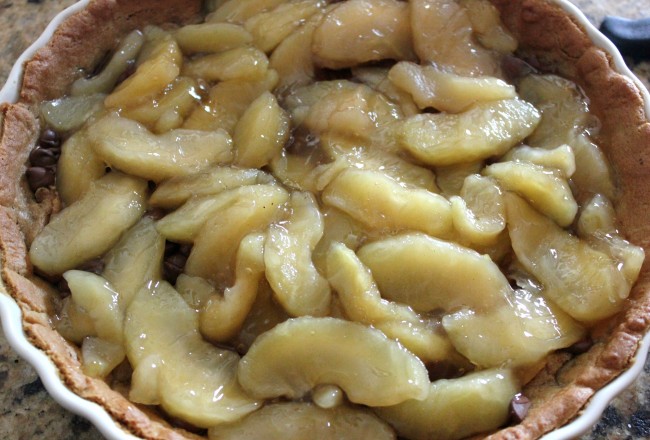 Put it back into the oven, just to warm it through…
Top it with some Candied Nuts for a sweet crunch, and while it's warm, feel free to add a nice, cold scoop of Ice Cream too!  🙂
Cut it up into wedges, maybe a powdered sugar sprinkle and eat up!  ~Enjoy!  🙂
Ba