Sooo, everytime I order a Chicken Sandwich at Chick-Fil-A, it's the same old thing…extra Pickles..always, always…always!  🙂
And by "exrtra" Pickles I really mean an embarrassingly obscene amount of Pickles, piled so high, that it's almost difficult to get my lips around it in a socially acceptable manner.  LOL!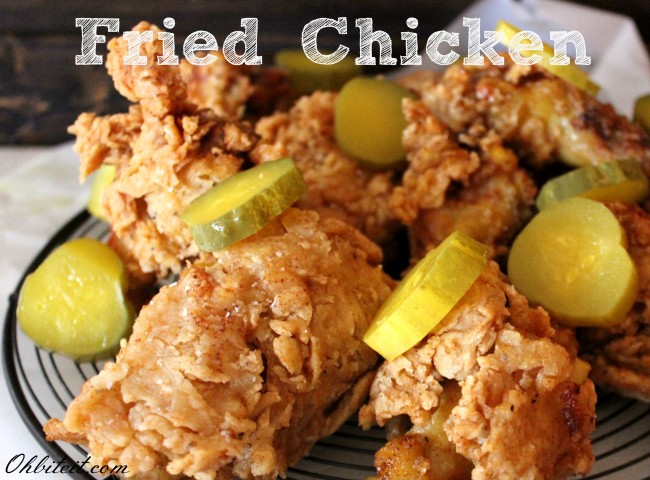 Anyway…I had this giant jar of pickles laying around my house…(go figure) and it hit me!  Why not brine some Chicken in the Pickle juice, AND THEN FRY IT??!  Hoping that maybe it would infuse each bite with that yummy, Pickly- Chicken combo that I love?!
It totally worked!!  Ohh..this Chicken turned out so crispy, SOOO tender and moist.  The pickle flavor is totally subtle, but there!!
It's awesome, but I'd still need a side of Pickles!  😉
What you'll need:
Chicken..about 8-10 pieces for this amount of breading.
Pickle Juice..(enough to cover all your chicken)
3 cups Flour
1 cup Milk
S&P to taste
Add any Spices you'd like!
Oil for frying!
Extra pickle slices for garnish..optional!
Directions:
Marinate the Raw Chicken in the pickle Juice a minimum of 1 hour to overnight if possible…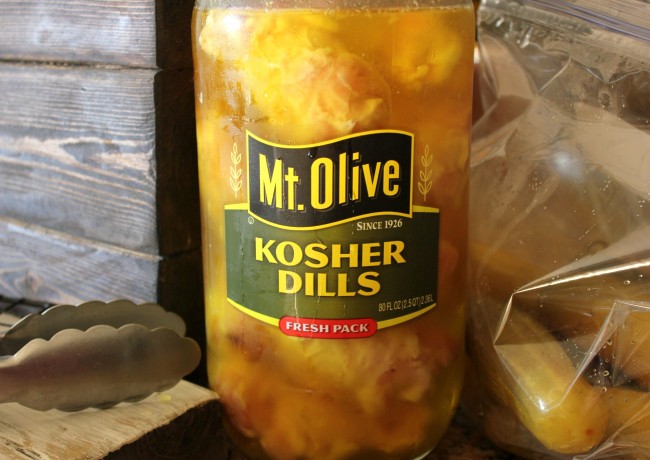 In a large bowl mix the Flour and Milk with the S&P..feel free to jazz it up with any other spices you may prefer!
DRY off the Chicken, and evenly coat each piece in the Batter~
Fry them up, a few pieces at a time until they're evenly golden and cooked through…
Serve them up nice & hot…and Pickly!  Dig in!  ~Enjoy!  🙂