This basic Oatmeal Cookie recipe is SO easy and SO delicious that it's now my go-to Cookie anytime I need to bring Cookies somewhere!  That can be a huge gamble, since not many of them have a fair shot at making it out the door..lol!
These are an extra special version of my basic recipe because I just had to go and add cake batter all up in them!  Now…not only are they moist, not only are they scrumptious & sweet..they're also light, fluffy, tender and cakey!
Oh..let's not forget that they're also totally ooey AND gooey, bursting at the seams with warm melty Caramel!
~Ahhh~~Yeah..I know!
They are irresistable to human lips…and probably irresistable to human hips too!  But~~oh well!  🙂
Just take a peek here and you'll understand…then hurry into the kitchen and make a batch (or 2) of them..trust me!
What you'll need for 12 good sized Bombs (this recipe doubles very easily for more Cookies):
Kraft Caramels..one per each Bomb
1 Box of Tres Leche Cake Mix …Or ANY Cake mix flavor will work!  (ONLY ONE cup of the dry Cake mix is used for 12 cookies, feel free to double for more)  Or save the leftover Cake Mix for something else.  🙂
1-1/2 cups of Oats
2/3 cup Brown Sugar…packed
1/2 cup (one stick) Butter..softened
1 large Egg
1/2 tsp. Baking Soda
1/2 tsp. Cinnamon
1/2 tsp. Vanilla Extract
A pinch of Salt
Directions:
UNWRAP ALL OF YOUR CARAMELS!  🙂  Set them aside..
In a large bowl, cream together the Brown Sugar, Vanilla, Egg and Butter, set aside..
In another bowl,  sift together the Cake mix, Baking Soda, Cinnamon, and Salt…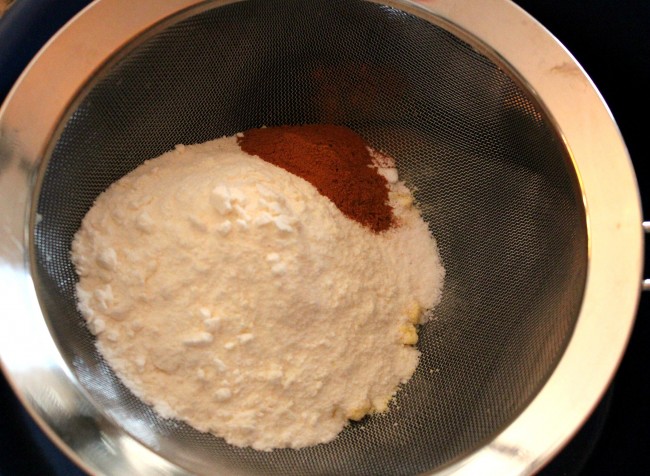 Add the dry ingredients into the wet and mix until well combined…
Fold in the Oats..
Scoop out approx. one tablespoon or so, of the Cookie Dough and form it completely around one Caramel to make a ball.
Set them on a parchment lined baking sheet about 2-3″ apart…
***Put them into the fridge to chill, while the oven preheats to 350 degrees.  This will keep them nice and thick as they bake..
Bake them for approx. 12 minutes, or until they're golden and they do this…
Let them cool slightly…
Everyone LOVES these Cookies…so if you don't eat them ALL yourself, do your very best to share!
But definitely serve and eat them warm …for the best ooey gooey ever!
Grab one for you, like you haven't already..lol!  ~Enjoy!  🙂